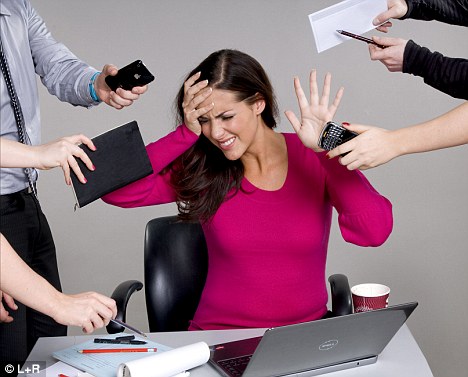 Today women are walking along with men shoulder to shoulder both at work and at home.  Women today have achieved great success in all fields of life. They are amongst the best entrepreneurs, managers and Politician and are giving tough competition to men though it might be sports or in Politics. We can see women confidently and remarkably handling both their jobs and their families. It's only a woman who can, after a tired day of work return home and listen to everybody at home and fulfil each one's wishes and keep them happy. She can be a hard core Professional at work and an ocean of emotions at the same time.
A woman works whole day and then returns home and then does everything that is required for the house, prepares and plans for the next day and then only sleeps. In all this she severely damages herself and causes herself a lot of stress but still goes on without a word and without complaining.
Women face a lot of stress as they are managing both work and personal life. At home they have to face stress due to time constraints as they are not able to give proper time to the family. Working women are stressed due to worries about their family at home when they are at work. They have to manage the entire budget of the family, all these worries stresses them  which has tremendous effect on their health but they still move ahead without a pause.
At work, women as an employee has to meet deadlines, work late at times, sometimes have to do overtime, maintain employee-employer relation which results in stress. Working women suffer problems of blood pressure, Depression which starts really at an early age of 35 among most working women. There are many women that have heart diseases and often die due to heart attack because of work stress. There are cases of many women that die due to brain hammerage because tremendous work stress, especially those working at BPOs.
Women are not only affected physically but also mentally. Many of them due to work stress suffer depression, Hypertension, Nervous breakdown and much more but they are most common among them. These health issues due to work stress are carried on even after retirement and they have to face the illness lifelong. Due to work stress, many women die at a very early age due to which many multinational companies have now come out with many stress managing seminars and techniques in order to reduce work load and limit stress among working women.