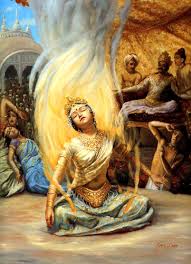 Sati was developed in India during the years of gupta empire approximately 400 CE. According to Indian tradition a widow is burnt alive on her husband death body after the death of the husband. The ritual of sati was basically believed to voluntarily conduct by the widow it was not a forceful act.
Sati was named after an Indian mythological character named savitri. According to Indian mythology when savitri's husband satyavan died lord of death yamaraj arrived to take his soul.  Savitri begged to yamraj to restore his husband soul and take her soul to which yamaraj refused which could not do, but to which yamaraj refused. Savitri followed yamaraj till a long way; she turned weak and lost her strength but did not stop and continued to follow yamraj.
Yamaraj noticed this and offered savitri a boon, savirti asked for children, to which yamraj had to no choice but to return satyavan's soul. The other theory goes like this sati was introduced to prevent wives form poisoning their wealthy husband and marry their real lovers. The practice of sati is also being notice in other culture like Greek, Goths, Egyptians where queens, mistress, servants were buried with the king to continue to serve them in next world.
One theory says, sati was practiced by kings and terror heads in order to save their wives falling into enemy hands after losing a war.  Sati practice cannot be justified right in present day it has its odd's and evens, it may be right during olden days but it's not the need for this hour. We live in a modern day society, were every person has right to alive and death of husband is not the end of the world.
– Bhargesh Jani