Step Up All In is an instalment in a flourishing franchise that puts creative dancing on the world map and, judging by the success of its predecessors, this new fifth offering should hit its target market once more.
Filmed in Las Vegas, with its bright lights, its gaming and its multitude of shows, Step Up All In fits like a glove, oozing an energy and style that is hard to contain. And it's all executed in 3D.
Directed with flair by Trish Sie, this version features all-stars from the previous instalments, who come together to battle it out for a victory that could define their careers. The winning crews are featured on TV reality show The Vortex, hosted by a glam, talkative, in-your-face diva named Alexxa Brava (Izabella Miko).
The "Step Up" franchise cMoose, as a "Step Up" veteran, rounds up performers from the previous movies, including Andie (Briana Evigan, "Step Up 2: The Streets"), who immediately clashes with Sean over who's running things. Once this new crew — dubbed "LMNTRIX" — makes it to Vegas, however, they find themselves facing off with not just the villainous Grim Knights but also The Mob.
Can be one of the most frustrating series in movies today — each film offers up transcendent moments featuring some truly electrifying dancing, but to get to those golden nuggets you have to sift through mounds of terrible writing and laughable acting.
Even if you've resigned yourself to that trade-off, "Step Up All In," the fifth chapter of this ongoing saga, doesn't rank among the best of these. The choreography falls short of the heights of "Step Up 2: The Streets" and "Step Up 3D," and the plot isn't as goofily engaging as that of "Step Up Revolution." If it's a champion in any category — and I had arguments about this with the rest of my viewing party, "Step Up"connoisseurs all — cinematographer Brian Pearson ("Into the Storm") uses 3-D in the dance sequences better than any of his series predecessors.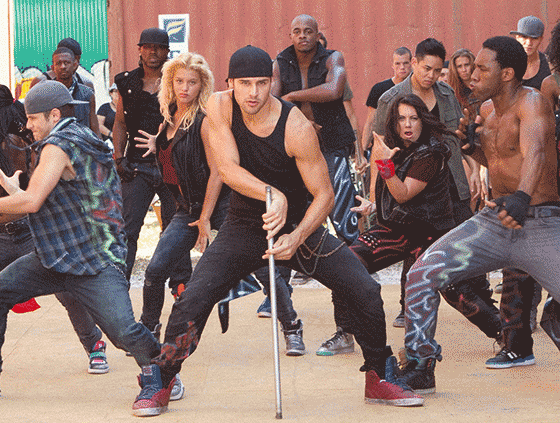 The plot, such as it is: Six months after the climactic events of "Step Up Revolution," in which Miami dancers The Mob came to Los Angeles to shoot a Nike commercial, the crew is dispirited by one go-nowhere audition after another. They all decide to pack it in and go home, except for Sean (square-jawed, blank-eyed Ryan Guzman, "Pretty Little Liars"), who's determined to make it in Hollywood and who feels betrayed by the abandonment of his friends, particularly BFF Eddy (Misha Gabriel).
Needing work, Sean takes a job in a dance studio run by the elderly grandparents of Moose (Adam Sevani). When VH1 host Alexxa Brava (Izabella Miko) announces a reality TV contest to find the best dance crew — with the winners getting a three-year gig in Las Vegas — Sean decides to assemble a new cadre of dancers.
Once the dancing happens, however, it's easy to overlook the film's flaws, although choreographers Jamal Sims, Christopher Scott, and Dondraico Johnson have a tendency to lean toward jerky (albeit gymnastic) movement rather allow for smooth flow. Even if the big numbers in "Step Up All In" don't always hit the heights of its immediate predecessors, there are enough exultant moments – during the crew battles or Sean and Andie's pas de deux on a carnival ride — to tide you over until the inevitable Part Six.
It's just too bad that the paths to the film's predictable outcome and character couplings — hey, executive producer Adam Shankman, five movies and not a single gay dancer, incidentally? — are so clumsy and the performances so eyeroll-inducing.
Here's hoping the script for the next sequel merely reads, "They dance. Then they dance some more. Then everybody dances a lot. The End."
HARSHVARDHAN SINGH.