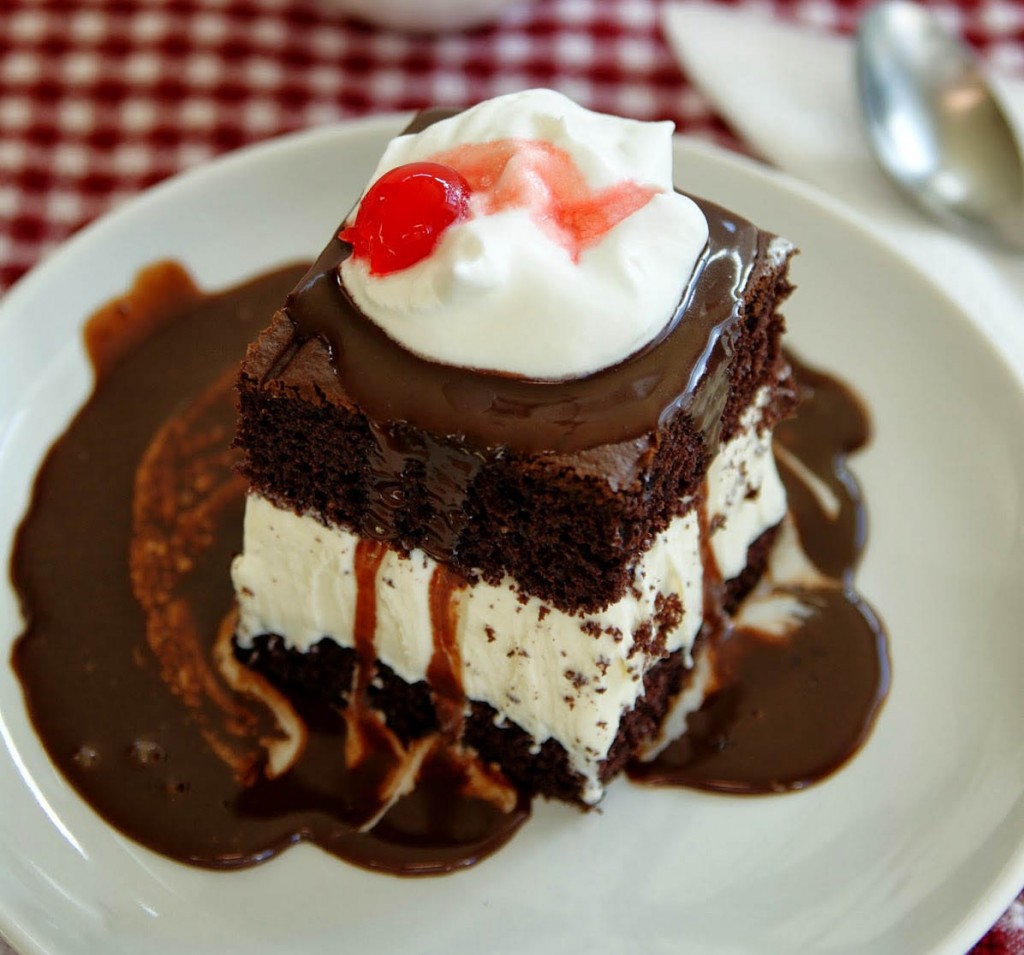 Ice cream cakes are not only impressive to look at, but they're also easier to make than you might think. You can use any flavor of ice cream or cake mix you like! Frost with frosting or fudge topping or thinned ice milk or anything!
Ingredients :
1/4 cup light corn syrup
1 3/4 cups heavy cream, divided
1/2 stick unsalted butter
2/3 cup granulated sugar
1/2 cup unsweetened cocoa powder
Salt
3 pints vanilla ice cream
18 graham crackers
1 tablespoon confectioners sugar
Unsweetened cocoa powder
Directions :
Line a 9" by 13" baking pan with plastic wrap, making sure the plastic goes all the way up and over the sides. With an ice cream scoop, add scoops of your favorite ice cream flavor, softened slightly, (about 3 pints total) to the pan in a single layer. With stiff pie server and hands, press and spread ice cream in an even layer. Cover with plastic wrap, pressing wrap right up against ice cream, and freeze for at least 30 minutes.
For the crunchies : In medium, microwave-safe bowl, microwave 8 ounces semisweet or dark chocolate chips in 30-second intervals until almost completely melted, stirring in between. Whisk in 1 cup coconut oil until mixture is smooth and well combined. Let cool at least 5 minutes, but no longer than 15.
Meanwhile, twist and separate 1 package of Oreos. Scrape off and discard (or eat) cream filling. Place cookies in heavy-duty plastic ziptop bag and seal. With rolling pin or meat mallet, smash cookies until evenly broken into very small pieces. Stir cookie crumbs into chocolate mixture until well combined.
Remove plastic from surface of baking pan of ice cream. Pour and spread chocolate mixture in even layer. Freeze, uncovered, 1 hour. Repeat ice cream layering step on top of chocolate layer using 3 pints of a different color/flavor ice cream. Cover with plastic wrap and freeze at least 30 minutes.
Remove plastic wrap from pan. Place large, completely flat, rimless platter or cutting board over top of baking pan (this will be the platter you'll be serving from). Holding them together tightly, invert baking pan, shaking gently to loosen ice cream cake from pan, if necessary. Remove pan and peel away plastic wrap. "Frost" outside of ice cream cake with 1 1/2 tubs Cool Whip. Decorate as desired. Freeze, uncovered, for up to 1 week. Remove from freezer about 10 to 15 minutes before serving.
–  PRATIKSHA TRIVEDI