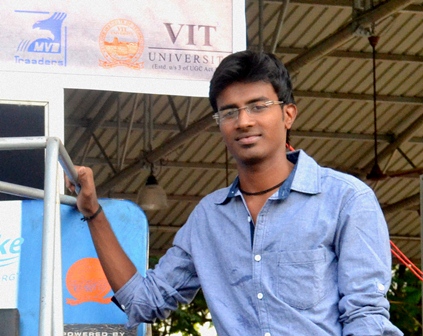 Tell us something about yourself .
 Creative and positive thinking person graduated with an MBA degree from Vellore Institute of Technology, Vellore, Tamilnadu. Works in the field of fashion where lots of creativity pump in.
 From my school days I wanted to become a businessman (at that time I was  not aware of word Entrepreneur). As years passed by doing something (but nothing). Me and my bro (Investor, Mentor, Strategy planner till now) were searching for opportunities to enter the business market. We were wavering between many industries and settled no where. One fine day myself and reckoned we moved nowhere and decided to fix in one industry rather than focusing on many things. Finally we were dropped into the field of garments in 2009 by a Bangladeshi unknown friend via yahoo chat room who just gave the spark of Garment industry.
When I was in 3rd year (UG). I used to pick projects only in the field of garments, where I can get contacts as well as exposure. Till 2012 I have done 3 projects in the garment field which gave me confident and convinced (Mom and Dad) to start a firm. Now I have extended my passion into my profession and playing around it with a commitment of becoming one of the finest Entrepreneurs.
Tell us something about your business. 

MVB Traaders is a Sourcing firm in garment field .We work as per our Client's requirement.
We are the group of people who also works in promoting the products in the minds of customers.
We honestly try to supply our customers with the best products available at an affordable price. Always with a cheerful guarantee of their complete satisfaction. We cater to all people of all ages with quality products that will surely please them.
We are one of the preponderant sourcing agents for corporate T shirts, printed T shirt Made from top quality raw material, our sourcing method and service are universally appreciated for their reliability.
  What is your philosophy towards work?
Everyone in this world is working. Every individual cannot give the same output what another has given. One's work portraits their quality, attitude and exposure what he/she got. Sequencing the work towards your goals plays the major role.
For eg: suppose same situation is given to 5 different musician (same category).The tune what we get from all 5 won't be the same. Each will differ from one.
       "Everyone has their own logic" 
No  immediate conclusion and judging on anyone!!!
 "Management is core to every individual, organization & society." Give your views on it.
There is a belief that we would have come across when we speak about, "When we manage the tough situations, the situations becomes a Comedy, if we fail to manage then the same tough situation turns to Tragedy"
As a budding entrepreneur I have been questioned by many people around me (except my mom and bro) for choosing my entrepreneurial path after completing MBA in VIT and for not choosing the campus interviews. I just had smile as an answer for the people who questioned. I believed managing ones thought and action is what more important than saying and answering. Once I started managing my thought and belief, they motivated me. 
" At times, Motivation comes from nowhere but from yourself "
 Name 3 qualities of prime importance that a businessman should possess.
1.      Being confident and keeping trust in what we are working.
2.      Decision making ability.
3.      Communication (suppliers,clients,employees).
  According to you, what are the challenges for Entrepreneurship today?
Society is one of the most important challenges what entrepreneurs face from its inception.
Being an Entrepreneur, he/she is not eligible for a home loan or even a bike loan for certain months or till we have a good bank balance. But employee who works under them can easily avail loan from the bank.
Confidence among students is very low in starting up ventures. Most people own skills more than what an entrepreneur has. There is lack of confidence in them which make them to work under entrepreneurs.
 I believe to some extent our education system lacks a model of creating entrepreneurs, there are very few motivation comes thru. We still didn't come out fully of an era of  where kids say "I want to be a doctor, engineer, pilot…… and so on" but very few says "I want to  be an Entrepreneur" because we are not cultivated as such in our schools. Parents and Schools were busy in creating a product which readily available for an MNC company to fit in after 21+ years.
Global competition and frequent changes in government policies.
 Can Entrepreneurship be taught in B-Schools/Management Institutes/Colleges?
Yes, It can be .Not the way we are educated now. Entrepreneurship subject is offered almost in all courses .But still we doesn't have proper turnout from students. Because most of the B schools in India train their student to become a manager. Placement percentage is much important for them rather than creating or motivating an entrepreneur. Four PPT and Case studies won't make any student to become an entrepreneur.
Entrepreneurship can be taught only under certain circumstances, were it should be started from school days.
We are working on the entrepreneur transformation process.
"Create Employers, Not Employee"
 Is the Name of the Institute from where a student pursues his/her Graduation/Post Graduation or other courses important while setting up your business?
Yes some times we may get advantage in few situations if we are from a premier institute in terms of getting Bank loans and capital investments. But, honestly beyond colleges there is something called "Desire and Passion" towards a business, which sets the tone for the start ups.
Do you think introduction of Wal-Mart in retail industry will affect your business to great extent.
  No, It won't. Even if it affect our business. We will be re-working in our business process and create competitive edge. We got to believe that we will make more out of tough situations, because tough situations are the ones which helped us to reinvent ourselves. Japan would be the greatest example of all time.
The more you have competition, the more you stabilize your business. Competition makes every organization to create uniqueness in their product/service. None will let down their market share just like that.
"Earning more & more is the motive behind any business." Is it justifiable?
Yes, every business must earn three things consistently
 Trust or Faith (initially among the stake holders)
Contacts or Network (were  faith leads to get more contacts)
Money ( it is just a bi-product of above two)
 Share with us the most enjoyable moment you had experienced on work.
The day when we sponsored (apparel) for a team named Team Jaabaz(SAE India) from VITUniversity. When we saw our logo in their vehicle and banner .It was remarkable experience for our team.
BMS is one of the best and informative website I have come across. I suggest every management student must have a look at BMS.co.in. At least this will help to pop out few positive things in them. BMS.co.in  not only educate students, it also motivates people like us. You are awesome guys keep rocking.
COMPANY PROFILE
History-
Officially started in 2012. But we are in the market for more than 4 years were we indulged ourselves in market for exposure.
Vision/Mission-
Our Mission is to reach as many people as we can with quality Merchandise, in an atmosphere of goodwill and honest relations that will bring our customers back again and again.
Products & Service-
We fall both in product and service category.
Products:
Readymade garments for Mens and Women
Service:
Corporate tshirt shirt manufacturing
Act as a sourcing firm for our clients
Wholesale suppliers
Marketing Strategy-
Search Engine Optimization,Social media marketing,Classifieds.
Existing Market Presence-
We made our foot prints all over India.Majorly we deal in South  and Northern east states of India.
Future Plans-
To upgrade our domestic sourcing firm to International. We have few more projects which are in our pipeline.
To manufacture our own brand products(garments)
E commerce website(Garments)
Entrepreneurial research firm
The following two tabs change content below.
I am Karan Mange, Assistant Manager- Social Media Initiatives at BMS.co.in currently studying TYBMS I am fun loving, extrovert, loves too much of talking, interacting with new people, exploring new places and many more. I go mad about music, especially sufi and classical. Interested in photography, graphic designing, media and music. want to explore world and see myself in the top management of a MNC.