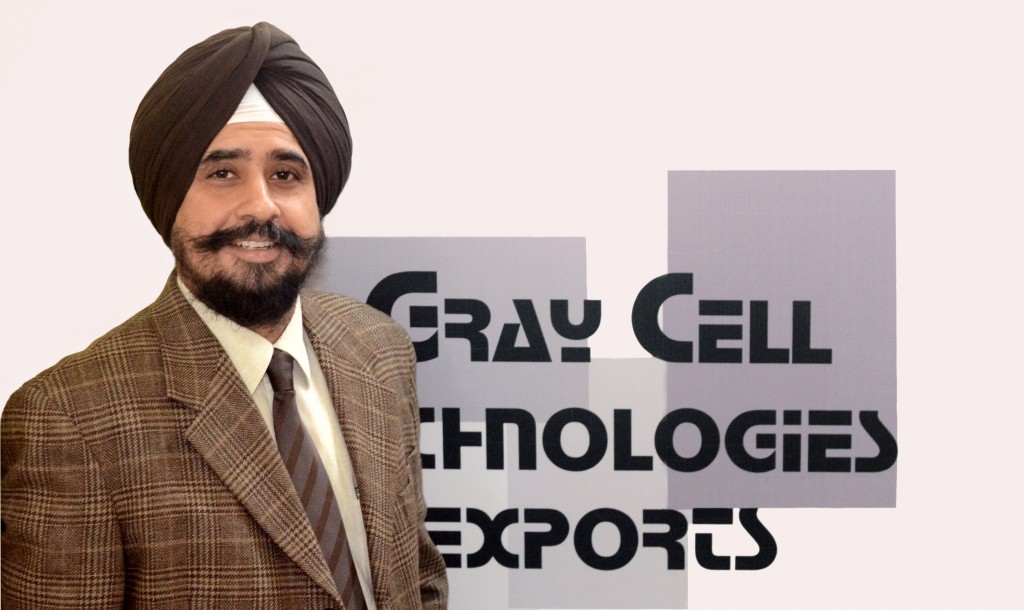 Tell us something about yourself?
MJ : I did Masters in Computer Applications from Panjab University, Chandigarh and then joined Quark Media House as Product Manager. After Quark, I shifted to a US-based start-up – Visions.
I come from a family of businessmen and always had the entrepreneur streak in me. After working with others and increasing my knowledge base, I eventually took the plunge and started GrayCell Technologies Exports in 2004.
Tell us something about your business.
MJ: GrayCell Technologies Exports is one of the leading application development companies in North India that offers innovative solutions which enable the clients businesses to meet the challenge thrown up by the ever-evolving complex business environment. The GrayCell team of professionals has wide expertise in Web Design and Development, Mobile and Desktop Applications and Online Marketing Solutions. 
The GrayCell team has delivered a broad range of business applications using both open source and proprietary software technologies. GrayCell is a Microsoft Gold Certified Partner and also ISO 9001-2008 certified.
We have worked with MNC's like Ernst and Young, Deloitte, Nestle and GlaxoSmithKline. The GCT Team has expertise across a wide range of industries including retail, real – estate, e-commerce, travel, hospitality, airlines and education. We have worked on a large variety of projects ranging from training systems for airlines, audit and costing applications, real – estate and travel portals to consumer and business mobile applications.
Highlights:
Winning the Most Promising Entrepreneur Award 2011
Winning the e-Revolution Awards in 2010 and 2011
Wining the IT Innovation and Excellence Award 2012
Winning the Socially Active Unit Award 2013 and the Amity Global Business School
CSR Awards-We Care 2013
What is your philosophy towards work?
MJ: Never let the client down and Customer satisfaction is paramount.  Every problem has a solution, and my team has been groomed to think and work on the same lines.
Whom do you admire as your role model? And why?
MJ: Steve Jobs since he was a visionary and had an acute preemptive sense of what was the best for the consumer. He was persistent in his pursuit of excellence.
"Management is core to every individual, organization & society." Give your views on it.
MJ: Management is the core of the whole eco-system. If you are not good at management of your individual self, how can you accomplish great things in life? The same hold true for organization and the society at large. Management separates success from failure.
Name 3 qualities of prime importance that a businessman should possess.
MJ: Vision with Passion and the Ability to execute.
According to you, what are the challenges for Entrepreneurship today?
MJ: The only challenge is the person himself. Most of us stay in our comfort zones and even though we might have the ability but we always hesitate to take the plunge thinking that safe jobs and careers are always better. If you can overcome that, the world is your oyster.
Can Entrepreneurship be taught in B-Schools/Management Institutes/Colleges?
MJ: You can teach the basics but entrepreneurship is something that you learn by doing. So you need to get your hands dirty in the field to call yourself an entrepreneur.
Is the Name of the Institute from where a student pursues his/her Graduation/Post Graduation or other courses important while setting up your business?
MJ: The name of the Institute is important sometimes as it helps you to tap into the alumni network while generating funds / leads for your business venture. It can open up new doors and opportunities. But remember, it can only give you a foot into the door. Rest you have to do it yourself.
Do you think today's economy is conducive for a new venture to start upon?
MJ: Yes, today is the best time to start a venture. If you have the idea and the ability to execute, there are ample funds to get your business going. India is growing and there has never been a better moment than now to start a venture. Even the government has acknowledged it with the Make in India campaign.
"Earning more & more is the motive behind any business." Is it justifiable?
MJ: Yes, the core essence of a business is to generate money and grow. If it is not fulfilling this, there is no reason for its existence. The business has to generate money so that it can contribute in a meaningful way to the society by providing employment, making money for shareholders and generating demand for other ancillary and support based industries. The wheels of the economy have to keep running and business is the driving force.
Share with us the most enjoyable moment you had experienced on work.
MJ: I cherish the moments when a client has a successful launch and their application gains traction. It is sweet nectar for me and my team.
Your feedback for BMS.co.in?
MJ: This is a very nice initiative. Keep up the good work and let the tribe grow.
COMPANY PROFILE
History–
GrayCell Technologies Exports was started in 2004. GrayCell Technologies Exports is a web, desktop and mobile applications and solutions provider. GrayCell Technologies started with a small three member team, a small office space and a vision.  Today, GrayCell Technologies Exports has grown exponentially. From three, the team has now swelled to a formidable force of 70 highly skilled professionals placed in two office sites located in the prime business and commercial district of Chandigarh. The company is ranked as one of the premier providers in North India and caters to a Global clientele with its mix of custom and off the shelf mobility and web solutions.
GrayCell has expanded rapidly. From two US-based clients, the number of clients has now crossed 200 plus in a span of just ten years with new clients being added from USA, Europe, UK, Asia and Australia each year.
Vision/Mission-
To be a leader in outsourcing Software Services, Excellent Customer Service, Innovative Solutions and enable our customers to succeed in an evolving world.
To be a leading Specialist Software Solution Provider for Small to Medium Enterprises
Products & Service-
GrayCell currently provides the following services:
Web application and Software development
Web design and Graphic design
Rich Internet Applications
Mobile / Tablet Applications for iPhone, iPad , Android , Blackberry and Windows .
Mobile websites.
E-Commerce Website Design and Development
Customized Content Management Systems
Online Marketing Solutions including SEO, PPC and Social Media Marketing.
Marketing Strategy-
We provide custom solutions after carefully reviewing and analyzing the clients business and the issue at hand.  We make technology work for the client business and improve their bottom-line.
Existing Market Presence-
USA, Canada, UK, Germany, Norway, Spain, Denmark, Netherlands, Belgium, Israel, Turkey, Australia and New Zealand.
Future Plans-
Open 2- 3 Overseas Sales offices.
Increase our international geographical penetration.
Facebook page:
https://www.facebook.com/graycelltech