1) Tell us about yourself, your background, why did you choose to do BMS and what do you plan to do after BMS?
I can say only one thing about myself is I love being simple, listening to music and playing badminton.
I belong from a middle class businessman family. My dad – mom both are in business line.
I am very particular about the work I do. If I do any mistake then I always want to learn from that. Because of that I was interested in management study, how in market a proper management helps. This is the main reason I am doing BMS.
2) Tell us about your college
From 11th I am studying in Saraf college. I love my college because I'll Complete 5 years now, it's like our 2nd home.
My favorite memories is being with friends all time and doing fun in cafeteria, going on college trip with friends etc.
My favorite faculty is Prajana ma'am, she is always ready to help students.
3) Who in your life has influenced the most? Why?
My daddy, he is my hero. Whatever I wanted to do like any course or anything, firstly I speak to my dad. My dad always speaks in a positive way, he never told me 'no' for anything which gives me confidence.
4) Presentations and Projects form a very integral part of BMS. Any comments on how to ace them?
Presentations and Projects both are very important for all students. We get some practical knowledge while doing projects and while giving Presentations it brings confidence within us to speak in front of 50 people. As a BMS student after graduation, we'll be known as a management student and if we'll not be able to speak properly then we will not be able to enter in corporate world.
5) Tell us about your student experience at Vipin Saboo Tutorials. Would you recommend VST to other students?
My experience in VST is really awesome. I feel really great that I am studying from Vipin sir. In short I can say is the way sir teaches us is very effective and helpful for us. One example, I would give is,  generally  we feel bored while studying theory but if you will attend  1 theory lecture in VST,  you will never say theory is  boring Subject. And I would recommend all my juniors to join VST in TY.
6) If you are made the Vice Chancellor of Mumbai University, what changes would you like to initiate in the Indian education system? And even in BMS?
If I'll get chance to become the vice chancellor of Mumbai University, then first thing I'll do is change the pattern of 75-25 to 60-40 again so that BMS students will get chance to do some particular work like Presentations and projects. In Indian education main problem is in schools, their high charges first I will work on that.
7) Does coming from a well reputed or good college/school help you boost your confidence? What message would you like to give to the students coming from an inferior college/vernacular medium?
Yes 100%, because I also cleared my 10th from vernacular medium. Main problem I faced is in speaking  English, from   Hindi suddenly I got all Subject  in English, my full confidence went to 0. I know how much work I have done on this. So yaa coming from a good reputation school and college boost your confidence in every field.
8) Your feedback for BMS.co.in?
BMS.co.in is really helpful for the students as they are providing all information related studies. And they are giving many opportunities to students like I got opportunity to give this interview. They arrange seminar for students and appreciate the toppers. So they are helping to motivate all students.
9) Your favorite / memorable moments at VST which you would like to share with the audience?
My favorite moment in VST is whenever I do any mistake while solving sums, then sir used to tell everyone  that clap for Chetna and second thing that when student who stay near the class and if they come late than sir used to tell them see Chetna is coming from Nallasopara,  that time all students laugh at such instances.
10) VST is known to produce subject toppers and college toppers, what are your action points to reach there?
Seriously speaking, I am glad that I am a student of VST. I never got faculties like Vipin sir, The way sir used to teach or explain is really good. Vipin sir is always ready to help us, if I found any doubt while solving sums, I never have to think twice for calling sir even in night. Sir is ready to help us 24*7. It's my opportunity to learn from him and prepare for TY and score well and reach into toppers list. I know I can do if I'll follow the instructions which sir used to give during class. Vipin sir is really good and I would recommend all my juniors that if you want to score in TY then join VST.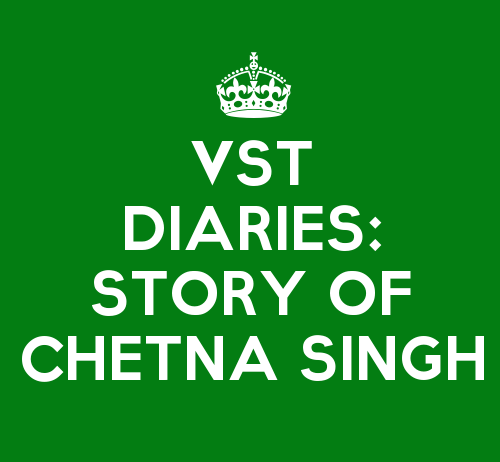 (Prof. Vipin Saboo  (BMS-Rank holder, PGDBM, M Com) is an author, examiner and moderator at Mumbai University and a visiting faculty with over 20 colleges in Mumbai. You can reach out to Prof. Vipin Saboo @9820779873 for any academic doubts / queries.)