1) Tell us about yourself, your background, why did you choose to do BMS and what do you plan to do after BMS?
I had scored good % in SSC but in HSC I scored very low. I decided to choose BMS because I like to manage things and I aim to manage my own business in future. My plan after BMS is to pursue MBA in Finance.
2) Tell us about your college
I have experienced many things in my college like being a member of student council and the best part was becoming the DGS of the college. It was really a very good experience to arrange college events and days. Staff of the college is also very helpful not only in study but also in other areas of life. My favorite memories are to participate in every event and days. Most favorite memories were to top all the four semesters and to get trophy and scholarship amount for the same.
3) Who in your life has influenced the most? Why?
Mr.Vijay Salunke has inspired me so much in my life as he used to teach me in SSC. According to me, he has inspired me to achieve the goal of the life. He has taught me that nothing is impossible if we believe in ourselves to achieve the set goal. I will always be grateful to him.
4) Presentations and Projects form a very integral part of BMS. Any comments on how to ace them?
Presentations and projects are very important in BMS and to make it perfect first we need to set a procedure like to choose suitable topic then from where we can collect the related information and then how to use the proper information like in what manner we should present that information and most importantly to prepare ourselves for that presentation or project.
5) Tell us about your student experience at Vipin Saboo Tutorials. Would you recommend VST to other students?
I liked VST very much. The way of teaching is also very nice. My experience till now is very good and I would definitely like to recommend it to other students.
6) If you are made the Vice Chancellor of Mumbai University, what changes would you like to initiate in the Indian education system? And even in BMS?
If I were made the vice chancellor I would have ensured that rules relating to admission, examination and results need to be clearly communicated to all students in timely manner. Many a times due to lack of these information many students suffer.
7) Does coming from reputed college/school boost your confidence? What message would you like to give to the students coming from an inferior college/vernacular medium?
Reputed college/school doesn't help us to boost our confidence. The reputed college or school is not enough to help us to achieve our goals. The confidence must be within ourselves only. My message to the students of inferior/vernacular medium is not to lose their confidence to achieve their goals. Just concentrate on your goals rather than on reputation of the college.
8) Your feedback for BMS.co.in?
It's a great platform for all students to be connected. Keep up the good work.
9) Your favorite / memorable moments at VST which you would like to share with the audience?
As of now my favorite and memorable moment in VST is to get 1st position in class test.
10) VST is known to produce subject toppers and college toppers, what are your action points to reach there?
My action point to reach there at the top is to study harder and harder and smartly as well.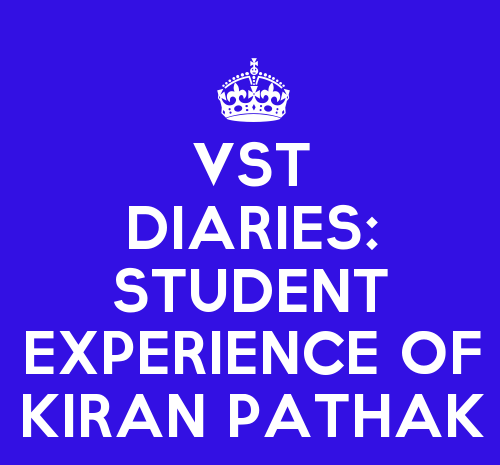 (Prof. Vipin Saboo  (BMS-Rank holder, PGDBM, M Com) is an author, examiner and moderator at Mumbai University and a visiting faculty with over 20 colleges in Mumbai. You can reach out to Prof. Vipin Saboo @9820779873 for any academic doubts / queries.)