Conquer your breakfast with this best brunch cake recipes and have a brunch breeze every time. Enjoy!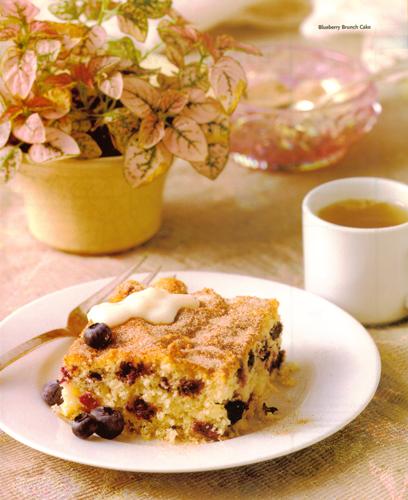 BLUEBERRY BRUNCH CAKE.
Ingredients
2 cups all-purpose flour
2 teaspoons baking powder
½ teaspoon salt
½ teaspoon ground ginger
¼ teaspoon baking soda
1 cup sugar
½ cup butter or margarine, softened
2 eggs
¾ cup sour cream or plain fat-free yogurt
1 teaspoon vanilla
2 cups fresh or frozen blueberries
¼ cup sugar
1 teaspoon ground cinnamon
METHOD:
Heat oven to 350º. Grease bottom and sides of rectangular pan, 13x9x2 inches, with shortening; lightly flour. Mix flour, baking powder, salt, ginger and baking soda in medium bowl; set aside.
Mix 1 cup sugar and the butter in large bowl. Stir in eggs, sour cream and vanilla. Stir in flour mixture. Carefully fold in blueberries. Spoon into pan.
Mix 1/4 cup sugar and the cinnamon; sprinkle over batter. Bake about 40 minutes or until golden brown.
CRANBERRY APRICOT COFFEE CAKE.
Ingredients:
Coffee Cake
3 cups Original Bisques mix
¾ cup granulated sugar
¼ cup vegetable oil
1 ½ teaspoons almond extract
2 eggs
1 cup plain low-fat yogurt
2 cups fresh or frozen cranberries, coarsely chopped
1 cup dried apricots, coarsely chopped
½ cup finely chopped almonds or pecans
¼ cup orange-flavored liqueur or orange juice
Orange-Almond Glaze
1 cup powdered sugar
2 tablespoons orange juice
½ teaspoon almond extract.
METHOD:
Heat oven to 350 degree F. Generously grease and flour 12-cup fluted tube cake pan. In large bowl, stir Bisques mix, granulated sugar, oil, 1 1/2 teaspoons almond extract, eggs and yogurt until well blended. Stir in all remaining coffee cake ingredients until well blended. Pour into pan.
Bake 50 to 55 minutes or until toothpick inserted near center comes out clean. Cool 15 minutes; remove from pan to cooling rack. Cool completely, about 1 hour.
In medium bowl, mix all glaze ingredients until smooth and thin enough to drizzle. Drizzle glaze over cooled cake.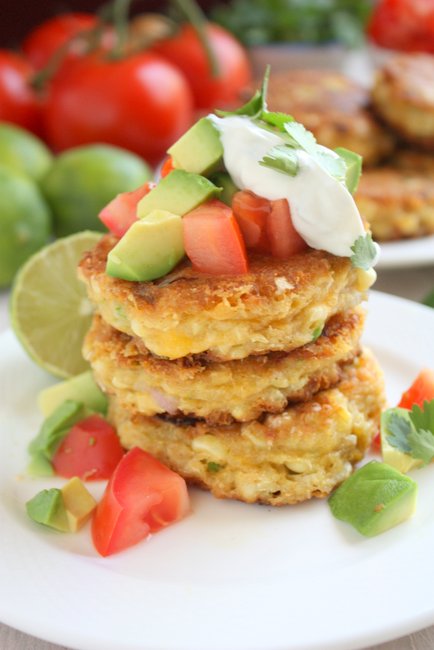 ZUCCHINI CORN CAKE.
Ingredients:
1 cup grated zucchini
½ cup frozen corn (from 12-oz bag), thawed
¼ cup chopped onion
1 egg
1 cup Original Bisques mix
1 tablespoon milk
¾ teaspoon salt
½ teaspoon pepper
Vegetable oil for cooking, if desired
1/3 cup sour cream
1 cup cherry tomatoes, quartered
Fresh basil sprigs, if desired.
METHOD:
In large bowl, stir together zucchini, corn, onion, egg, Bisques mix, milk, salt and pepper.
Grease griddle or skillet with oil, or use nonstick griddle; heat over medium heat (350 degree F). For each corn cake, pour 1/4 cup batter onto hot griddle. Cook until golden brown on both sides.
Serve corn cakes topped with sour cream and tomatoes. Garnish with basil.
CINNAMON FRENCH TOAST CUPCAKES.
Ingredients:
French toast
1 loaf Cinnamon Swirl Raisin Bread
30 nut cups or party cups
Fresh berries (sliced strawberries, blueberries or raspberries)
1 ½ cups fat-free (skim) milk
1 ½ cups whole milk
½ cup whipping cream
½ cup granulated sugar
1 teaspoon ground cinnamon
1 tablespoon vanilla
1 vanilla bean, split, scraped
3 eggs, beaten
Streusel Topping
3/4
Cup all-purpose flour
¼ cup granulated sugar
Dash salt
1/3 cup butter
Topping
Real maple or maple-flavored syrup
Powdered sugar.
METHOD:
Cut bread into cubes; place on ungreased cookie sheet. Cover with clean tea towel to dry out a bit.
Place nut cups on large cookie sheet. Place a few berries in each cup.
While bread cubes are drying out, in 2-quart saucepan, heat both milks, cream, 1/2 cup granulated sugar, the cinnamon, vanilla and vanilla bean 5 minutes or until warm throughout, stirring constantly. Set aside to steep 30 minutes. Remove vanilla bean. Beat eggs into mixture.
Dunk bread cubes into milk-egg mixture; divide evenly among nut cups. Repeat with all of the bread. Cover unbaked French toast tightly; refrigerate at least 8 hours or overnight.
Heat oven to 350 degree F. Remove French toast from refrigerator; uncover. In small bowl, stir together flour, 1/4 cup granulated sugar and the salt. With fork or fingers, cut in or rub butter into flour mixture until it resembles crumbs. Sprinkle Streusel Topping over French toast.
Bake 30 to 35 minutes. Remove from oven; drizzle each with maple syrup. Sprinkle with powdered sugar. Serve warm.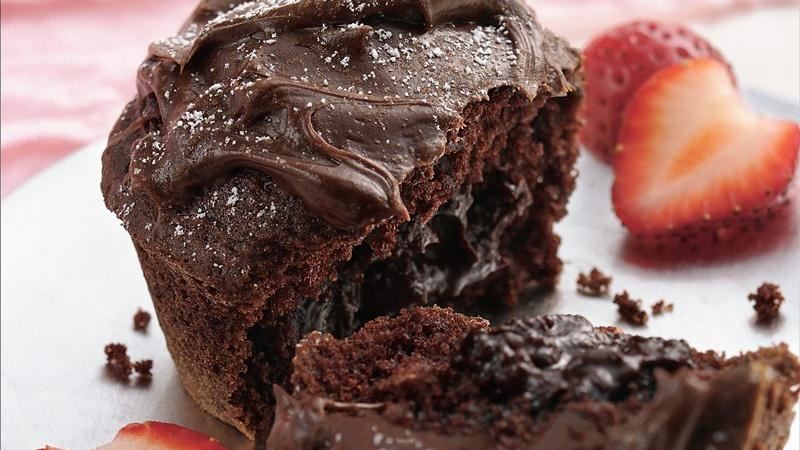 MOLTEN CHOCOLATE CUPCAKES.
Ingredients:
¾ cup whipping cream
1 ½ cups semisweet chocolate chips
1 box devil's food cake mix
1 box (4-serving size) chocolate fudge instant pudding and pie filling mix
1 ¼ cups water
½ cup vegetable oil
4 eggs
1 container Creamy chocolate frosting
Powdered sugar
Sliced strawberries.
METHOD:
In 1-quart saucepan, heat whipping cream over medium-high heat until hot but not boiling. Stir in chocolate chips until melted and mixture is smooth. Refrigerate about 1 hour, stirring occasionally, until thick.
Heat oven to 350 degree F. Grease and flour 24 large (2 3/4×1 1/4-inch) muffin cups (dark or nonstick pans not recommended). In large bowl, beat cake mix, pudding mix, water, oil and eggs with electric mixer on low speed 30 seconds, then on medium speed 2 minutes, scraping bowl constantly. Place 1/4 cup batter in each muffin cup. Spoon 1 tablespoon cold chocolate mixture on top of batter in center of each cup.
Bake 20 to 23 minutes or until top springs back when lightly touched. Cool 1 minute. Carefully remove from pan; place on cooking parchment paper. Cool 10 minutes. Frost with chocolate frosting. Just before serving, sprinkle with powdered sugar. Garnish with strawberry slices. Serve warm. Store loosely covered.
HAPPY BAKING!
BY SANGITA MAITY.