The cinema world has great emphasis in the entertainment sector since decades now. Entertainment is the new livelihood and people have recognized its importance in one's life. Right from the era of black and whites to the 3D generation- technology has changed unchanging the cinema. But those were ways to see the cinema. The inside matter – the cast hasn't changed. Its importance hasn't changed.  The various aspects of cinema are distributed. But the HERO is always the HERO. The centralization of a movie always is the hero. If there has to be a twist in the story it's related to him or he himself brings the twisted branch.
Right from the Indian cinema's black and white heroes and legendary superstars to our young hardworking 6-packed abs Heroes – the Indian cinema has seen all colors in the 100 years with a successful century. BUT what diverts is a new revolution in the cinema which is something that's showing existence from few years. The Womanhood is in force of the centralization. There are beautiful movie coming with the Women as the centric character.
Shridevi holded her entire movie "English Vinglish" with her kickass comeback. The movie was not only loved and accepted in India but worldwide. The story conveys how a housewife selling ladoos and operating her home business end up learning English due to her poor English speaking skills. Her journey to New York during a family wedding and there Shridevi brushes up her new English speaking talent all working hard. The great actress Shridevi made a comeback with this hit after 15 years. The movie featured the 2012 Toronto festival and received positive responses. When the movie released it was declared a super hit in India and overseas.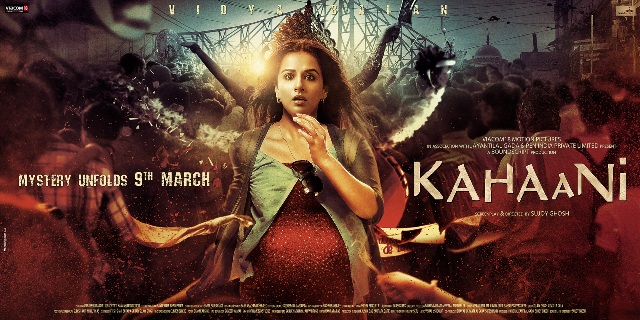 Vidya Balan's Kahaani which grabbed national and filmfare awards, also giving Vidya the tag of Best actress for Kahaani in 2012. The movie was a thriller where Vidya plays a pregnant women who comes to Kolkata from London in search of her missing husband. Kahaani explores themes of feminism and motherhood in male-dominated Indian society. The movie is solely owned by a women as the center character and has gained appraisal everywhere.
It is the talent that shows and not the gender. It is not about encasing Men the superior flicks and all about men's action series. If there is an action movie the women too can be the action hero. Women are no way back in cinema today.
If Farhan Akhtar can make a successful biopic on the legendry Indian athlete Milkha Singh – we all saw Priyanka Chopra bleeding her sweat and performing a 100% natural and true story of The Indian Manipuri 5 time world Boxing champion Mary Kom… who is also an Olympic bronze medalist (now a gold, too), following her story from her childhood in India to her victory at the 2008 World Boxing Championships in Ningbo City. Living a sportsperson's life and bringing it to the audiences perfectly was done brutally by the Indian actress Priyanka Chopra.
The movie's poster had her with all her stiff muscles and punching off strongly representing how a woman not only is best in the Ring i.e. her profession but also in all spheres of life. She is a daughter, a wife, a mother and the respectful sports star of her country. The story starts which shows Kom's interest in boxing and eventually her meet with her trainer from where her journey towards her boxing career unfolds. Her struggle to learn boxing sacrificing several things. Balancing home and boxing life. She marries her love Onler, stepping away from boxing she gives birth to her twins and comes back to boxing which is only possible with her husband's support. She wins the world championship, 2008 undue pressure and emotional tragedy of her child going through a heart operation. The movie proves to be an inspiration to all women who juggle their life every day.
The movies now hit the screens making huge bucks without a hero. That era has arrived.  Mary kom earned Rs.600 million from domestic box-office and achieved commercial success. Priyanka chopra's versatile performance was particularly praised.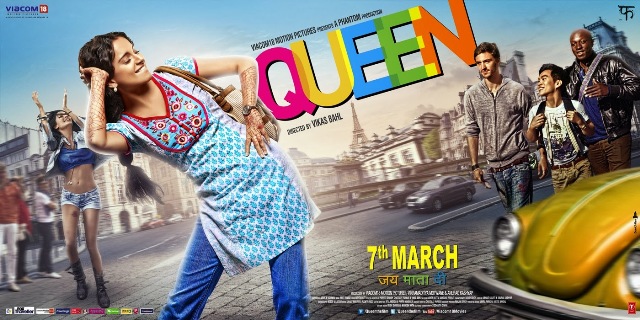 The unforgettable Kangana Ranaut's QUEEN. Such unique films are very less produced and beautifully executed and acted. Kangana's acting in the movie stunned all and her career inched a high move with her solo QUEEN. The Delhi girl who is from a conservative family decides to go on her single honeymoon after her fiancé walks away before the 2 days of their marriage excusing that he is a changed person and kangana (rani) cannot match his lifestyle. This breaks Rani but she decides to visit and see the places which were pre-booked for her honeymoon, which she has never seen and heads on to an adventure which is completely new for her. Where she makes new friends and the new cities impress her. She is free from all restrictions their and realizes that she too can make friends, live with people from different country, wear fashionable clothes and make her talent reach the world. When she returns India she is a changed person. Now executing this character can only be done by Kangana is what can be said after the movie. The songs and Kangana's brilliant dance moves created a buzz. The movie earned Rs.950 million worldwide and is the 11th highest gross of all time in the history of Hindi cinema for the fourth week.
Who is the hero? Where is the hero?
The actress are on their way where they can hold a poster alone, sing for their movie alone, earn huge bucks overseas alone and get included in the best list alone. These movies are on demand to produce a sequel too.
When asked personally these stars believe that the era has arrived when an actress's movie can hit the screens. Anyways the producers have to accept this and change their views in terms of the money an actress get paid then the actors. It's the talent that recognizes a human in an art field and not the gender or traditional aura which is being carried.