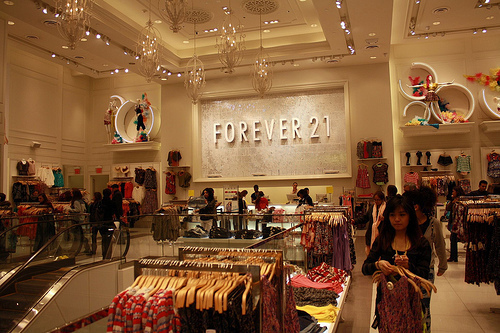 It's really tough to walk out of a Forever 21 store without purchasing. Since Forever 21 has great styles at really affordable prices, we don't feel guilty snagging that top or buying that bracelet.
Tips to shop at Forever 21
Check if it's a see through
See through tops are a huge trend these days, although there are some items that are not supposed to be transparent. Check if the item is see through by putting your hand inside and seeing if your hand is still visible. Forever 21 clothing is often very thin and can be see-through even if it's not supposed to be. If you want to be sure you're not exposing any skin then buy something with a lining or plan on wearing something underneath.
Know how to care for your clothing
It's important to read the label because a large factor in how long your item will last depends on how well you're taking care of it.
You get what you pay
Forever 21 may not be the right place to get high quality clothes, but if you love the clothes you can still shop at F 21.
Look for a larger size
Even if you think you fit into one particular size of Forever 21 clothes buy size bigger because lots of stuff there shrinks easily and quickly.
Try out the stores outfits
Inspect your clothes or dirt, deodorant, rips, missing buttons, etc.
This article will be beneficial for you when you go next time to a Forever 21 store.