Swami Sachchidanand Hari Sakshi Maharaj is a member of Bharatiya Janata Party and RSS.
Here are 5 Interesting Facts about Sakshi Maharaj.
1) Maharaj won his 2014 Indian General Elections from the Unnao Lok Sabha Constituency  in Uttar Pradesh. He has also won 1996 Indian General Elections and 1998 from Farrukhabad.
2) In 1992 Sakshi Maharaj was accused of the Babri Masjid Demolition due to which he was expelled from the Rajya Sabha.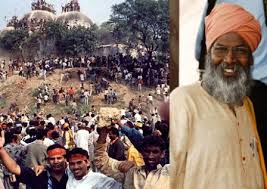 3) On April 6 2013, UP police arrested Maharaj, his brother and two others for murder of a former college principal Sujata Verma. She was a former member of district panchayat and one time disciple of Sakshi Maharaj. She was shot dead on 15 April 2013.
4) Sakshi Maharaj has published various books such as Panchdarshi, Niti Shatak, Saral Vivek, Vichar Chandraodaya etc.
5) Sakshi Maharaj has established more than hundred spiritual centers throughout the country. He has also set up Girls' Degree College, Girls' Inter College and High School.
HERE IS A VIDEO OF AN EXCLUSIVE INTERVIEW WITH SAKSHI MAHARAJ
The following two tabs change content below.
Ancy
Nationality : Indian Education : First Year BMS Student