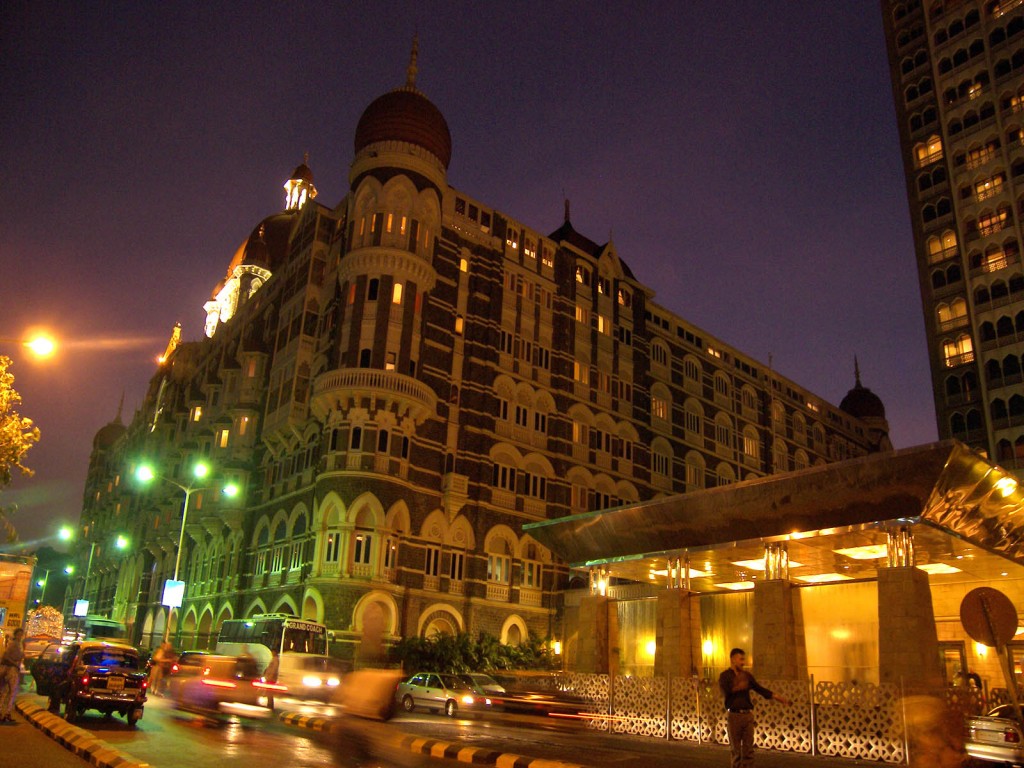 Mumbai is also called Bombay. It is world of dreams. You'll find everything from beaches to Bollywood.  Mumbai also named as Alpha World city. It is one among the must see places in India, Don't miss these Top Mumbai Attractions for a memorable visit..
Haji Ali Dargah :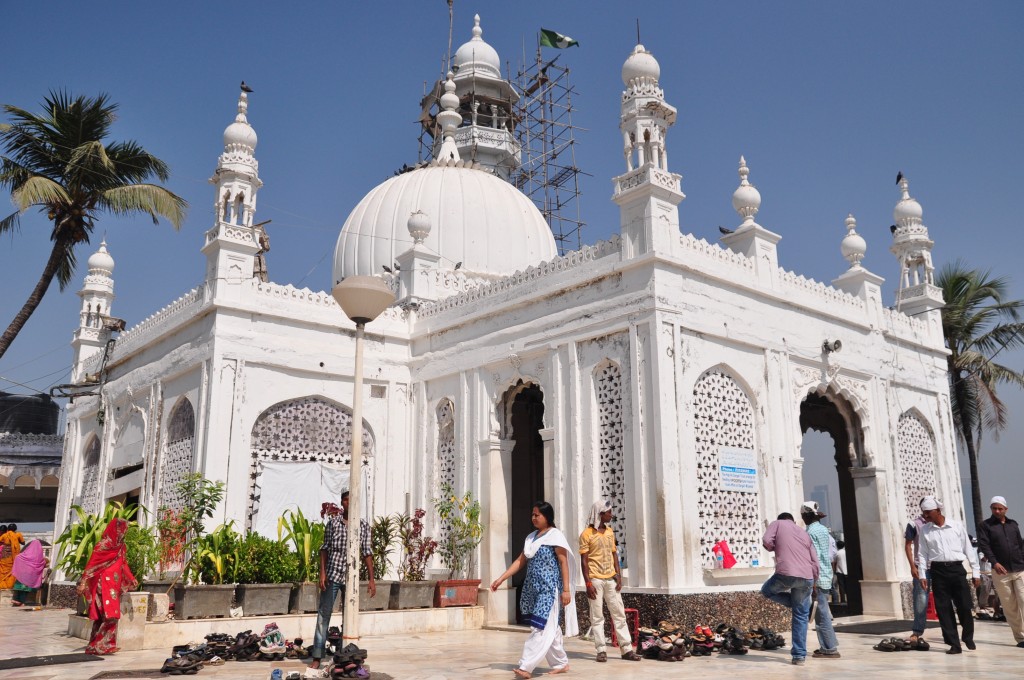 Haji Ali Dargah is one of the most popular religious places in Mumbai, visited by people of all religions alike. the place is visited by thousands of people each week and lakhs of people every year. Haji Ali Dargah is one of India's most famous and prestigious landmarks situated about 500 yards from the Mumbai shoreline in the middle of the Arabian Sea off Lala Lajpatrai Marg. People from all parts of the world without restrictions of caste, creed and religion visit the Dargah to offer their prayers and for the fulfillment of their wishes by the blessings of the Saint Pir Haji Ali Shah Bukhari (R.A.). Some pray for wealth, others for health, children, marriages, etc. have their wishes being granted at all the times.
Juhu & Chowpatty Marine Drive Beaches :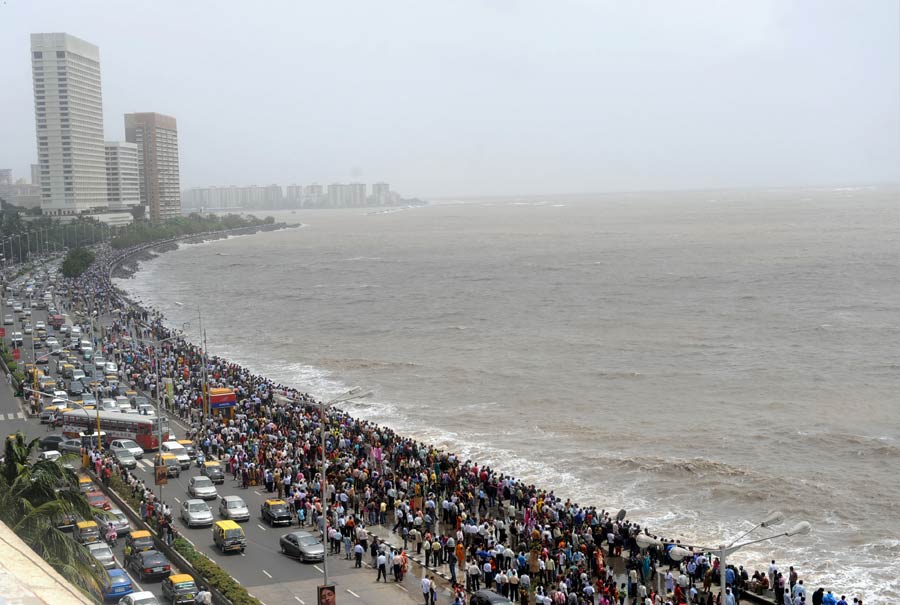 It is recommended that you should bee definitely going to the Juhu beach as well as Marine drive and there you will be getting to view the sunset. Chowpatty Beach is popular amongst people of all age groups. You can delight in the shows of professional masseurs, beebee-gun shooting galleries, contortionists, snake charmers and monkey-trainers. Take a quick bite of 'bhel-puri' that once eaten, you will not be able to resist. Relish the local delicacies such as Pav Bhaji, Pani Puri and Kulfi sold at local stalls dotting the beach. It's a place where you would love to come after a tiring day to please your taste buds, suck in some fresh air and gradually cooling your heels.
Gateway of India :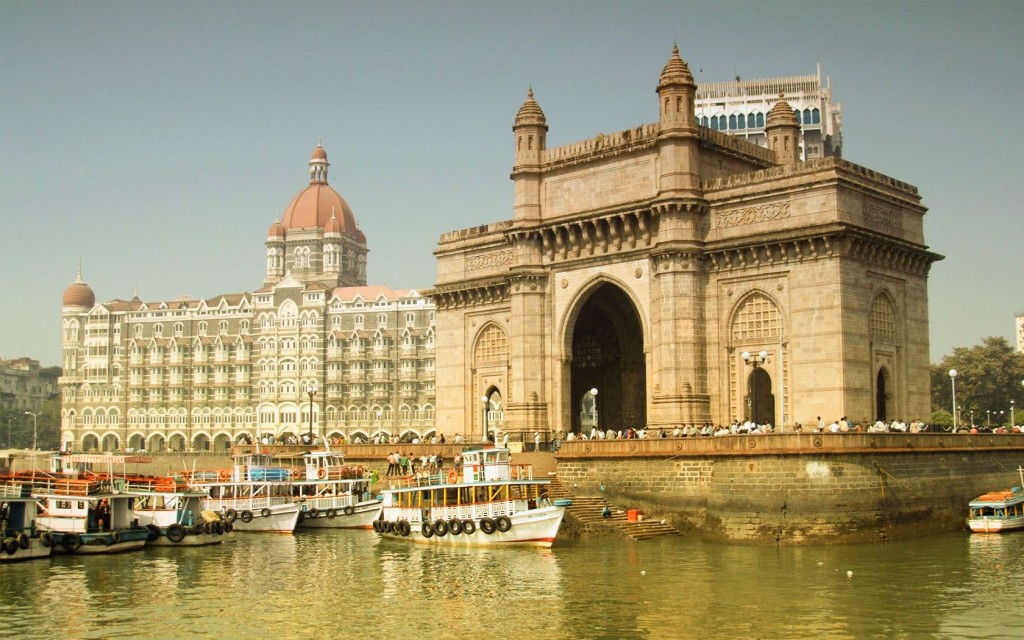 The Gateway of India is one of the architectural marvel of our country. Located on the southern part of Mumbai on the shores of Arabian Sea, the Gateway of India is an important landmark of the city. The beautifully engraved designs and the well built pillars remind us of the colonial rule and the sacrifices of our fellow country men. The Gateway of India is a combination of the "Indo-Sarcenic" architecture. Built in yellow basalt stone, this marvelous monument is an architectural wonder of Mumbai. The Gateway of India attracts many tourist all through the year. The boating facilities adds to the excitement of the place.
Elephanta Caves :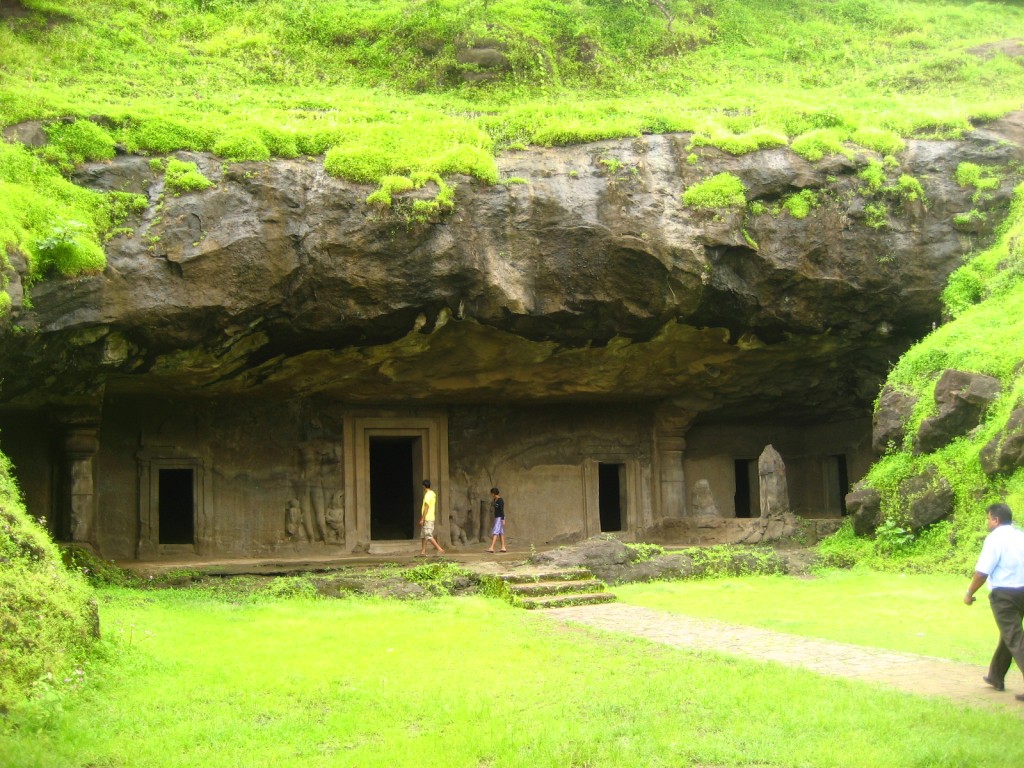 The Elephanta Caves are a  great tourist attraction in the vicinity of the large Mumbai meteropolis. The Elephanta Caves are a complex of ancient cave temples on Elephanta Island, an hour-long ferry ride from Mumbai. Designated a UNESCO World Heritage Site in 1987, Elephanta Island is not only a worthy destination in itself, it also provides a great view of Mumbai's skyline and an escape from the chaos of the city. These rock cut temples dedicated to Shiva Mahadeva are rich in sculptural content.
Prince of Wales Museum :
The Prince of Wales Museum of Western India, or Chhatrapati Shivaji Maharaj Vastu Sangrahalaya as it was renamed by the Shiv Sena, ranks among the city's most distinctive Raj-era constructions. It stands rather grandly in its own gardens off MG Road, crowned by a massive white Mughal-style dome, beneath which one of India's finest collections of paintings and sculpture is arrayed on three floors. The building was designed by George Wittet, of Gateway of India fame, and stands as the epitome of the hybrid Indo-Saracenic style – regarded in its day as an "educated" interpretation of fifteenth- and sixteenth-century Gujarati architecture, mixing Islamic touches with typically English municipal brickwork.
Nehru Planetarium :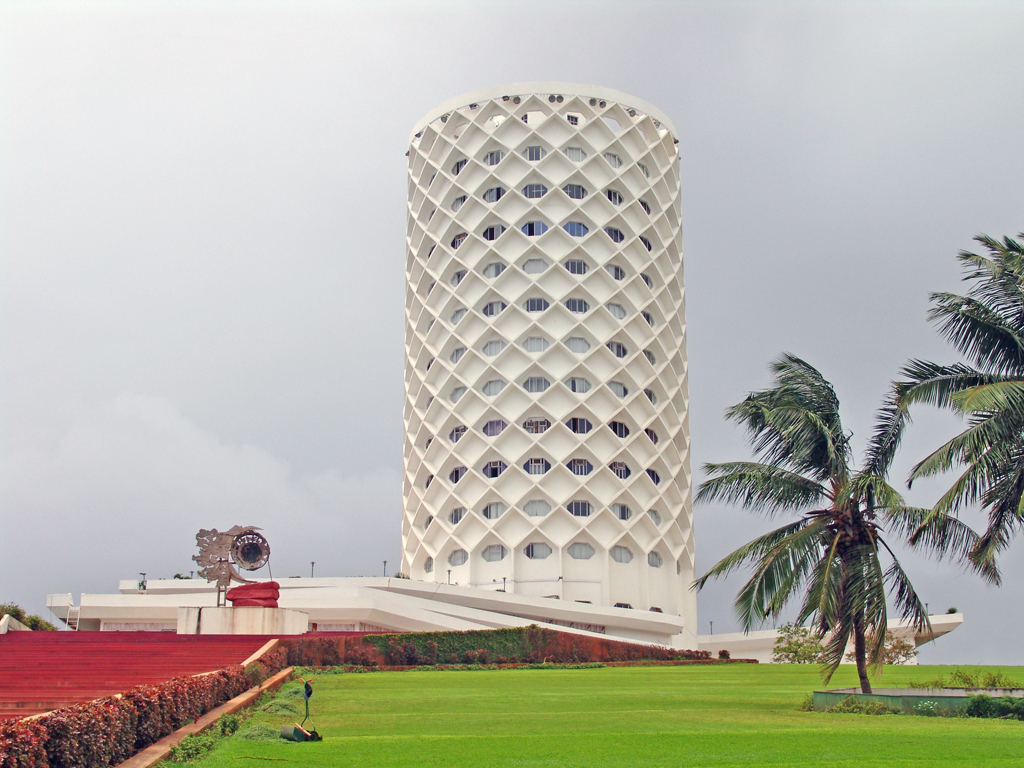 The Nehru Planetarium, Mumbai, a part of the Nehru Centre, Mumbai, was inaugurated on 3 March 1977 by the then Prime Minister of India, Smt. Indira Gandhi. Over the years, this has grown into a Centre for scientific study of astronomy and space science. Bandra-Worli Sea Link The sky theater is a dome shaped theater . It shows information on constellations,planets . Visuals such as Cartoons, Paintings, Computer animations, video clippings and special effects are liberally used in the programmes at the sky theater.The Sky Theater shown at Jawaharlal Nehru Planetarium are very popular and attract about more than 200,000 visitors per year.
Colaba Causeway :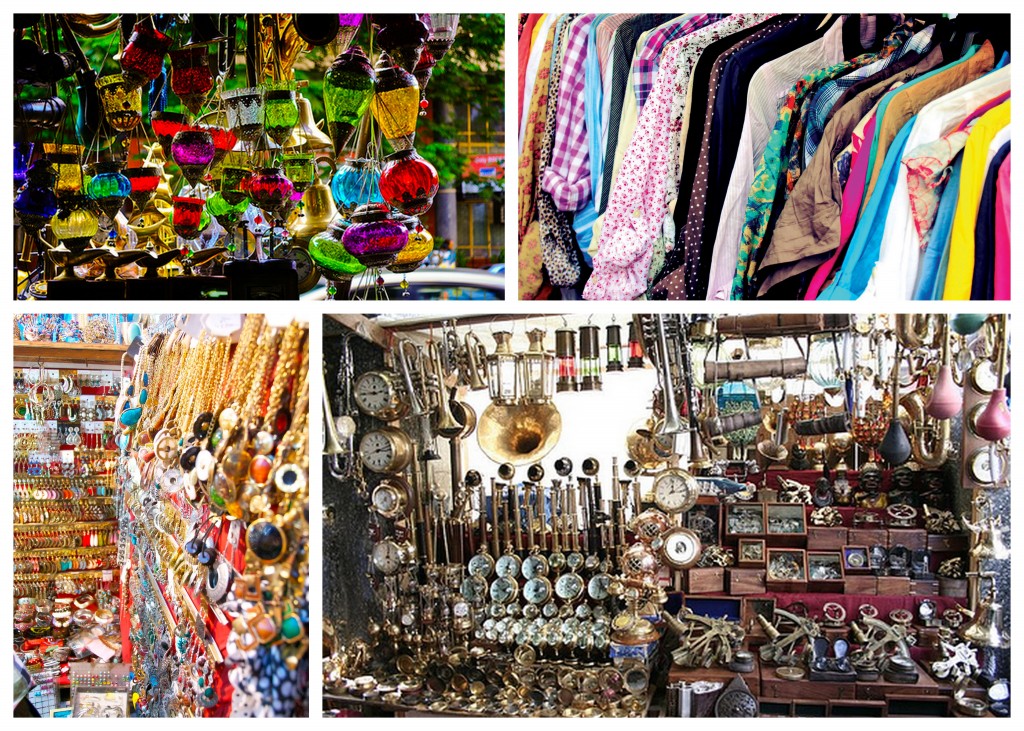 Colaba Causeway Market is the most pleasant of all the markets to walk around – in spite of the pests and beggars – at least this market is clean with interesting stuff to look at and buy. On the one side of the pavement there are stalls and on the other side little shops. There are also enough restaurants and coffee shops to choose from in this area.The everyday carnival that is the Colaba Causeway market is a shopping experience like no other in Mumbai.
Bandstand :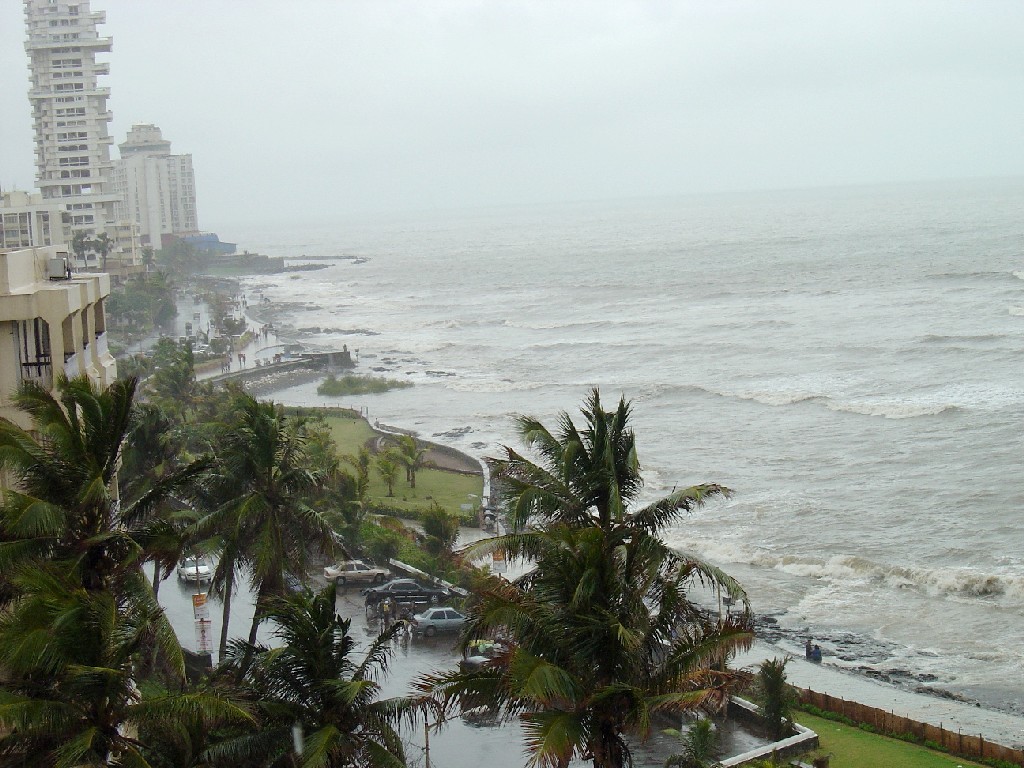 The Bandstand is a kilometer long walkway along the sea on the west side of Bandra, a suburb of Mumbai, India. Less than a decade old, it is simultaneously a popular hang out spot, a jogging track, a park and also a lovers point. Visible along the promenade are expensive bungalows and flats, some of which belong to Bollywood movie stars like Shahrukh Khan, Salman Khan, John Abraham, Shabana Azmi, Rekha, Katrina Kaif among others. Towards the Land's End side of the promenade is an amphitheater. It serves as a venue for the Mumbai Festival, Celebrate Bandra and other events including concerts, classical dance and other performances.
Kala Ghoda Art Precinct :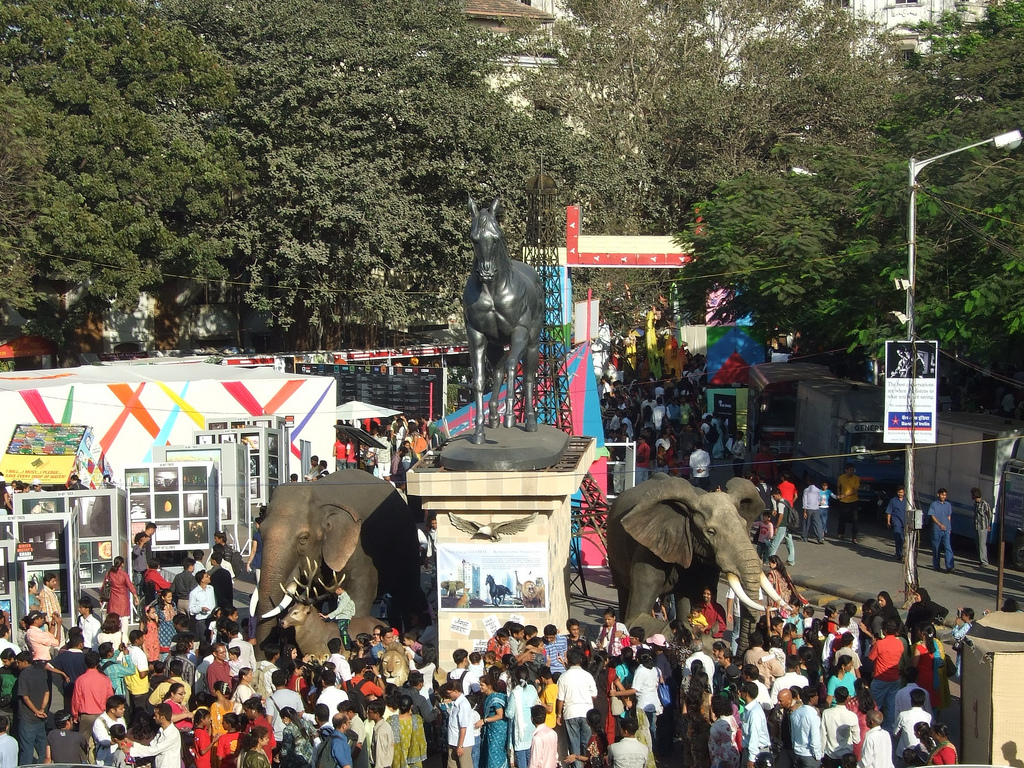 The Kala Ghoda Arts Festival is an annual festival, usually around nine days long, held in late January or early February, in the Kala Ghoda area of South Mumbai, India. Kala Ghoda is a magnet for creative talent. Artists, food connoisseurs, fashion designers, architecture buffs; they flick here. A variety of restaurants and designer boutiques also add diversity to the area: Samovar, Noodle Bar, Bombay Blues, Joss, Khyber, Chetana, Westside, Globus, Ensemble, Muse, and more. This crescent-shaped area, with its concentration of museums, art galleries, educational institutions, boutiques and restaurant, and what is arguably the finest array of heritage buildings in the city, has emerged as an arts precinct and a prominent cultural centre, thronged by visitors and tourists from all over the world.
      10.  Film City of Mumbai :
The Film City, which is located in a secluded place in the vicinity of Aarey Colony, is a huge studio with well-equipped exclusive spaces for indoor and outdoor shooting, recording room, theatre, garden, lakes, fighting ground and helipads. The main highlight of the Film City are real-like sets, which include fake lakes, fountains, mountains, gardens houses, picnic spots, cities and villages which are essential for shooting. To visitors, it is an absolute dream world, where everything is just beautiful and perfect and is impossible to differentiate the 'real' and 'fake'. Read further to know more about Film City and its prominent attractions.
      11.  Esselworld & Waterkingdom :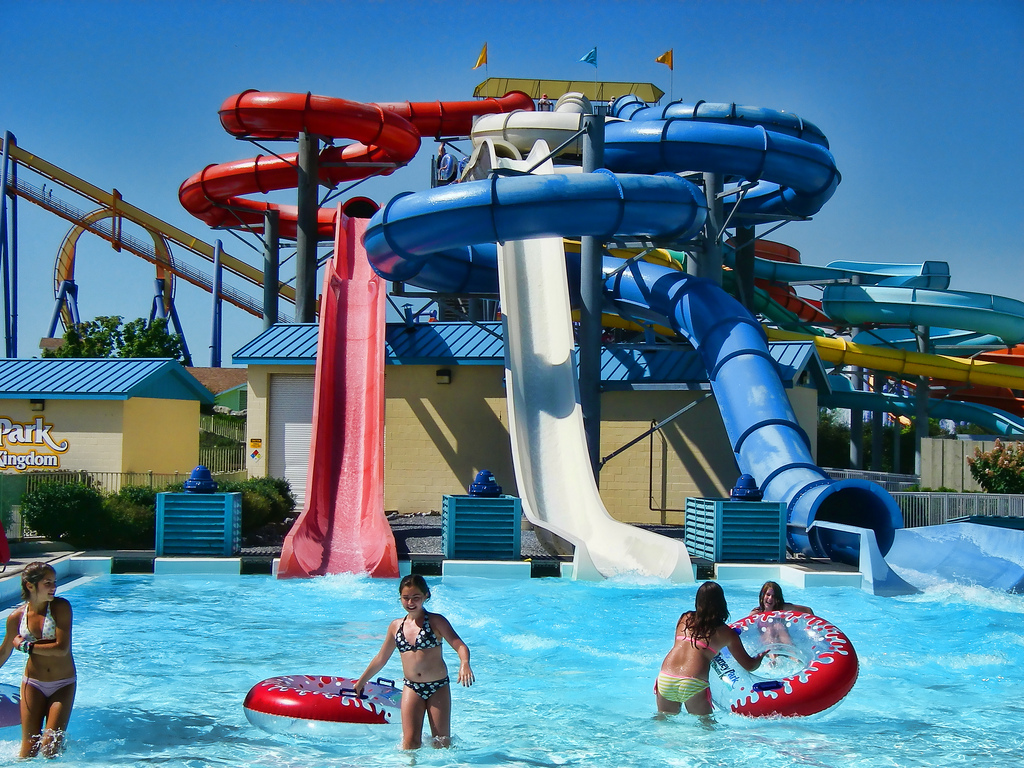 Esselworld & waterkingdom, ogether, they are recognized as India's Largest Amusement And Water Park as well as Asia's Largest Theme Water Park. It draws in an estimated 1.8 million visitors annually. EsselWorld is home to a variety of rides appropriate for individuals of all ages. It boasts a catalogue of thirteen family rides, first ice skating rink, nine adrenaline-pumping thrill rides and nine children's rides. The park maintains the rink's temperature at a constant 4 degrees Celsius. 'Water Kingdom', is one of the largest Theme Water Parks in Asia, are located on 64 acres of land and it is a perfect world of delight with hordes of watery wonders that come in the form of thrilling rides.
– By Pratiksha Trivedi