There are many different kinds of love in an adolescent life and there is no specific way to know which one is the true one. One needs to decide what they are feeling is true or just an infatuation. If one pays close attention to themselves and to their special someone, they can get some ideas about their feelings.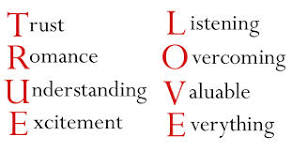 1. If you can't stop thinking about your special someone for an hour straight then there is a huge chance that you are obsessed over him/her. Always thinking about your partner's activity is also a sign of your insecurity.  In a healthy loving relationship, one should be able to spend time apart from your loved one without obsessing over each and every move of partner in every 5 minutes.
If you watch a movie and think what your partner is doing, or you are selecting a cloth for yourself and thinking about your partner's preferences or you unknowingly smile when you think about him/her, then you may be falling in true love.
2. No person is perfect,everyone have some flaws in them. See if you are aware of your loved one's flaws and you are ready to accept them, in fact ready to help them through it. If you truly love someone then you should be ready to accept a person with flaws who loves you a lot instead of expecting a flawless god or goddess for yourself. If you are stubborn enough to insist on a flawless partner then you have a problem but if you accept that your partner is a bit of self centered or not so great at conversation, then you are more likely to be in a good and true relationship.
Being aware of your loved one's flaws, its you moral obligation to guide them to the right thing.
If you are not finding two or three imperfect things in your partner then you are noticing your partner carefully or you living in your dream world.
Even after knowing each others flaws, if a couple can discuss about it and laugh on it together then its more likely to be Truelove.
3. Look if you feel like the best version of yourself when you are around your loved one. After all, if you are in true love, then you should want to be with the person who brings out the best in you. If you feel restricted or inferior when you are around your partner then may be you are not in true love. Some signs to support the fact that you are in true love:
If you feel like a princess or the most handsome man around your partner even if you are wearing a casual pair of jeans and T-shirt.
If you feel that you are talented and you have a very sharp mind when you are conversation with your partner
If you are confident and if you don't have to think twice before talking something stupid and absurd around your partner.
4. Notice if you feel thrill of happiness from inside when you see your partner smile. Love is like a mirror what you give that comes back reflecting towards you. If you think only about yourself and not involve with your partner's activity or happiness then you can't expect your partner to be there for you.
You should feel pleasure in feeding your patner by yourself or prepare meal specially for them, give them a ride once in a while orhelp them when they are having a rough week.
If you feel good about helping your patner and feeling as if you wasted your time then you are in love.
5. Love doesn't have to be serious all the time. Ofcource you can sit and talk about some  serious issue once a while but being serious always, shows lack of happiness and bordome. Its not necessary that you have to be comedian, you can always goof around and laugh on silly things. Being funny and happy shows that you are very much comfortable and happy enough to be in love.
If your partner and crack you up to laugh then he/she is perfect for u to fall in love with.
6. See if you enjoy doing things with your partner. Its not going on a world tour or organizing some big famous party but its more like doing small things like watching a movie together, or dancing on some random song and appreciate the time that you spend together.
If you love watching a romantic movie with your partner on home television or if you enjoy roadside kulfi more than the ice cream from a branded parlour then you are in love.
7. Love isn't bed of roses but it comes with thrones too. However if you truly love someone the good days will outnumber the bad ones. You should adjust yourself in a relationship in non ideal situation. There are many different situation comes in ones life like financial issue or death of someone close. These tough situation s do test the bond of relationship, at these time its necessary to have faith in yourself and in your partner. If a relation survives the difficult situation its bond becomes more strong and lead the relation to true love.

8.Two people are of two different personalities because of their choices and of their activity. Its not necessary that you fall in love with a person who is close to your personality. See if you can come out of your comfort zone for your partner. It doesn't mean that you are putting your self respect on stake just to impress somebody. Its more like to try something you always wanted to do but there was no one to push you.
If you find yourself comfortable doing out of your box things with your partner and you are enjoying it then you may be in love.
9. One of the most problematic issue that people face is of losing their individual identity while being in a relationship. People sacrifice way too much to make the relationship survive that they lose themselves. Instead of trying to be someone else, try to enhance yourself such that you can you can maintain your individual life as well as your relationship with your partner.
Try to be comfortable while going out with your own friends and its completly fine to give importance to your own personal interest like dancing or singing or wearing a kind on cloth you like to wear. If you don't feel criminal doing what you want to do and you are happy in your relationship then its true love.
10. Being honest about everything in a relationship is very important for its survival. See if you mean all the things that you say to your partner. You should feel comfortable in saying the truth even if it is not favorable. If you are really in love then you should not hold back anything to your partner when you are talking to him/her. You should tell every little thing that is bothering you or nagging you,if its a true love..he or she will understand.
By Rashmi Chaurasia