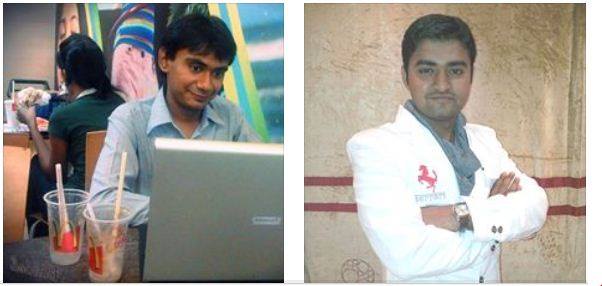 Name: Hiren Joshi & Abhishek Shah
Company: Ally Digital Media
Facebook/Twitter Id: F/shahabhishek9, T/shahabhishek91
Tell us something about yourself?
Well, let me tell you something about me and my partner. I was sort of nocturnal blogger in my college days; I was fond of facebook those days. Well, that facebook got me the opportunity to work with bms.co.in in 2011 as a freelancing content writer. I use to dream of whether the webosphere can be my domain to triumph. Then I met Hiren Joshi (Currently Partner of the venture). He was a senior chap of mine in college days, he came in as a mentor initially, days after days, months after months we decided to startup something cool that can put our shoes on the podium of success. To tell you more about him he started his journey in the domain of Internet marketing as a Search Analyst, he has been working with his mate internet since last 5 years. He has helped renowned Digital Marketing Experts of India in the past projects, his genre comprises of managing strategic online marketing and online advertising campaigns. With an in-depth knowledge of most of the web protocols makes him ideal Online Marketing Partner for any Business. The honcho dedicates his free time with his pretty girl friend and is passionate about movies and theater.
Tell us something about your business. 
Our venture (http://www.allydigitalmedia.com/) is all about Digital Marketing, we increase the visibility and accessibility of your brand on webospehere in specific and media in general.  We have a perception to merge the perspectives of strategies and digital ideas to vouch the theme of the brand and market the same on World Wide Web via various online marketing matrices that would contribute in achieving the goals of the brand. We render Digital Strategies as per the client and assist them in extremely succeeding their business online.
What is your philosophy towards work?
We believe in the philosophy of Baba Rancho – "Pursue excellence and success will follow you" and that's the success mantra of our brand.
Whom do you admire as your role model? And why?
Well… the legitimate role model of us is chanakya, his perceptions towards everything was very practical as against the bookish oriented on, which can be applied in real life.
"Management is core to every individual, organization & society." Give your views on it.
I would like to say, management isn't about leadership, its about doing the right thing at right time. The management sounds vulnerable when it's not brewed at the perfect place and time.
Name 3 qualities of prime importance that a businessman should possess.
1.      Punctuality
2.      The hunger to grow
3.      Pursuing the dream with sincerity
According to you, what are the challenges for Entrepreneurship today?
MONEY!!! Biggest challenge is prices… the input of the goods are high but at the same time keep high prices will not be fine…
Can Entrepreneurship be taught in B-Schools/Management Institutes/Colleges?
Yes, Can be taught but currently it is not taught properly, its all the bookish thing imbibed in the students right now.
Is the Name of the Institute from where a student pursues his/her Graduation/Post Graduation or other courses important while setting up your business?
Actually not, it is the skills and mindset that makes a person a successful businessman that leads him towards stratosphere with the zeal to grow.
Do you think today's economy is conducive for a new venture to start upon?
No, currently it is not good to start up any venture and everyone knows the reason why…
"Earning more & more is the motive behind any business." Is it justifiable?
Only earning is not the only motivation behind running any business…. Many Factors are also equally important like the competitor's product, then the image in the market, goodwill. etc
Share with us the most enjoyable moment you had experienced on work.
It was when the last time we had a informal meet at ccd, it was sort of refreshment to the brains after a long time. We discussed many stuffs about the wavelength of the personal and professional life.
Your feedback for BMS.co.in?
The name is enough.
 COMPANY PROFILE
History-
It has newly started in 2012 with a crew of lucrative 5. Ally Digital Media is a comprehensive digital marketing firm, one of the emerging competent digital media Company in Mumbai. Our rage is implementing creativity in the field of internet marketing. We work on the ultimate goal of making website available to the highest possible targeted audience. We believe in removing the odds of your business and help in boosting long term ROI. We have the best team for running social media campaigns successfully to the pinnacle. We endeavor to make our clients satisfied.
Vision/Mission-
To be the preferred one in the domain of digital marketing in India initially.
Products & Service-
Search Engine Optimization
Online Reputation Management
Social Media Optimization
PPC Campaigns
Complete 360 degree digital marketing.
Content Development
E-Commerce Solutions
Link Building
Branding
Mobile Marketing
Marketing Strategy-
Our marketing strategy is based on BCG matrix and based on that the strategies are defined astutely.
Existing Market Presence-
We have already canvassed our success stories at 4 parts in India, we also have clients from Singapore, UK, New Jersey.
Future Plans-
Ally is soon gonna go for a new venture called "Digital Dashboard". Stay tuned to know more.