An Interview with Sheena Murpani, TYBMS Sem 5 Topper, R.D. National College (75%)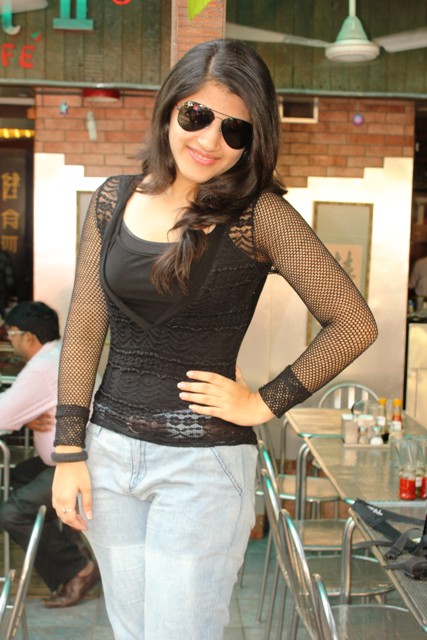 Tell us more about yourself.
I have been in top 3 since Sem 1.Favoured by most professors for reasons I still dunno! I just Follow my heart & do what I feel like because Regret is not a good feeling & Life is too short of even people around you. So I simply be Happy all the time and never let negativity get over me.
Were you expecting to top in the exams? To whom would you credit this success to?
I was hoping but not really expecting it to come true! I would credit this success to my Mom & Brother for many a reasons..I would also credit this success to my close college friends Teddy, Kay & Karan for just being there for me & classmates HK, KT, DP & others for keeping me updated about all the necessary information regarding various Assignments & Projects.
Did you prepare religiously from day One or A few weeks before the exams?
No I did not obviously prepare from Day1, I started a few weeks before exams but was very focused in those few weeks
How did you allot time to different subjects?
I did not make a time-table for the only reason that I knew I wouldn't follow it. I get bored too soon of a particular & sometimes before even doing enough of a chapter..I used to study 6 to 8 hrs a day whichever subject of chapter I felt like doing
Can you share some insights on how to crack the subjects before exams?
According to me HRM & SSF are easy subjects whereas for logistics and SSM one should try and attend lectures in college because some concepts could be difficult to grasp. In case of FM one needs to thorough practice & DO NOT SKIP doing theory in practical subjects like it. For Marketing and SSM one should gather and keep as many examples as possible.
Do you think BMS student require coaching classes or is self-study enough? Had you joined any coaching class for a particular subject?
It depends on one's personal choice, If you feel you will genuinely practice FM & SSF DAILY giving no excuse , you need not take tuitions but if you feel having the choice upto you, You might tend to avoid it then u should join for FM & SSF
Did you participate in college fests or extra-curricular activities? Do you think a BMS student can manage both studies and extra activities?
Yes I had participated in college fests & a few extra-curricular activities because when it is about Managing I feel a BMS student can do anything. We are doing MANAGEMENT Studies which is loaded with presentations, handwritten assignments, projects & somewhat pressure to attend to or it can be removed as revenge in your internal marks. If a BMS student can survive all of that then he can successfully manage many more things along with that!
Did you pursue any additional courses/ internships alongside BMS?
No I had not pursued Internships because personally I feel Internship is a waste of your time & talent unless you are paid for it!
Today, we often come across students committing suicide out of failure, depression or tension of exams. What do you have to say about this? Did you use any special techniques for stress management?
It's not only about studies but generally one should have lot of positivity within. And if you already know that you won't be able to deal with failure then why not study & pass. It's not so difficult to pass in BMS. And where stress & tension in concerned, everyone gets stressed in some point of time. If you are so stressed that you can't event study, then I suggest you should sleep for sometime & then watch TV for some time to calm you mind & make yourself believe you have a chilled out like & then sit to study. Because stressing yourself over something doesn't always make u work harder, sometimes comes in way of your goal.
Do you think the number of Industrial visits should be increased for BMS Students? Which industries have you visited?
Yes, the no of Industrial Visits should definitely be increased. If certain colleges don't have permission for over-night trips, According to me there should be 2 to 3 one day IV's
Do you think BMS students are flooded with assignments, projects and internal exams round the clock? What changes would you like to bring in the BMS Curriculum?
Yes, BMS is flooded with assignments, projects and exams but I would not like to bring any change in the BMS curriculum because that's the beauty of the course! All of this is a part of BMS; The identity of BMS would be lost without these.
What message would you like to give to the next batch of BMS students?
I would suggest them to attend as it might help when u open your book a few days before the exam & for practical papers the format can change overnight so don't stick to it.
What are the future plans post BMS?
I haven't planned my future but will surely make my future by grabbing the best opportunities at that time
Keep going & keep updating as it provides much more information than even college can!
The following two tabs change content below.
We, at BMS.co.in, believe in sharing knowledge and giving quality information to our BMS students. We are here to provide and update you with every details required by you BMSites! If you want to join us, please mail to
[email protected]