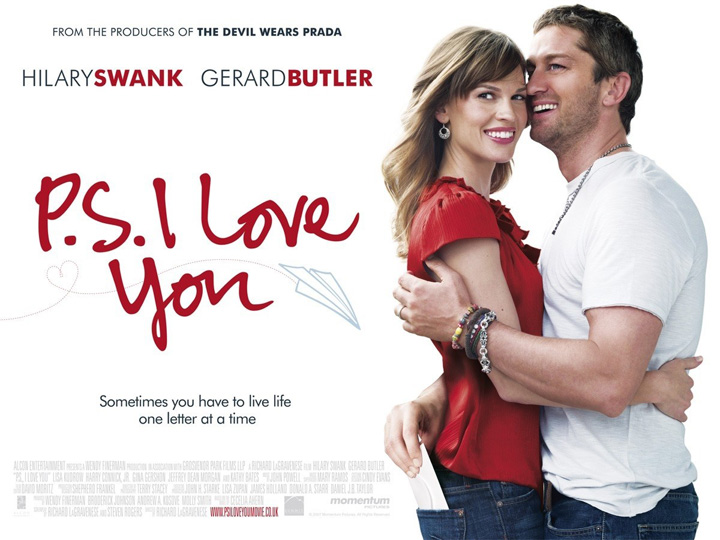 P.S I LOVE YOU is a movie which is for sure to touch the chords of all those who watch it. The movie is Romantic flick based on the novel P.S I LOVE YOU which is based on the love of Holly and Gerry whose love sustains even after the death of Gerry.
The movie speaks about the life of married couple Holly and Gerry who live on the lower east side of Manhattan. The couple loves each a lot but they have regular arguments and fights until one day husband Gerry passes away due to brain tumor leaving Holly in deep trauma and she realizes how useless their fights had been. She detaches herself from the entire world until the day of her 30th birthday where the entire family decides to help her move on in life and start a fresh. It is this day that she receives her first messages of her husband Gerry all ending with P.S I LOVE YOU out of the many eh has written for her.
With ach message Holly is filled with new encouragement in life and also discovers new things in life and makes an attempt to move on in life. Holly's mom feels all the messages are holding holly to her past but at the same time Gerry's messages are helping her move on as guide to her.
Gerry has arranged a trip for Holly along with her friends to Ireland wherein there to the friend's receive a letter wherein it is said to take her to his favorite pub. There a guy name William is attracted to holly and sings the same song which Gerry sings for her when they meet the first time. She again remembers Gerry and during the trip she comes to know her both friends have plan to get married and one is pregnant so Holly again gets depressed and becomes a loner again. But one night her friend invites William to stay with them wherein Holly and William get intimate as they have feeling for each other. Then they start speaking about a deceased husband wherein he realizes the husband is his childhood buddy and Holly again returns to the same pain but William calms her down and then they visit Gerry's husband where she receives a n other letter of Gerry which reminds her of their first meeting.
Holly returns home and again he withdraws herself from everybody but eventually he discovers her talent of designing shoes and starts living life happily. Eventually she even discovers her mother was the one who delivered her all the letters of Gerry but she now lives her life happily with the hope for falling in love.
The movies mainly teaches us that love never dies and it is never selfish wherein the husband even after death keeps motivating the wife to move on in life and live life happily with new hopes and aspiration. It also tells us that your family and friends area always there for you whenever you need them even though you shut all doors for them
The two things the movie teaches us is Love Sustains till eternity and Life should not and doesn't stop for anyone.
The following two tabs change content below.
Latest posts by Carol Fernandes (see all)