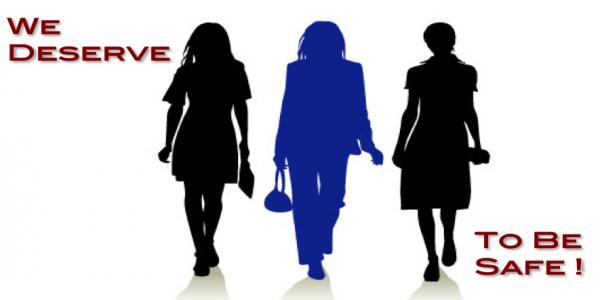 Now-a-days, Indian society has become liberal and equality oriented. Men and women are treated equal. Women play a crucial role in our society and they are important for the development for the nation. But why their safety is still unsure? Don't they have the freedom to enjoy their rights?
There are 'n' numbers of cases of rape, molestation, eve-teasing, harassment, etc. these days in each and every corner of our country which are today's hot news' in the newspaper like the Delhi case which happened on 16th December, 2012. Is this what we have achieved and experienced after getting freedom from the past 66 years? The mind-set of the people must change. Though freedom is granted by the constitution, society restricts the female gender from enjoying their rights. But still in some cases, women indeed use their rights at the wrong place which creates a hullabaloo everywhere.
For women in urban areas like Mumbai, they have to be really very alert in order to avoid any offensive act. The first thing that women must have is confidence and the presence of mind to face that situation efficiently. Women must also learn the art of self- defence which is very essential for their safety. The Government has also introduced some policies for the safety of women. A woman can dial 108 for any help required by them. Without women, we can't live our life.
Mumbai is known as the safest place for women. So we all must maintain the respect for women. In this way, women safety must be ensured and they must be respected.
The following two tabs change content below.
I am in 11th std from mulund college of commerce
Latest posts by Aakriti Sharma (see all)