The piece of clothing which always allows you to embrace the feminine side of you is the chic High-Waisted skirt.It's versatility will leave you flabbergasted!Yes,there are so many ways to wear your High-Waisted skirt.Read on to learn:-
1. Sticking to one print
Whether you prefer your pattern in your blouse or in your skirt, stick to one solid and one print. Either way, the skirt will be the central focus—there won't be competing prints battling to draw the attention of the eye, and its bouncy shape becomes the main event.
2. Belt it elegant
The only danger inherent in wearing a fuller skirt is that the added volume has the potential to swallow your figure and have the opposite of the desired, ultra-feminine result. There's an easy solution: put a belt on it. Cinch it in at your waist, and allow some of the fabric from the top of the skirt to poke through over the top of the belt. You'll instantly have your curves back, and you'll look slimmer at that.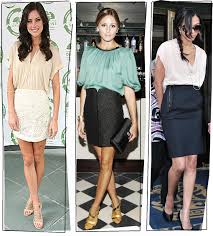 3. Pair it with a long top.
If you're going for a more boho-chic approach to the look, and you're not afraid of a little bit of slouch, throw on a longer top or tucked-out sweater.
4. Short and haute
Short tops were practically made to wear with a high-waisted full skirts, which bares just a hint of skin. Plus, it slims you on top, while the skirt adds volume at your hips resulting in a waist that looks teeny. This can even work during the fall: Instead of a cropped tank, go for a chic cropped turtleneck sweater.
5. Romanticizing with a flirty silhouette.
Full skirts aren't limited to versions that hit the knee or below–a short skirt can also be considered full. These tend to emphasize your hips even more, and the flash of thigh in addition to calf makes the look that much more feminine. For the cooler months, throw on a pair of tights under your short full skirt, and you're all set.
6. Pockets, pockets, pockets.
A full skirt not only adds volume and a delightful swish factor to your outfit: it also means there's more room for pockets. Pockets are utilitarian, of course, providing room for you to haul your everyday necessities but they also add a modern, almost casual touch—one that makes for a fun contrast to the super-girly shape the skirt.
7. Go full-on feminine with florals.
To take the full skirt to the ultimate depths of femininity, we suggest picking one up that's printed with flowers. You can keep the femme vibe going by adding a silky blouse and dainty pumps, or toughen it up with a cropped leather moto jacket and cool footwear.                                      
 -MISBAAH MANSURI
The following two tabs change content below.
Latest posts by Riya Lokhande (see all)