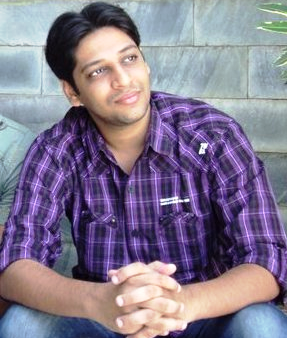 Name – Vishal Bhawsinghka
Graduated BMS in the year – 2007
College – SIES College of Commerce; Economics, Sion East
Currently working – Owner of Du Kaizen Executive Search Firm (Entrepreneur)
Company – Du Kaizen Executive Search Firm
Tell us something about yourself
A person whose focus in life is to walk along the path with an achievement orientation towards everything he does. A passion to network and interact with people across borders and share/gain knowledge. Humble, down to earth and low profile man. A firm believer in DESTINY. On Professional front, I am a person who considers hard work and committed attitude towards work as my greatest asset for excelling in the future and achieving goals. Professional experience includes dynamic combination of HR – Recruitment & Marketing in handling end-to-end recruitment, reporting & analysis and marketing initiatives for one of the top Fortune 50 Company.
Tell us something about your BMS college
SIES College of Commerce & Economics has its presence in the education space since 1932. One of the leading institutes providing entire gamut of education services starting from Primary Schooling to MBA course through its various sister concern institutions. The BMS space in SIES has gained its name with the legacy of its sister concerns to which the Faculty, Alumni's career progress, Cultural & Management Festival and Newsletters – BUSINESSENCE success adds on.
When did you join BMS? Which year you graduated BMS?
2004 to 2007.
How did you start your career? What was the first step after completing BMS?
Start of my career happened during the BMS phase itself when I got associated way back in 2005 with www.managementparadise.com and joined Kartik Raichura, CEO – Management Paradise supporting the firm move to the next level by taking care of entire HR, Marketing and the PR activity at Pan India level. The 1st step post BMS was to look out work-cum-study programme in the HR domain with any organization of repute. Alongside, Management Paradise was an ongoing role.
What are you doing currently?
Currently, I am the Co – Owner of Du Kaizen Executive Search Firm. Du Kaizen is an Executive Search & Recruitment Consultancy is a young organization established with the objective of providing comprehensive Staffing & Manpower solutions to the organizations across India & Aboard supporting leadership positions (Managers to CXO level positions).
Share with us some of your favorite college memories – Sad, pleasant or anything?
To name a few sad/pleasant memories would be unfair as the number is beyond infinity – RAJNIKANT !!! Still, among the pleasant ones – I remember the good times spent organizing the college festivals and staying back at night in college, fun while travelling with friends getting a chance to gossip more, Industrial Visits, Doing Projects – I actually loved them and many more !!!! – Sad memories – Lets keep it undisclosed only 🙂
What has BMS life taught you?
Well, loads many things and I can go on n on n on…. Professionalism, Business Etiquettes, Built Confidence, Removed Stage Fear, Communication Skills, Time Management, Problem solving tactics, Relationship Management, Networking skills, Changed perspective towards business management (industry/market focused)…… (These would look like jargons, but trust me – BMS has given it all)
How is life after BMS? What changes do you see in yourself?
Life after BMS has been a road trip towards Success!!! BMS taught me all those things I just mentioned above and many more which changed the way I looked outside in the corporate world. No other course could offer this level of exposure.
Who in your life has influenced you the most?
Self motivation/influence to achieve more and more has been the only kick factor in my life.
Has BMS course really helped you in the corporate world or in MBA?
Yes, indeed. I did my PG from XLRI-Accenture HR Academy which gave me a platform to work fulltime in the HR domain alongside do a 2 years course with a Certification in Human Capital Management by XLRI. – Having 15 modules of Management topics, there was not a module where I could not relate to what I studied in BMS. Certainly, helped me gain a better CQPI score in my degree. Alongside, prior experience in project making, team management, time management, case study work, etc just added on. From a Corporate Standpoint, My profile with Accenture including doing Pan India Recruitment in the KPO/LPO/BPO/RPO/HRO space. – Every skill set we hired for was extremely easy for me to understand and relate to having the concepts and basics of Management known. The same helped me recruit the best person in the system. Competency & Behavioral based interviewing became much easier for me to conduct. Keeping the above giving example aside, BMS course has been a helping hand in every form of life till date from personal to professional front.
As BMS alumni, what changes would you like to bring in management education?
When the Education Industry claims BMS to be a replica of MBA courses at PG level, the teaching model needs modification. More Projects, Case lets and Case studies, Journals and Papers, Thesis, etc should come in place. If the faculty is taking care of the same, a strict and meaningful evaluation and feedback is of utmost importance on the same.
What is the ideal career option after BMS? Why?
A BMS passout can consider him/herself as an MBA. It's the way you take the course teachings. Career options are open based on interest levels of individuals. I see many BMS folks in the Marketing (Sales) or Finance (International Back Office role). There is a lot more to explore and work on. Industry is looking for smart and creative people with a surge to excel in their life. Options are many – Various sub functions in HR and Marketing, Analytic role in the Finance Space, PR, Advertising, Supply Chain and many more verticals.
Do you think internship/work experience is a must before pursuing MBA?
Internships have a different value compared to full time work experience. I personally do not see any importance of work experience before one goes for a MBA program. Except that the Institute one wants to pursue the MBA programme demands for the same.
What message would you like to give to the current BMS batches?
I guess, the message is already spoken!!! BMS folks are smarter than the smartest!! – Make the most of it and Good Luck for the life ahead.
How is BMS.co.in? What help should it provide in future?
I See BMS.co.in providing a platform solution for all Management Studies at the graduation level including the BBA folks across Pan India. The content needs to add on and provide more and more information. I see a great opportunity for BMS.co.in to link up with Corporate and provide Internship/Placement Opportunities for BMS students.
The following two tabs change content below.
We, at BMS.co.in, believe in sharing knowledge and giving quality information to our BMS students. We are here to provide and update you with every details required by you BMSites! If you want to join us, please mail to
[email protected]