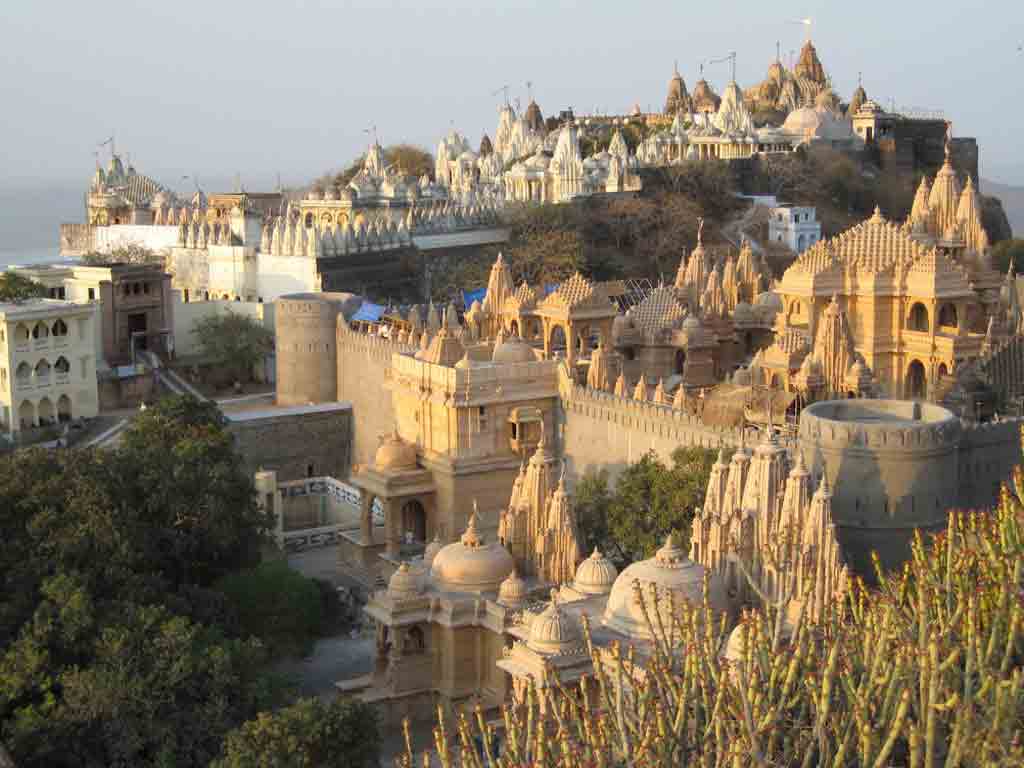 The breathtaking state of Gujarat the state is reputed for its rich cultural heritage, historical significance, handicrafts and innumerable tourist attractions. A land of romance, charisma, mysticism, vibrant colors and infinite natural beauty Gujarat never fails to charm its many visitors, here is are some places you wish to see :-
Great Rann of Kutch :
Great Rann of Kutch, reputed as the largest salt desert in the world, spans an area of 7505.22 Sq. km. The bleak appearance of the land seems to be a camouflage when we realize that it shelters some unique species of animals. Little Rann also gives refuge to several migratory water birds like pelicans, flamingos, cranes, ducks and land birds like Indian bustards, sand grouse and frankolins. Apart from the wild ass the Little Rann is also home to some rare mammals like Indian Wolf, Desert Fox, and Nilgai.
Mandvi :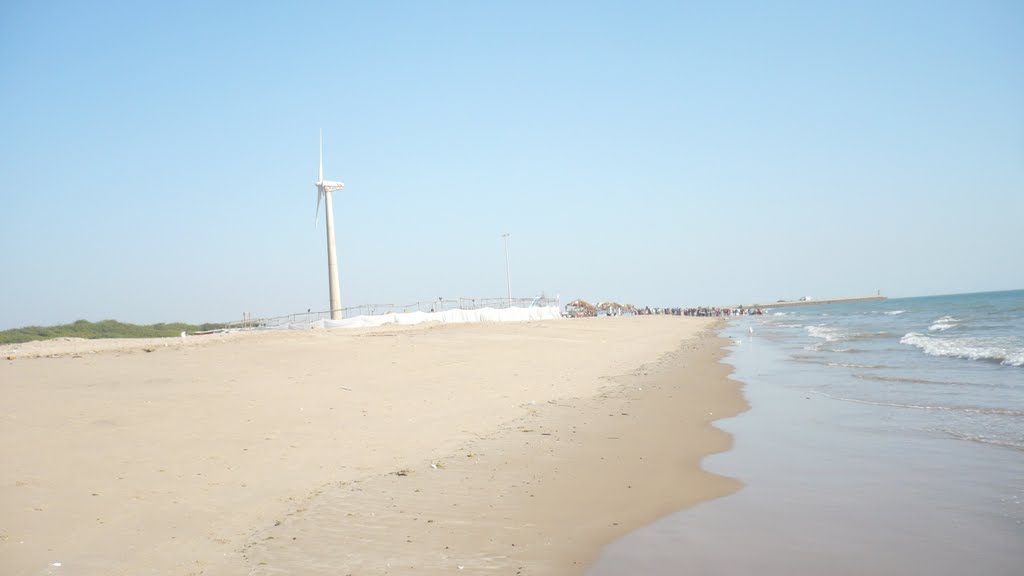 While the sun-kissed sands and warm tropical waters make Mandvi Beach a great popular destination. A visit to the beach, exploring the shipbuilding area, a walk along the river; all these are indispensable. Some other tourist attractions in Mandvi are Vijay Vilas Palace, Shyamji Krishna Verma Smarak, Rukmavati Bridge, Kasi Vishvanath Beach,Topansar Lake. But the town is also easily explored on foot, and it is well worth wandering the narrow streets to check out the mix of old architecture. Many wealthy barons during the city's heyday had flamboyant houses built, with lots of European influence; it is not uncommon to see carved angels, or stained-glass windows.
Gir National Park :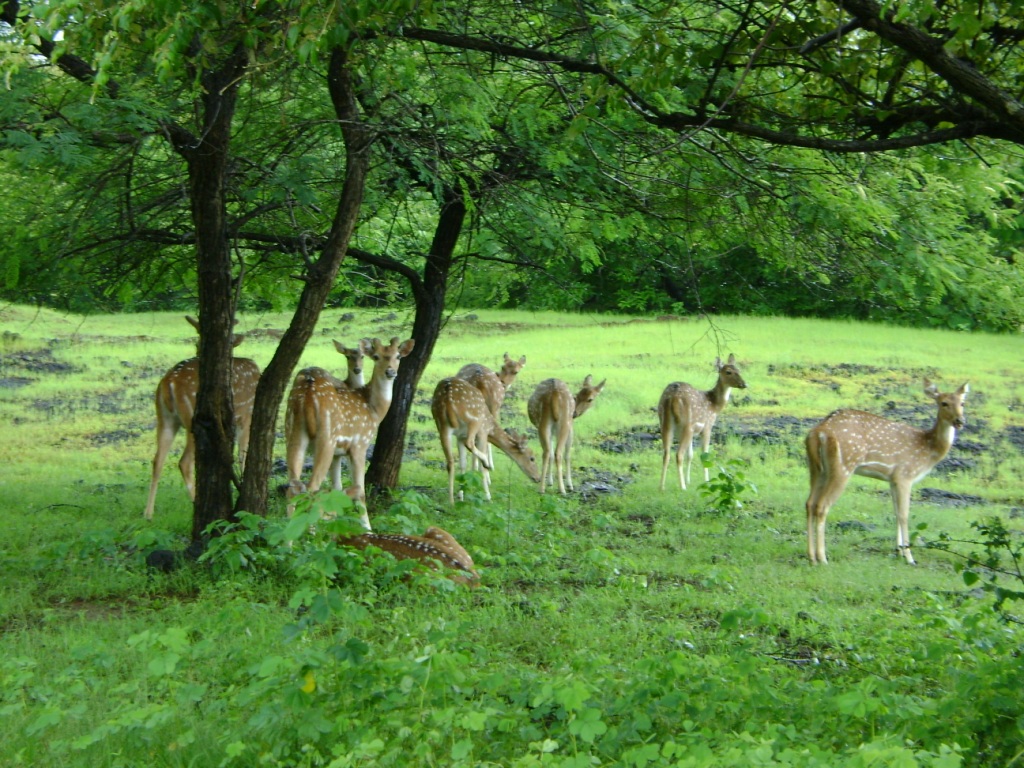 Gir National Park & Wildlife Sanctuary comprises 1412 sq km of deciduous forest interspersed with semi-evergreen and evergreen flora, acacia, scrub jungle, grasslands and rocky hills. It is the only place with wild lions. Fed by perennial and seasonal rivers and streams, the sanctuary has large water bodies like the Kamleshwar Dam that are good for crocodiles and birds. You must explore their natural habitat, with everything from tiny wild birds, not easily seen, but heard singing in the forest canopy, to crocodiles floating in the marsh waters. Driving around, you are uncommonly aware you are in someone else's territory. You stay in your vehicle because you are in the home of lions, leopards, hyenas, crocodiles
Dwarka :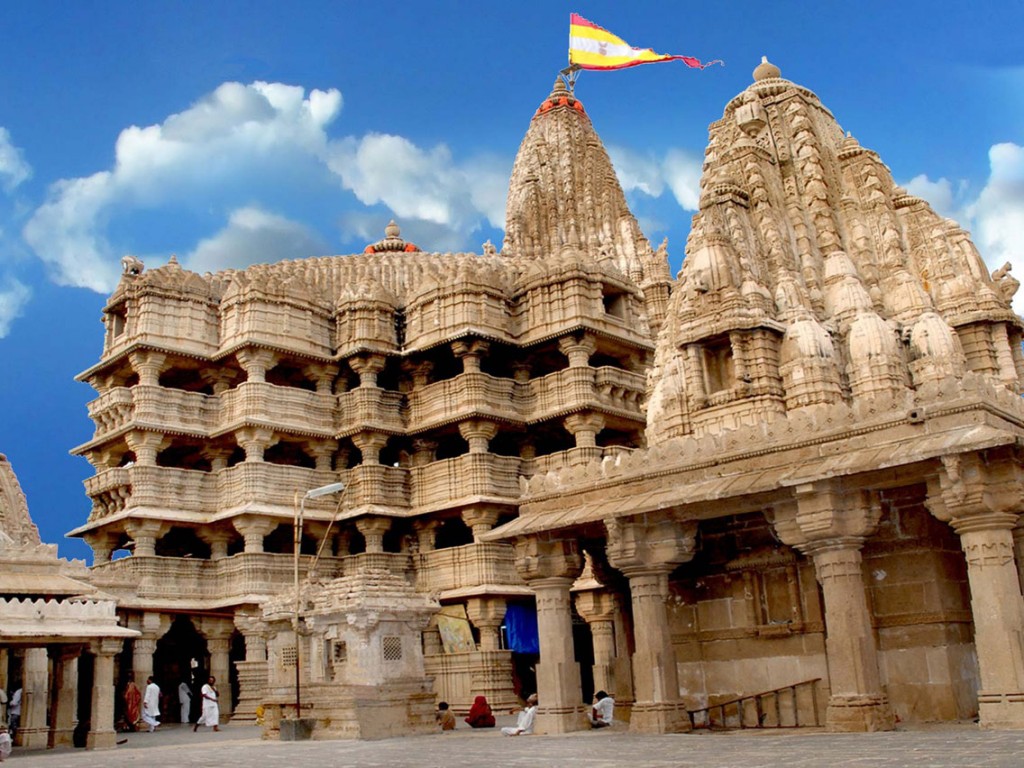 Dwarka is an important Hindu pilgrimage city and is also known as the kingdom of Lord Krishna. Some of the popular tourist attractions in Dwarka are Somnath Temple, Dwarka Lighthouse, Dwarkadish Temple, Nageshwara Jyotirlinga Temple, Rukshamanee Mandir, Beyt Dwarka, Gomati Sangam Ghat, Gita Mandir. Being one of the four major pilgrim places for Hindus, the city is a part of the "Char Dham" Yatra. The city of Dwarka is mostly famous for its temples as the place is of mythological significance.
Somnath :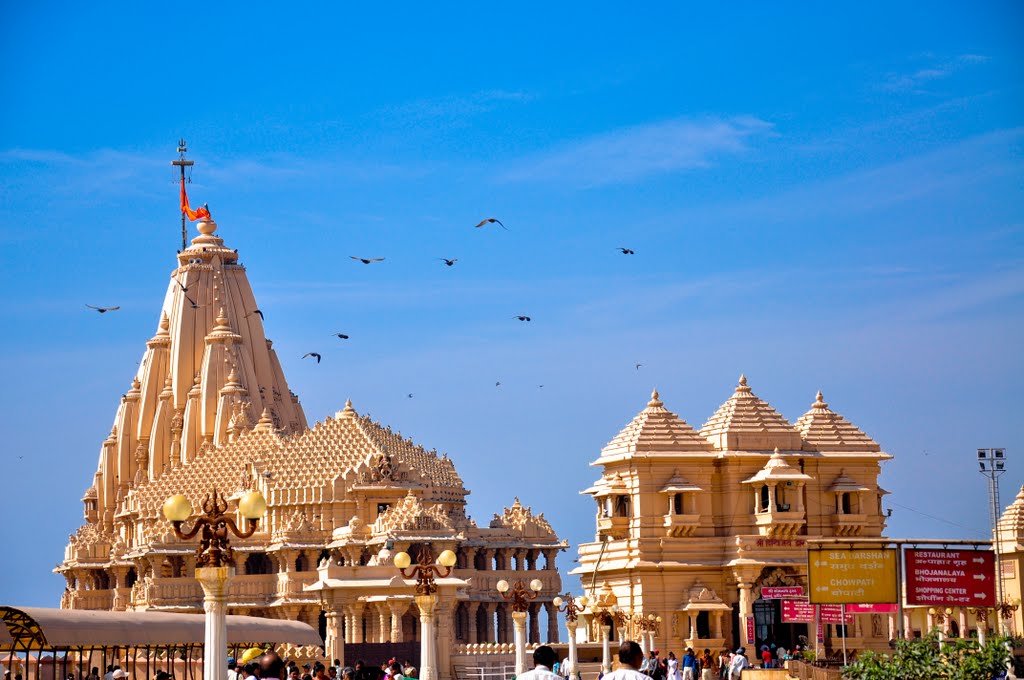 The literal meaning of the Somnath is "The protector of the Moon God" and the legend has it that Soma. In fact it is one of the twelve Jyotirlinga shrines of Lord Shiva which are considered to be very holy and each of the twelve Jyotrilinga is considered to be the manifestation of the Lord Shiva.Various attractions in Somnath are Somnath Jyotirlinga Temple, Old Somnath Temple, Parasuram Temple, Panch Pandav Gufa, Balukha Tirtha, Suraj Mandir, Junagadh Gate, Kamnath Mahadev Temple, Gita Mandir,Lakshminarayan Temple, Triveni Ghat etc. is one of the oldest and most revered temples of India and finds its reference in the most ancient texts like Shreemad Bhagavat, Skandpuran, Shivpuran and Rig-Veda which signifies the importance of this temple as one of the most celebrated pilgrimage sites or Tirthdham.
Junagadh :
Junagadh in Gujarat is located at the base of the picturesque Girnar Hill. Girnar Hill has got a number of temples. Few places offer you the chance to probe the earth and the heavens. The popular attractions in Junagadh are Akshar Mandir, Bhavnath Temple, Datar Hill, Durbar Hall Museum, Emperor Ashoka`s Rock Edicts, Girnar Mountain Junagadh, Intala the remains of Harappan Age, Sakkar Baug Zoo.You will be aware of the serenity and the aesthetic beauty of Junagadh.
Ahmedabad :
Ahmedabad is Gujarat's major city and a startling metropolis with a long historical significance due to its association with Mahatma Gandhi Ahmedabad is one of the most important cities in Gujarat. Many remarkable buildings, a fascinating maze of an old quarter, excellent museums, fine restaurants and fabulous night markets. The popular places to visit in Ahmedabad are Sabarmati Ashram / Mahatma Gandhi's Home, Calico Museum of Textiles, Adalaj Step-well, Hathee Singh Jain Temple, Kankaria Lake, Bhadra Fort, Shaking Minarets.It is popular for its unique architecture which is a vibrant culmination of Islamic and Hindu styles.
Saputara Hill Station :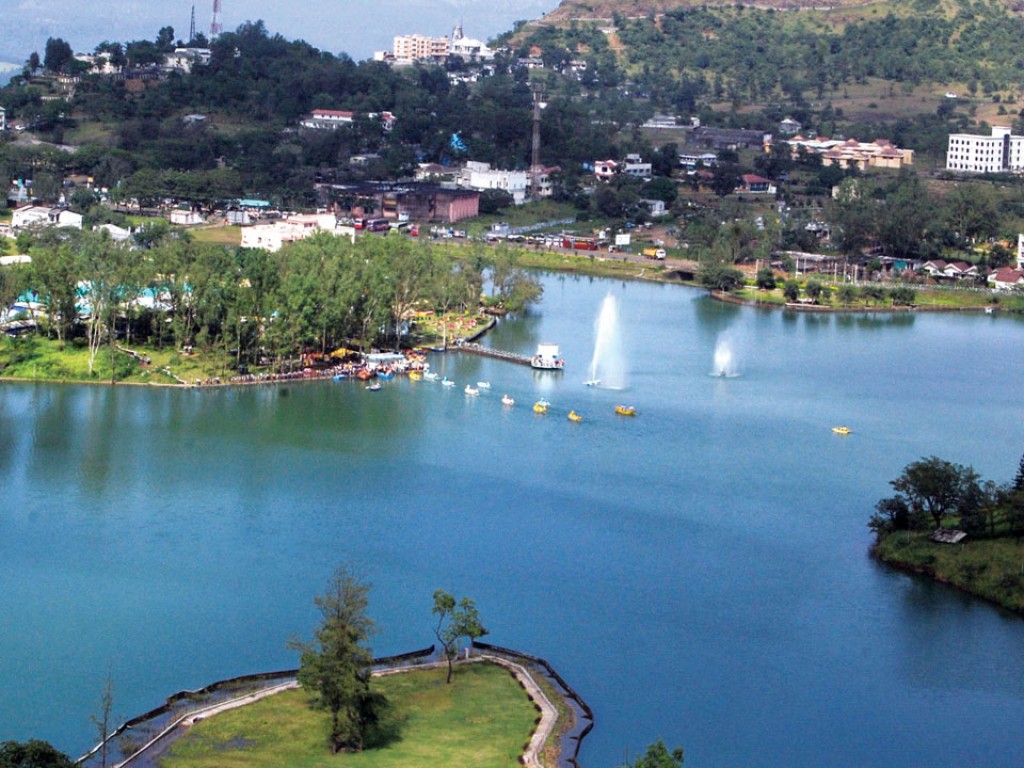 This picturesque hill station is perched on a plateau in the Dang forest area of the Sahyadri range at an altitude of about 1000 m. Saputara is most beautiful tourist attraction. Forests, Wildlife sanctuary, rope-way, boating and trekking are the special features of Saputara hill station. In the Saputara all things and facilities are available for all kind generations or people. Boat club, hotels, parks, Ropeways, Museum, Hatgad Fort, Hot Springs, Jambalaya, Dangs Darbar, Forest Nursery, Forest log huts, Purna Wild life sanctuary, Vansda National Park, Sunset Points, Artist Village, Trekking, Theatre, Gira Falls, Botanical Gardens etc are hotspot attraction here.
Vadodara :
The outstanding trait about vadodara's cultural life is that it is remarkably cosmopolitan. It is reputed for its magnificent gardens, wonderful fine arts and folk dances Vadodara ranks tops the chart as far as tourist attractions in Gujarat are concerned. The popular tourist attractions in Vadodara are Laxmi Vilas Palace, Baps Swaminarayan Mandir, EME Temple Vadodara, Baroda Museum and Art Gallery, Sayaji Bagh Vadodara, Khanderao Market, Maharaja Fateh Singh Museum, Shoolpaneshwar Wildlife Sanctuary, Aurobindo Ashram, Hazira Maqbara, Dakshinamurty Temple, Sindhrot Nature Park. If you want to see vadodara's cultural enthusiasm, you should visit this city during any festive occasion Navratri, Diwali, Ganesh Chaturthi, Id, New Year, Uttarayan, Holi, campus fun fairs, etc. On any given day, some cultural activity or the other is going on in the city. Classical music and dance have their patrons, and so does the modern stage and pop culture.
     10.  Jamnagar :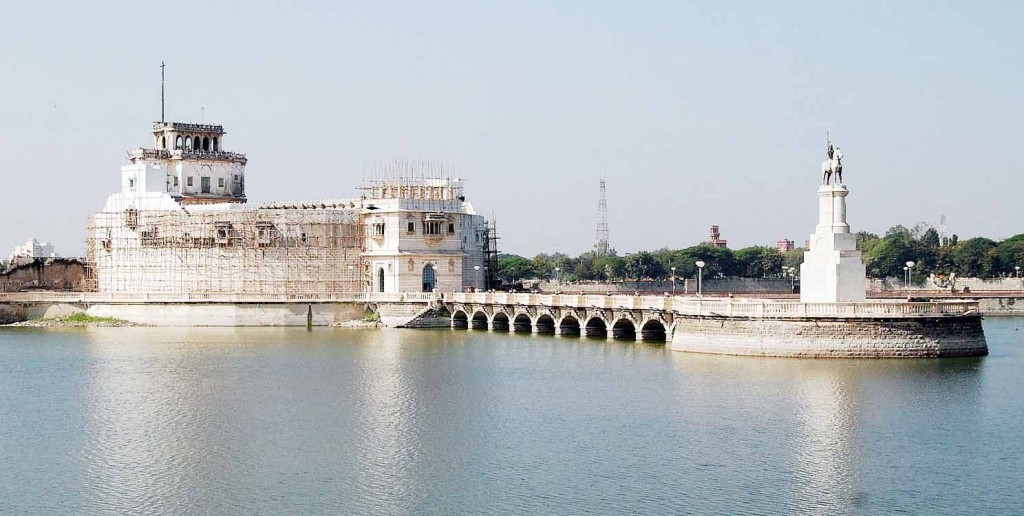 Jamnagar is another gem in the crown of Gujarat. The oyster of India. The pearl that awaits you, formed over the ages, is not the perfectly round and smooth one on a string, painted in royal portraits, but a rough, bustling, noisy one. The tourist hotspots in Jamnagar include Kotha Bastion, Willington Crescent, Lakhota Fort, Solarium, Jamsaheb's Palace, Bohra Hajira, Lakhota Museum , Ranmal Lake, Adinath Mandir, Bala Hanuman Temple, Bhid Bhanjan Temple, Shantinath Mandir, Bet Dwarka Beach Rozi. Offering some of the finest specimens of architecture in the form of forts, palaces and religious structures Jamnagar never ceases to allure its visitors.
 –  BY PRATIKSHA TRIVEDI