There is hardly any country in the world with such varied and unique cultures as India. Almost every state has its own cultural niche.
Today, I'll take you on a tour down South of India and show you the traditions, cuisine, music etc. that form a part of the South Indian culture. The South Indian culture refers to cultures of South Indian states of Tamil Nadu, Karnataka, Kerala and Andhra Pradesh.
Traditional Dressing:
In general, the women in South India wear sarees and men wear a type of sarong which could either be a white dhoti or a colourful lungi with typical batik patterns. There are various different sarees such as the famous Kanjeevaram Silk Sari and Pattu sari.
Cuisine:
Who doesn't know about the famous Idli, Dosas, and Medhu vada-Sambhar? But apart from this, the South Indians are fond of rice. Rice is their staple diet, with fish being an integral component of South Indian meals. And coconut of course. Any meal prepared is incomplete without a dash of coconut or at least the garnishing is done using coconut. Even the sweet dish has a touch of coconut, as most sweet dishes are prepared using coconut milk.
Also coffee is a preferred drink. While these are the food we can't resist, the eye catching part of South Indian tradition is the way they serve the food. Generally, the food is served in Banana Leaf- the typical South Indian style. Different isn't it?
Dance: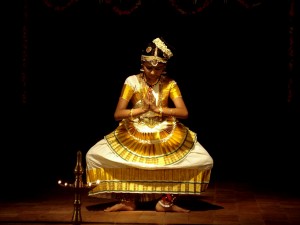 The South Indian culture can be celebrated in the elaborate dance forms-
-Bharatanatyam that originated in Tamil Nadu, is known for its grace, purity and tenderness.
-Kuchipudi is a classical dance form of Andhra Pradesh.
-Mohiniattam is a classical dance form from Kerala. It is considered a very graceful form of dance meant to be performed as solo recitals by women.
-Kathakali is a stylized classical Indian Dance-Drama  noted for the attractive make-up of characters, elaborate costumes, detailed gestures and well-defined body movements.
The other dance forms include Koodiyattam, Yakshagana, Karakattam, Theyyam etc.
Music:
The sophisticated Indian Classical Music of South India is known as Carnatic music. It is one of two main sub-genres of Indian Classical Music that evolved from ancient Hindu traditions; the other sub-genre being Hindustani Music.  The main emphasis in Carnatic music is on vocal music. Like Hindustani Music, Carnatic music rests on two main elements: raga the modes or melodic formulae, and taala the rhythmic cycles.
Architecture:
South India boasts of having an enchanting style of architecture. The pure dravida style of Tamil Nadu and the Vesara style (also called Karnataka dravida style) present in Karnataka.The inspirational temple sculptures of Mahabalipuram, Hampi, Badami, Belur, Halebidu, Lakkundi, Shravanabelagola, Madurai and the mural paintings of Travancore and Lepakshi temples, also stand as a testament to South Indian culture.
Visit south and experience its beauty and culture. I am sure you are going to be mesmerized.
–By Harshali Amin