Children are the most innocent creatures on earth. Animals and children always tell the truth they never lie. Even if they lie there's an innocent motive behind it. I have this beautiful experience that I want to share; in the eyes of these little children you can see their innocence. An NGO called seva sadan at bandra east has these small huts built on huge gutter pipelines. And in those houses live these wonderful children of the age between 2 -14. They come to study at the NGO. All are from different schools. All have a different medium of language. All are of different religion. One thing that keeps them united is their innocent and will to study.
Little children mostly all of them were Muslims, bhaiyyas and tamilians. These little children had complicated names and surnames. Just as their surnames their lives were difficult living in that small little house living hand to mouth. As I used to go to this place for my social outreach I realised there's so much that I can learn from these little children. Their will to study well and become someone big in life. They don't just want to study for the heck of it but they study for knowledge, to gain that extra knowledge. They are attentive and ask meanings of every word or sentence. They learn an answer of a sentence till they don't get it right. Such obedience and willingness and the dedication is commendable. Of Couse they are naughty; some of them are not well mannered.
But as they say God resides in little children. There are few children that religiously do their homework and want to learn more and more they want to gain a lot of knowledge. This inspired us all, we college students went out teaching them and seeing the willingness and the sincerity towards studies may be a better person. I felt motivated and blessed to have parents that put me into the best school and the best college and fulfil all our wishes. Truly little children too can teach you a lot of things.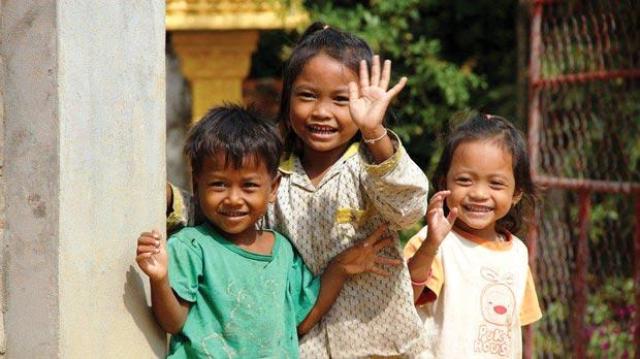 A similar experience is what I seen when I had gone for a visit to don Bosco shelter home wadala. It is basically a shelter home for young boys who do not have a home, are orphans and who cannot afford education and living. I had gone to this place along with a few parishners from my church. We distributed snacks n drinks to children and sat down with them. There were around 70 boys all from the age group of 6-16. There all sang for us a beautiful welcome song in their melodious voice and gave us a warm welcome. They were keen on knowing our names and a few details from where we had come and if we were interested in joining them in games.
As we watched the children we spoke to the father who takes care of all the children. He showed us around and as we proceeded towards the premises we seen beautiful paintings on the walls of the shelter home. Father (priest) told us it is all done by all the creative artists and painters of the shelter home. They had this corner called 'hamara adda'. Which means our area. There were beautiful paintings drawings and stationary, paints kept safely in that corner that was like a drawing class area for them. There were a few boys who were interested in music and played the organ and sitar.
Under one roof were all these talented boys. It all seemed a total different world a world where talent and creativity is given a platform. There was a football court and a badminton court too. There were many children doing so many things. The youngest guy of the lot loved skating he skates so well that we couldn't help admiring his talents. The sky is the limit. Their dreams and ambitions are higher than anything in this world. There can be nothing that can stop them. During the visit we realised that there was a dance reality show auditions going on and one of the eldest boy from among them had gone for the auditions. We were fortunate enough that we got to meet him he showed us a few dance steps that made us go all crazy. He dances like robots, he can dance like a hero, and he danced in so many styles. He is like the inspiration to all the other young guys from there.
Little did we know that there is so much talent in that one corner of wadala. If we ever have a talent hunt competition they should be holding one in such shelter homes to see what children can do even without parents. All they need is a little motivation and encouragement. Apart from the games and the fun activities. They perform their routine activities like sweeping, swabbing and washing their own plates and vessels and even their clothes. They are also discipline with studies. There are teachers coming and teaching them. They all are thought to be independent unlike us where we are dependent so much on parents, money, vehicles and mainly all machines. You go out there and see you may find tattoo artist too, sketch artists, actors, dancers and singers. It's a whole separate unit. It's far different from the monetary pleasures of life that we experience. If we crib and cry about how life is difficult for us think about it again or come and see how people live. If you can afford 3 meals a day, travelling, education, fancy clothes, expensive clothes even throw a party to your friends then indeed your blessed and very fortunate to have such a beautiful life and the only thing you are missing is a smile on your faces and an attitude of gratitude for having so many things in life which others do not have and might have never experienced.
The following two tabs change content below.
BMS Team aims to help the BMS students all over Mumbai colleges, empower BMSites and revolutionize management education. If you wish to be a part of our core team, write to
[email protected]