Lying on the foothills of the majestic Himalayas, the sleepy state of Sikkim is small but a picture perfect destination. So enchanting is its Alpine beauty, it is often dubbed as the "Switzerland of the East".
A travel to Sikkim would take you to the land of ice-capped mountains, rolling slopes clad in thick Alpine woods. Steep heights and plunging gorges, stretched covered in snow – that is what Sikkim sums up.
Sikkim is situated at the foot of Mount Kanchendzonga and boasts of an unexplored beauty. The lofty mountains dominate the skyline of Sikkim and invites tourists in its snow clad peaks, green emerald slopes, rushing streams, tall Rhododendrons and sparkling orchids. Hilltop monasteries emerge from the rugged terrains while multi-colored prayer flags wave in the mountain breeze.
Places to See in Sikkim

The capital of Sikkim is a charming and picturesque town, straddling with striking houses spilling down the hillside. The city has a fusion of traditional customs and modern way of living which makes the place unique. It's a beautiful town with all modern amenities that one can ask for.

This was the first capital of Sikkim, where historical records say that the first divine ruler of Sikkim was sanctified in 1641 by the three learned lamas. The evidence of the ceremony is still present in Norbugang Chorten. The place is considered sacred since the history of Sikkim began from here. It's also the base camp for the trek to the famous Mt. Khangchendzonga.

The lake is about a kilometer long, oval in shape and is considered very holy by the locals. Between May to August, the lake area is spectacular with a display of rare flowers including the primulas, iris and blue & yellow poppies. The lake has a number of aquatic and aerial species and is a perfect habitat for the red panda. The lake freezes in winter.

At an altitude of 14200 ft, the pass is located on the Indo-China border and connects Sikkim to Tibet Autonomous Region in China. The journey itself is an exhilarating experience, with mist covered peaks, zigzag roads and roaring waterfalls, the passage is simply amazing. Visitors are required to get a permit to visit the place.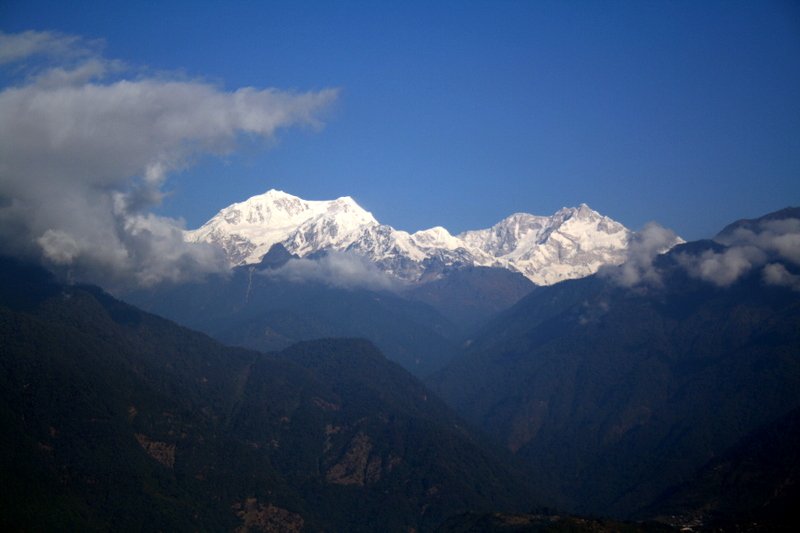 Pelling is rapidly becoming a popular tourist destination. At an altitude of 6800 ft, it's the most excellent place to get a closest view of the world's 3rd highest peak Mt. Kanchendzonga. Apart from the innate beauty of the place, other attractions in Pelling are the Sanga Choeling Monastery, Pemayangtse Monastery and the Khecheopalri Lake.
This magnificent monastery is among the top tourist attractions in Sikkim. It provides as a residence for the 16th Gyalwa Karmapa. The Monastery features some of the extraordinary works of art. The Golden Stupa is the most significant segment of the monastery.

Built by the head of Nyingma order of Tibetan Buddhism in 1945, it has one of the most beautiful Stupas of Sikkim consisting of 108 prayer wheels. It stores various Mandala sets, a set of relics and some other religious possessions. Statues of Gurus are also present there.
Jawaharlal Nehru Botanical Garden
Established in 1987 the Jawaharlal Nehru Botanical Garden is situated near Rumtek Monastery and is looked after by the Forest Department of the Sikkim Government. The garden is distinguished by enchanting lush woodlands of Oak, different kinds of trees and orchids.
Sikkim Research Institute of Tibetology
It is a nationally well known centre of Tibetan Studies & Research. The institute is renowned for its huge collection of rare manuscripts, Buddhist books and icons. The building is an excellent example of Tibetan architecture, surrounded by small forests of oak and birch trees. The institute also houses religious works of art and amazing silk embroidered paintings.
Shopping in Sikkim

Although Sikkim is not an ideal shopping hotspot, still shopping is Sikkim may turn out to be a true pleasure if you know what to shop and where. Sikkim has its fair share of traditional arts and crafts that may lead you to a shopping spree in Sikkim.
Sikkim Handicrafts and Markets
Sikkim's claim to fame lies in woven woolen carpets and blankets embellished in unique designs and traditional Sikkimese motifs.
These articles are durable plush and are dyed not with synthetic dyes but traditional vegetable Sikkimese dyes.
Sikkim also boasts of its traditional paintings called Thangkas on cotton canvas and often framed with silk. Along with that wood-carved artifacts are also interesting items for shopping in Sikkim. Exquisite Choksee table designed in Tibetan style is also a must buy for avid shoppers.
While shopping in Sikkim, look for:
The best place for shopping in Sikkim is Gangtok, the capital city. Many Government Emporia and private run shops are located in the main market area on Mahatma Gandhi Marg.
Tibetan Handicrafts centre is also a good place for shopping in Sikkim.
Cuisine
Sikkimese are essentially rice-eaters. Alcoholic drinks are popular both amongst men and women. Beef eating is common amongst the Bhutias. It is not uncommon to see Marwari plainsmen gulping down Momos and Thukpa and Bhutias partaking to Indian dishes like Puris and Dosas – a turn sign of national integration. Atypical diet of a working Sikkimese consists of dal bhat (lentils and rice) with meat for breakfast, a light lunch of momos, and an early dinner consisting of noodles.
How to Reach Sikkim
By Air
Sikkim does not has its own airport. The nearest Airport is Bagdogra (near Siliguri) in West Bengal, which lies only 125 km away from Gangtok the capital of Sikkim. Bagdogra is connected to cities like Delhi and Kolkata by regular flights.
By Road
Although the state of Sikkim lies at the foothills of the Himalayas, it has a good network of roads. Sikkim can be entered through northern areas of West Bengal. Darjeeling, Kalimpong and Siliguri are directly connected to Gangtok and other cities of the state. But during the monsoon seasons sometimes, landslides create temporary problems in road transport.
By Rail
Sikkim does not have any rail network in its boundary. The nearest Railways Station is New Jalpaiguri (near Siliguri), which is connected to Gangtok by road. New Jalpaiguri boasts of an extensive rail network with major Railway Stations in India, such as Kolkata, Delhi. It is also conveniently linked to the cities of Northeastern India like, Guwahati.