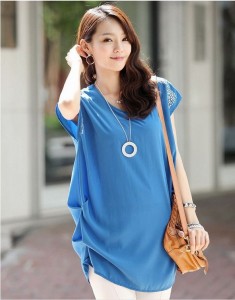 You might find your plain tee lying in your wardrobe as monotonous and not too cool but it can one of the most versatile piece of clothing ever if you spice it up!Here are few ways to do so:-
1. Add a Cute Jacket
T-Shirt, Shorts, Sandals, Ring, Jacket
One of the most basic ways to spruce up a t-shirt is by pairing it with a cute structured jacket or a cardigan, as opposed to a frumpy hoodie. Small details, like adding a ring,fishtail braiding your hair instead of throwing it into a sloppy ponytail, and wearing gladiator sandals instead of flip flops can make all the difference in how you look and feel. The best part is, these little extras take just seconds to add — you'll look great, but still make it to class on time.
2. Try It with a Skirt
Hat, Shirt, Skirt, Wedges, Ring
Another easy way to wear a t-shirt and still look cute is to tuck it into a skirt. A pretty pink circle skirt which is slightly high-waisted is dressy enough to wear on a date or look put-together in class, but isn't so fancy that you compromise comfort. Pair this look with wedges — stilettos can look strange with something as casual as a graphic tee — and finish the look with a quirky fedora and statement ring.
3. Go for an Androgynous Look
T-Shirt, Shoes, Jeans, Belt, Hat, Bag, Watch
The relaxed look and feel of your favorite tee will look great with a pair of boyfriend jeans and a few deliberately placed menswear accessories. Experiment with beanies, classic leather belts, different pairs of casual shoes, and menswear timepieces. You'll look casual and comfy, but not sloppy. Finish with a handy messenger bag.
4. Try It with a Vest
T-Shirt, Shoes, Bracelet, Pants, Vest, Earrings
A denim vest is a fun, unexpected way to add a rock and roll feel to an otherwise basic jeans-and-tee look. This look is especially chic with a concert t-shirt, or printed pants! Finish off the outfit with a bold pair of shoes, eye-catching earrings, and a tough-looking bracelet.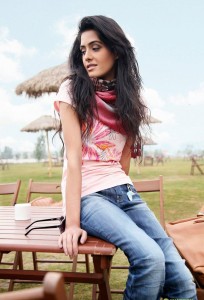 5. Pair It with a Maxi Skirt
Shirt, Skirt, Headscarf, Ring, Shoes
This outfit has a bit of a Carrie Bradshaw feel to it: It's bold for sure, but with the right amount of confidence, it's easy to pull off! One way to make good use out of your maxi skirt is to pair it with a t-shirt. Make sure the tee isn't too busy, and knot it right where the skirt begins for an ultra-chic look. Finish the outfit with a headscarf, classy ring, and ballet flats.
-MISBAAH MANSURI
The following two tabs change content below.
Latest posts by Riya Lokhande (see all)