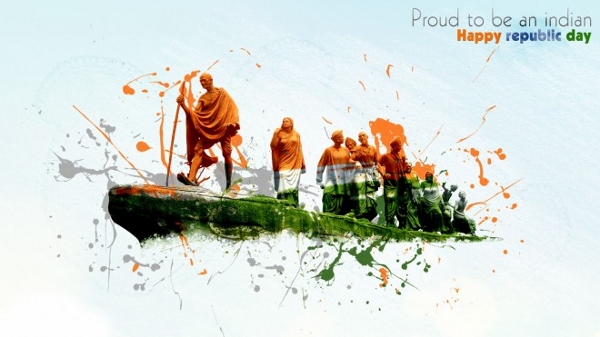 5 Facts You Need To Know About Republic Day 2015:
1) Republic Day is celebrated on 26th January since the year 1950.
2) Republic Day is one of the important days of the Indian history.
3) Republic Day is celebrated with a lot of enthusiasm and joy.
4) On this day, India wakes up in spirit of patriotism by singing and organizing cultural programs everywhere, all over India.
5) People all over India gather at India Gate so that they can witness the Grand Parade every year.
Here we present 
Republic Day SMS Messages and Republic Day Greetings 2015
Kuch Nasha 'TIRANGE' ki Aaan ka hai.
Kuch Nasha 'MATRBHUMI' ki Shaan ka hai.
Hum Lahrayenge har Jagah ye 'TIRANGA'
Nasha Ye 'HINDUSTAN' ki Shaan ka hai..
Jai ho.
Ek boat me Mayawati,
Lalu,
digvij
Manmohan,
Rahul,
Sonia,
Pawar,
Sibal,
Ja Rhe the,
Suddenly Boat doob gayi
to batao kon bacha?
.
.
.
.
Hamara DESH.
Happy Republic Day…
New Year Tha To Sab 25 Din Phle Wish Karne Lage
5 Din Baad 26 JAN Hao, Par Koi Msg Nai
Sharm Ati Hai Sab Pe
    Any wayz..
Happy Republican Day in Advance
Mere desh ka loktantra mahan hai.
Jisne sabko jine ka,
abhivyakti ka,
samanta ka… haq diya.
Aao aise loktantra ka samman kare..
Aur apne adhikaro, kartavyo ka palan kare.
Aur apne gantantra ko celebrete kare.
Happy Republic Day
This is the country of colors and faith in spirituals.
Lets this Republic day reminds us for the work and
life given by our leaders to safe and happy life.
HAPPY REPUBLIC DAY
The following two tabs change content below.
BMS Team aims to help the BMS students all over Mumbai colleges, empower BMSites and revolutionize management education. If you wish to be a part of our core team, write to
[email protected]