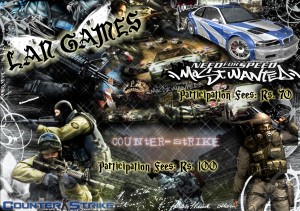 The LAN Games of NEXUS 2011 are as follows :
1. Need for Speed Most Wanted
2. Counterstrike
These both Games will be held on 16th January 2011 (Sunday) at Aeon Gaming Centre, Near Hinduja College Campus.
For Details Contact :
Amish Kokate 9664291906 (LAN Games HEAD)
For Registration Contact :
Yogita 9819166823
Lara 9967993889
SPONSORS

The following two tabs change content below.
Faisal Taibani
Faisal Taibani - Campus Representative, K.P.B.Hinduja College of Commerce.
[email protected]
Latest posts by Faisal Taibani (see all)