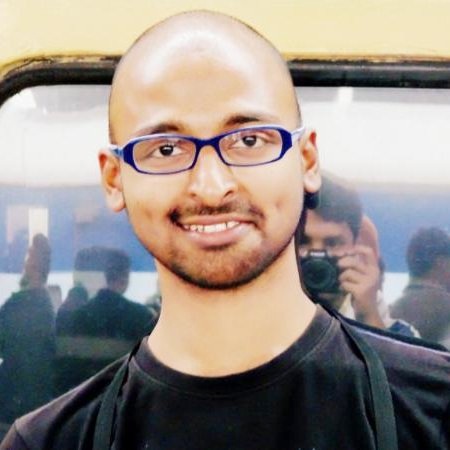 Tell us something about yourself 
Well, I am a Computer Science graduate from Bapatla Engineering College, Andhra Pradesh. I have done my entrepreneur course in S.P.Jain Institute of Management, Mumbai. Prior to that, I cracked CAT and secured PGDM seat in couple of leading B-Schools in India. But I realized that, if i invest around 15Lakhs for PGDM i need to work somewhere to get 15Lakhs back because i will not be left with enough money after investing the same. I came to know that MBA is required to scale up the company, not to start a company, hence I joined in SPJIMR. Cracking attitude towards problem. Ample optimistic, who accept everything as a good experience. Groovy in people management, Good learner and had a great commitment towards career.
Tell us something about your business 
Let'sDo is going to enhance and enrich the knowledge by providing expert lectures, career assistance, startup mentoring and internships to the undergraduate students. 
Let'sDo target IT industry for lectures. 
To take full advantage of the expert lectures, the lectures for the students are taught on first Sunday of every month in the seminar halls.
Every lecture is going to schedule into three sessions
Session 1: Technical 
Session 2: Non-Technical  
Session 3: Networking
Let'sDo is dedicated to promote "Entrepreneurship as the career option".
Let'sDo is going to well positioned to take advantage of the significant opportunities presented by the rapid growth of under graduation students. 
Highlight of the programme:
# Lectures by corporate executives and corporate trainers
# Opportunity to network closely with the industry experts
# Offline based career assistance by experts.
# Startup mentoring for the Entrepreneur aspirants 
# Once, if student registered he/she can attend 10 expert lectures with minimal fee
# Opportunity to get Internship
 What is your philosophy towards work? 
It's sad that our youngistaan is utterly confused and wandering here and there without any direction. If you ask them "dude! You're a mechanical guy, why are you sitting in Infosys campus drive?" He'll reply – "yaar, I just need a job. I want to earn money". He'll join that company, will be fascinated by the amazing glass building and stellar hostels of the MNC and when he'll be asked to do Java training, things would change into a nightmare for him. The moral of the story is that there's no point in blindly following others, you MUST identify what your passion is.
If you follow your passion, you will never feel burden and you will work honestly with huge potential which leads to a successful career.
 Whom do you admire as your role model? And why? 
I admire Dr APJ Abdul Kalam ji as my role model the missile man. He done many services to our country, from last decade he meets more than one million youth in India and inspiring and motivating by with his speeches. 
I personally inspired by Kalam ji and I dropped many mails to his assistance to meet him but because of busy schedules, I didn't get any response from them. Whenever I feel bad, I watch the lectures of Kalam ji which inspires me.
I want to share the voice of Kalam ji which inspires me a lot.
" I am born with potential
   I am born with Goodness & Trust
   I am born with Ideas & Dreams
   I am born with Greatness
   I am born with Confidence
   I am born with wings
   I am not meant for rolling 
   I have wings, I will fly, I will fly, I will fly…"
"Management is core to every individual, organization & society" give your views on it 
Yep, management is core to every individual, organization & society. Without proper management it is very difficult to grow.
 When the individual grow, a family will grow
When our family grows, our society will grow
When our society grows, our nation will grow
When our nation grows, our world will grow
 Name 3 qualities of prime impotence that a businessman should posses 
Three main qualities that a businessman should possess:
1. Businessman must have a vision
2. Businessman must be able to travel un explorable paths or un travelled path
3. Businessman must know how to manage the success most importantly failure
 According to you, what are the challenges for Entrepreneurship today? 
When we start entrepreneur journey for most of them it is a one man show, getting co-founder with the same vision is very difficult. Generally we will feel getting a first customer is difficult, but for the first generation entrepreneurs getting first employee with required skills is also difficult until and unless you have a good network. For most of the entrepreneur, managing failure is difficult, when we fail no one will be there to stand by us, like lack of family support etc, you have to motivate yourself. Entrepreneurs must have to be proactive and need to learn something from everything. It is always puzzling that whether we have to go for funding or not because it takes around 6 months to get funding. Many startups fails because of  wrong choice of  investors and the consequential mismatch in expectations.
 Can entrepreneurship can be taught in B-schools/ Management Institutes/ Colleges 
Yes, the education system has to be designed in the way as  employee generators and not employment seekers. The educational system should highlight the importance of entrepreneurship and prepare the students to get oriented towards setting up of enterprises which will provide them creativity, freedom and ability to generate wealth.
The college curriculum should emphasize on the importance of entrepreneurship so that some of the students after graduation can create their own industries which will provide large scale employment to skilled and semi skilled technicians. The Principals of the colleges have got a tremendous responsibility to transform a student into a leader. That will demand a Principal to be a visionary with an inspiring capability. Also the Principal has to ensure that teachers impart learning to the students in such a way as to bring out the best in them. 
I am sure; the best of creativity among the students will emerge by integrated influence of principals, teachers, and parents.
 Is the Name of the Institute from where a student pursues his/her Graduation/Post Graduation or other courses important while setting up your business? 
It depends on how we market our self. There are many great people who created big enterprises without great education background, but for many of them if you show Bill Gates as example, they immediately respond "dude, he is Bill gates" the thing people have to realize that, he was also nothing when he started his journey of Entrepreneurship.
I personally Believe that our background & circumstances may have influence who we are, but we are responsible for who we become.
 Do you think today's economy is conducive for a new venture to start upon? 
Yes, but many of the aspiring entrepreneurs are puzzling with this question.
There is no good or bad time to start new venture. Once we find market gap we can start  filling  the gap any time. The world is changing massive economic balancing, in 1820 Indian economy stood in 2nd place in the world. India is the youngest country in the world all European companies are already focusing to start their businesses in India. India is definitely going to stand in 3rd place in the world economy by 2050. I personally suggest that this is the good time to start new business, there is a good support from the government also and we can get 1 crore rupees unsecured loan from the bank to start new ventures.  
 Do you think introduction of Wal-Mart in retail industry will affect businesses to great extent. What impact will it have on Indian business industry.? 
Even though Wal-Mart is the market leader in the world, there is no or less affect to the Indian business industry, because mindset of the Indian customers and abroad customers are different. More than 50% of the supermarkets in India are not making profits. In abroad salesmen is not required in super markets but in India salesman are necessarily required. In the abroad malls they will get goods directly from farmers but in India there are distributor between farmers and supermarkets. That's the reason "Things work in one place may not necessarily work in other place".
 "Earning more & more is the motive behind any business." Is it justifiable? 
If we consider this in negative perspective it is not justified up to some extent, many startups fail because the founder team is more in love with the idea of getting rich than with the concept of building value. But from other side of the coin when we provide premium services only customer will pay good premiums. Customer will evaluate the company by seeing profits of the company so to build the big enterprise need to earn more & more. Every entrepreneur will start the journey from bottom line of the pyramid to reach top edge of the pyramid. 
Share with us the most enjoyable moment you had experienced on work 
In the pilot project, after giving demo to the students in the engineering college all students surrounded us after demo for queries and 70% of students were  registered. We received great response from the students. That is the enjoyable moment till now.
First I am appreciating you for providing innovative & inspiring section. I am sure students will benefit a lot from this approach.
We successfully have done the pilot project which helps to do many changes in the plan. Till now we assisted few MBA aspirants and startups we received great value proposition from them.
Let'sDo is in the seed company stage and it is going to operate from 1st November 2013 in a larger scale.
Let'sDo started with the vision to promote Entrepreneurship & increase employment in India.
Expert lectures
Career assistance
Startup mentoring 
Internships
Networking meets 
Existing market presence::
Hyderabad 
Within five years, the company plans to have expanded through out the metropolitan cities in India and within 10 years the company plans to have expanded throughout the major cities in India through own operations or through franchise model