Situated on the western part of the country, Maharashtra happens to be the third largest state, in the nation and stands second in population among all other Indian states. Surrounded by the Arabian Sea on the western part, and Gujarat on the North West, Madhya Pradesh to the North, Karnataka on the South and Chhattisgarh and Telangana on the East, this state of India is 3,07,713 sq km in area.
It has tremendous wealth in the form of tourist places. Numerous caves, attractive hill stations, beaches, and wildlife in plenty, holy places – you name it and state of Maharashtra has it. However, it is Bollywood that gives Maharashtra an edge over other states of India. Maharashtra is a complete tourist destination in itself and a delight for those fond of traveling. With all its attractions, Maharashtra exudes a mesmerizing aura which is hard to ignore.
Maharashtra offers many attractions to the tourists coming from all across the globe. The place is famous for hundreds of caves, and architecture developed by cutting the rocks. Mumbai is the most visited cities in the state. One may enjoy the film industry, Gateway of India, Marine Drive, Juhu Beach, Essel World, Siddhi Vinayak Temple, Haji Ali Dargah, Mani Bhawan, Jahangir Art Gallery, etc. One may visit Appu Ghar and Baneshwar in Pune, Ajanta and Ellora caves in Aurangabad, Bhahmagiri in Nashik, several dams all across the major cities like the Khadakwasla and Panshet Dam in Pune and many more.
The Sahyadris, the Rajmachi Forts and the Waki woods are the places visited by the trekkers. The state is a home to several national parks and wildlife sanctuaries like Bor Wildlife and Pench National park. Several places like the Ambarnath temple, Kailash temple, Afgan memorial, Osho Ashram, Shri Hazur Sahib and Bibi ka Maqbara may be visited for historical interest and religious fervor.
The state has a number of beaches like Madh Island beach, Kihim and Mandwa, harnai and several hill stations to be visited like the Amboli, Lonavala, Khandala and Panchgani. There are several monuments like the Chand Minar, Lal Mahal and Kesari Wada and forts like the Mumbai Fort, Pratapgarh Fort and the Daulatabad Fort.
Major Tourist Attractions :
1. Mumbai
Mumbai is the capital city of Maharashtra. The city is known to give shape to dreams of many because of its plentiful resources, this is the reason it is often termed as the 'Dream city of India'. Mumbai is also the financial capital of India.
2. Nagpur
Nagpur is the largest city in central India and the second capital of the state of Maharashtra. It is a fast growing metropolis and the third most populous city in Maharashtra after Mumbai and Pune. It is known as the "Orange City" for being a major trade center of oranges cultivated in the region.
3. Panchgani
Surrounded by five hills, Panchgani is a heaven on earth. The place has absolute beauty and picturesque surroundings. This hill station is quite popular among travelers.
4. Mahabaleshwar, Lonavala, Khandala
Most of us have witnessed breath taking beauty of the hill stations of Maharashtra at least on television, if not in reality. Thanks to Bollywood and Aamir Khan, Khandala has been immortalized through a popular song in the conscience of every Indian. Mahabaleshwar is known as much for a temple as it is for being a renowned spot of honeymoon. The clean air, calm surrounding, placid lake and cascading waterfalls offer a retreat in striking contrast with the bustling cities.
 5. Pune
Well known as the "Queen of the Deccan" and "Oxford of the East", Pune is one city in Maharashtra worth visiting for its rich historic past as well as dazzling modern charm. The green hills and beautiful lakes of Pune surely mesmerizes the visitors.
6. Aurangabad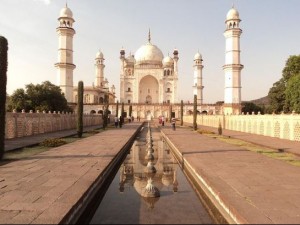 The city of Aurangabad is particularly famous for the heritage sites of Ajanta and Ellora. A plethora of 29 rock cut Cave Mountains, these caves stand tall as an important symbol of architectural achievements of the country. The mural paintings in Ajanta and the sculptures in Ellora along with their picturesque location would cast a spellbinding effect. The city owes its name to Aurangzeb, the Mughal emperor, who made it a vice regal capital to rule over Deccan. Here, the emperor built Bibi-ka-Maqbara as a tribute to his mother. It is an imitation of the famous Taj Mahal. Pan Chaaki and the Darwazaas are examples of exceptionally skilled architecture of the bygone days.
7. Tadoba National Park
Overlooked by tourism until recently because it was off the beaten track and lacked accommodations, these days Tadoba National Park and Tiger Reserve in Maharashtra is fast gaining a reputation as one of the best places to see a tiger in the wild in India.
8. Matheran
The closest hill settlement to Mumbai, Matheran was discovered in 1850 by the British during their occupation of India and subsequently developed into a popular summer retreat. At height of 800 meters (2,625 feet) above sea level, this serene place provides a cooling escape from searing temperatures. However, the most unique thing about it and what makes it so special, is that all vehicles are banned there — even bicycles. It's a soothing place to relax away from any noise and pollution. One can get there by taking the scenic toy train.
9. Nashik Wineries
The popularity of wine in India is growing rapidly. Along with it, India is also experiencing a boom in wine tourism. Many Indian vineyards now have tasting rooms, so wine enthusiasts can enjoy exploring India's wine regions. It's often possible to complete the experience by staying at at the vineyards. India's main wine region is Nashik, around four hours northeast of Mumbai, in Maharashtra.
10. Elephanta Caves
Only 10kms off the Mumbai Coast, a host of caves are located in an island amid the Arabian Sea. The caves, dating back to 450 to 750 AD display fine sculptures depicting the glory of Lord Shiva. Regular motorboats from the boat jetty from of the Gateway of India would take the tourist to the islands. The caves are declared an UNESCO World Heritage.
11. Ganpatiphule
It is a small village in Maharashtra which has a long stretch of beautiful beaches. A beach itself named Ganapatipule is the most beautiful and stunning of all the beaches. Sun kissed beaches and lush greenery seem to be in an eternal love affair in chaste lands of Ganapatipule. There are also some water sports facilities here. Besides, a Ganpati (Lord Ganesha) temple is also located at the beach.
12. Pench National Park
Sprawling over an area of 257 sq km in the lower southern reaches of the Satpura hill ranges, it offers a splendid opportunity to see a wide variety of wildlife in the spectacular natural setting. Pench is also home to tigers, panthers, chital sambhar, barking deer, nilgai, black buck, gaur, wild boar, chausingha, sloth bears, langurs, monkeys, mouse deer, hyenas and flying squirrels, to name a few.
13. Shirdi
Shirdi is a town located in Ahmednagar District of Maharashtra. Devotees from across the world visit the Shirdi Sai temple, built over the Samadhi of Shri Sai Baba. Besides this temple, Shani Mandir, Narsimha Mandir, Kandoba Temple, Sakori Ashram and Changdev Maharaj Samadhi can be visited when one travels to Shirdi.
Food Addicted :
The state of Maharashtra is rich in its food. The various well known daily food in different cities are mentioned below :
1. Mumbai
Pav Bhaji, Pani Puri, Bhel Puri, Channa Bhatura, Misal Pav, Sandwich, Ragda-Pattice, Idli-Dosa, Poha, Vada Pav, Sheera, Kulfi, Laddoos, Aamras, Shrikhand.
2. Pune
Midnight Fruitwala, Farooque Bhai ka Khichda, Sabudana Vada, Cheese Omlette, Misal, Kebabs, Maharashtrian Brahmin Thali, Loni Dosa.
3. Lonavala, Khandala, Mahabaleshwar, Matheran, Panchgani
Strawberries, Chikki, Fudge.
4. Nashik and Deolali
Potato Jalebi, Sabudana Vada, Biryani, Lassi, Dahivada, Kheema, Masala Jeera Soda, Motichur Laddoo.
5. Aurangabad
Naan Khaliya, Mawa Jalebi, Mango Rabdi, Dudhi Halwa, Paya (trotter soup).
6. Nagpur
Oranges, Dabeli, Saoji Chicken.
– HINAL SHAH