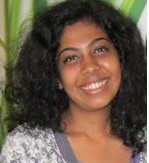 Aggregate %-    78.33%
Project Grade-  O grade
Tell us more about yourself.
I am a funloving and I love dancing, am a yoga teacher, love baking and swimming and vegan food, done karate(brown belt), love being with kids and dogs.
Were you expecting to top in the exams? To whom would you credit this success to?
NO,I wasn't expecting.credit goes to my college professors,my parents, friends(snehal archana and megha)and Vipin Sir.
Did you prepare religiously from day One or A few weeks before the exams?
No. Almost 2 months before the exams.
How did you allot time to different subjects? 
I used to study the subjects which were difficult for me.Yes made a self timetable and focused on the quality not the hours.
Can you share some insights on how to crack the subjects before exams? 
Don't study just before the exams. Set the goals of the subjects u have to complete for that day or week. Remember the key words and always try to enhance them in your answers. Be brief and precise, improve your vocabulary. I used to read only the text books more.
Do you think BMS student require coaching classes or is self-study enough? Had you joined any coaching class for a particular subject?
Don't think so. For practical subjects u need help.Yes I joined for OR and IF.
Did you participate in college fests or extra-curricular activities? Do you think a BMS student can manage both studies and extra activities?
Yes, I won the college radio jockey award at the Mauj Fest. Yes its fun.
Did you pursue any additional courses/ internships alongside BMS?
No. wanted to focus on completion of graduation.
Today, we often come across students committing suicide out of failure, depression or tension of exams. What do you have to say about this? Did you use any special techniques for stress management?
Yes we do get stressed with the projects and internals. I used to practice yoga ,listen to music, exercise (dance,walk,swim) hangout with friends.
Do you think the number of Industrial visits should be increased for BMS Students? Which industries have you visited?
Yes, we visited a garment factory, metal industry at and nearby Silvassa.
Do you think BMS students are flooded with assignments, projects and internal exams round the clock? What changes would you like to bring in the BMS Curriculum?
Yes, they should give us more time for the projects.
What message would you like to give to the next batch of BMS students?
Don't worry. Enjoy. Go with the flow. Do what u love, love what u do.
What are the future plans post BMS?
A post graduation
Be a guide to the students and share inspirational stories. Thanks and keep up the good work.