An Interview with Mr. Sandeep Hariani, CEO and Proprietor,
VZone Academy
By Saba Vakani, Correspondent, BMS.co.in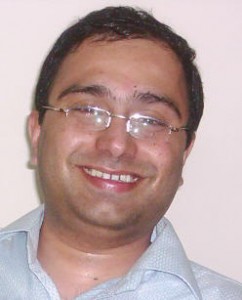 Tell us something about yourself?
I am an engineer by Academics, who is now an entrepreneur. After working with IT industry for 13 years, I switched to entrepreneurship. I was always an early achiever in my career and had developed my interpersonal skills. I also had a passion for learning and speaking various languages.
Tell us something about your Institute?
Vzone Academy (www.vzoneacademy.com) aims at providing its participants a competitive edge over their colleagues, classmates, etc and excel in the world.
How were you inspired to start this venture?
During my tenure in the industry, I interviewed hundreds of candidates, hired many and worked with thousands. Most of my tenure was in people management, and during my interaction with people, I found that a majority of them did not possess any competitive edge and all their profiles looked the same. They could neither communicate well, nor show flexibility at work. I decided to quit my day job to help people gain competitive edge, improve their language skills and develop dynamic personality.
In the last one year, we have trained more than 200 participants on various courses and have helped them gain a skill or attitude.
Can you tell about the courses offered and the workshops conducted by your Institute?
We offer various courses in Foreign languages, Entrepreneurship, English, Technical writing and Finance domain. At the end of the course, we ensure that the participant has not only gained knowledge about the subject, but also learnt the art of lifelong learning.
Every training has an end date, but not learning. One should not hesitate to learn until their last breath. Learning has more value than earning.
What are the personality traits one should possess to succeed in life?
There are innumerable traits. However, our focus in the course is ATTITUDE. This includes being a great team player, a good communicator, a punctual person, etc.
Finance is a huge stream and very competitive. In order to succeed one not only needs a few certifications, but the right personality and edge to excel in this domain. Financial Management helps one not only, take right decisions, but also use the right tools and techniques to aid the decision making.
What role does Languages (Foreign) play in students' life? What are the career options after learning them?
Language benefits in more than one ways.
It helps you to communicate with others
It helps you understand the culture of the other person or community.
It enhances your inter personal skills
It engages more of your neural landscape, hence keeping your brain active.
Besides, sweetest words to a person are his mother tongue. If you speak the language of your customer, you will not only be appreciated, but also help yourself in longevity of your business goals.
Multiple career options like translation, interpretation, teaching as a primary role or even language in addition to one's domain knowledge are available in today's world.
Is the Name of the Institute from where a student does his/her BMS important while entering into corporate world?
With so many players, one needs to ensure authenticity of the institute. Learning is not about mugging from a book, but gaining from the experience and perception of the right faculty members.
What is your philosophy towards work?
Work is worship. If you follow your passion, you will never feel that you are working.
"Management is core to every individual, organization & society." Give your views on it.
Don't we manage our own room? Mothers manage the kitchen and father the family. Management should not be confined to board rooms. It is a way of living and not a technology.
Name 3 qualities of prime importance that a Management student should possess.
An eye for detail
Assertiveness and
Goal in life
According to you, what are the challenges for Entrepreneurship today?
Today, India has a good ecosystem for Entrepreneurship, but one should learn the skill too.
If you do not understand your competition, market and your customers well, your venture could pose challenges and even die. One needs a great entrepreneurial passion and aptitude.
"Earning more & more is the motive behind any business." Is it justifiable?
Not at all. Motive should be to serve the customer's pain area and add value to their life. Money will follow.
One just needs an idea to help people. Rest all is execution and operation.
Share with us the most enjoyable moment you had experienced on work.
I follow the same enthusiasm during any session, no matter who the student is and the feedback that people give is the most enjoyable when they write that we made a change in their life.
What message would you like to give to the students aspiring to work at management level?
Communicate to express, not to impress. Keep it simple.
Set a purpose for your life.
Never stop learning. Life is full of experiences, good and bad, to learn from. Keep your input senses open to receive.
What qualities you see for apart from the required academic qualification while recruiting a person?
Attitude and goal in life are the things I look for.
Your feedback for BMS.co.in?
I find it very informative. Though, I am not a regular visitor to the website, but follow it through facebook and I see a good information synergy.
The following two tabs change content below.
Vakani Saba
Aspire to become a Visionary and Motivational entrepreneur like "Steve Jobs and Anita Roddick" which will help to broaden my horizon and to achieve success in life. My strong leadership, convincing, educational and organizational skills and ability to work well with people would help me to grow the company. "An entrepreneur tends to bite off a little more than he can chew hoping he'll quickly learn how to chew it."
Latest posts by Vakani Saba (see all)