Working out and dieting might not work for every women and not all of us are blessed with good metabolism.Those extra kilos many a times show!We all dread and detest looking bulgy .But I believe that it is  fashion that can give us the illusion of a slimmer physique.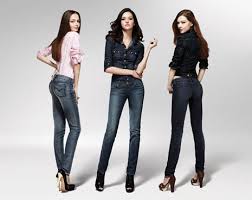 Lessons in length:-
If you're trying to give off a thinner appearance, it's key to be mindful of hemlines. This means staying far away from things humorously associated with tourists: capri pants, pleated khakis, long baggy shorts or calf-length skirts.
Instead, opt for straight jeans in a dark wash that hit exactly at your ankle or an inch or two below. This will elongate your body, especially when paired with dark heels, ankle boots or flats.
Same goes for trousers: Choose dark colors (black and navy are your best bet) without any pleating and have a slightly tapered leg.
In terms of skirts, a knee-length pencil skirt is the most universally flattering silhouette, as are fitted A-line skirts that hit right above the knee. For an extra slimming boost, pair skirts with opaque black tights in the winter, which automatically make legs of all shapes and sizes appear longer and thinner.
Opt for heels with a low-cut vamp:-
Here's small trick that can change the way you shoe shop: Shoes that have a low-cut vamp instantly elongate and slenderize your leg when you're wearing skirts, shorts and dresses.
Vamp is  the portion of a shoe that cuts across your foot at the front. So, a low vamp cuts across the base of the toes, while high vamp can come up the foot and possibly up to the ankle. If you're able to find a pair that matches your skin tone, all the better to give the illusion of slim legs.
Speaking of shoes, a heel — think two and a half inches and above — lifts the body and makes clothes fall better, which gives a slimmer appearance. Look for pumps with slightly pointed toes and thin heels, as opposed to square-toes, super-chunky styles or thick ankle straps, all of which can give the appearance of a shorter, stockier leg.
Ensure everything fits you well:-
To look leaner, it's crucial that every item in your closet fits you properly (if you have to become BFFs with your tailor, so be it). Wearing a pair of skinny jeans or black trousers? Make sure they're not too cropped and that the hem hits the ankle area. With blazers and jackets, always make sure the seams sit perfectly at the bony tops of your shoulders, and that the sleeves hit exactly at your wrist.
You can invest in a well-cut maxi skirt:-
It's common fashion folklore that curvy women simply cannot wear floor-grazing skirts and dresses, but luckily that's been proven entirely false. In fact, a well-cut maxi skirt can actually give you the appearance of looking longer and leaner.
Choose solid versions that skim the length of your body, which will create a long vertical line (forego anything with thick pleats, bulky pockets, thick elastic waistbands or too many layers.) Be sure to keep your top fitted — a tucked-in T-shirt and a cropped leather jacket or a well-cut blouse in a dark color, for example — so as to not drown in fabric.
Also, make sure the skirt's hemline is as long as you can go without tripping, and add a pair of high wedges or heels underneath. No flats!
Black the magic color:-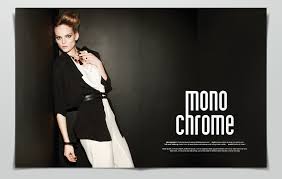 Using one color to enhance a slender illusion is the oldest trick in the book, and for a good reason: It helps create a long vertical line. While wearing head-to-toe black is the most effective — and eternally chicest — option, other darker hues work well, too. The trick to monochrome dressing: Keep each silhouette crisp and tailored, and stay away from pale shades like white.
Embrace pants with a higher rise:-
High-waist bottoms get a bad rap, probably thanks to an unfortunate Jessica Simpson style mishap, but when worn correctly, they can trick the eye into thinking you're leaner by elongating your lower body.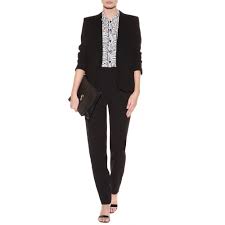 The most slenderizing item to choose are high-waist/slim-fitting jeans in dark denim or black with a bit of added spandex for stretch and movement.
Be sure to make the elevated waist visible by tucking in a tailored blouse, or opting for a slightly cropped top. Don't choose garments with a super high-waist that buttons up or has an elastic waistband. Instead, go for a rise that hits directly above your belly button and has a zipper fly.
You should opt for vertical stripes:-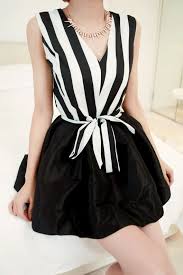 Vertical stripes create long lines, thus making you look, well, longer. Bonus: Stripes are super "in" right now, so you'll have absolutely no problem locating some cute options.
And while we're on the subject of stripes, it's common fashion folklore that horizontal lines can make you look wider. That's actually false, as a Breton striped shirt tucked into dark jeans flatters every woman.
Trust cinch with skinny belts:-
To look slimmer, cinch dresses and tunics with skinny belts — they help define your natural waist in the most flattering way possible. A thick belt, however, can cut you in half, which can cause you to look stumpy. A common trick curvy girls use in the winter that we love is to cinch a boxy coat with a skinny belt in a fun print, like leopard.
Conceal the problem areas:-
If you don't want to wear all black, just try masking your problem areas with the shade. Not thrilled with your legs but love your upper body? Mask 'em with a well-fitting pair of black pants or a skirt, and add a bright pop of color on top. To hide larger arms or hips, choose a tailored black blazer and show off your bottom half with some brightly colored shorts or skirt.
-MISBAAH MANSURI