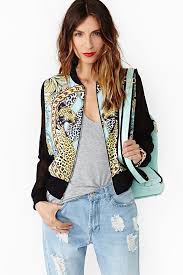 They're perfect for pulling off the off-duty, sportswear inspired trends that are dominating the catwalks, shop fronts, and streets right now. Want to know how to wear the stylish bomber jacket this season? Read on to learn!
1.  Silk bomber jackets:-
Silk bomber jackets are oh so sexy!They're the perfect combination of slouch and sophistication. They're also lightweight enough to be worn in the warmer months, making them perfect for transitional dressing. When thinking about how to wear bomber jacket styles like this, team a lightweight bomber with heavier, stiffer fabrics (like denim).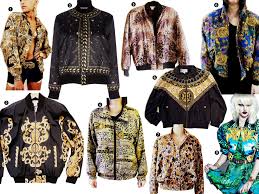 2. Leather is cool :-
A leather bomber jacket is probably the bomber in its most original form. It's perfect for creating a cool, aviator inspired look. Team a brown leather bomber jacket with denim jeans and a white t-shirt for an effortlessly cool look.
3. Sporty and fun
Bomber jackets are so great because they give off a relaxed vibe. Perfect for working the sport luxe trend! When looking at how to wear a bomber jacket this way, work a look that's been adopted by fashion editors the world over and team a more structured style with slouchy pants and heels.
4. Print,Print,Print!
Lately it's all about prints, prints, and more prints! Bomber jackets are no exception to this trend. Plenty of places have printed bomber jackets in their collections. Try one in a cool floral or scarf print to jazz up a casual weekend outfit.
6. Going femme
Since bomber jackets tend to be more relaxed and boxy, they can come across as slightly more masculine. Style them in a more feminine way either by wearing them over dresses and skirts or by choosing jackets in light, pastel shades.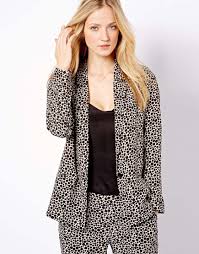 -MISBAAH MANSURI