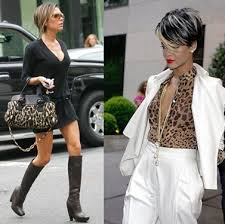 Wearing animal print is pretty much fun. It never goes out of trend however it's all about interpretation. I'm sure you don't want to look like you are recluse from the jungle.To avoid faux pas when embracing animal print remember the following points:-
Avoid getting too matchy -matchy
Matching colors and prints is very common in styling. However, not only does going too matchy creates a trying hard kind'a obsolete way of styling, it's considered a big NO when it comes to animal prints.
Choose only one large part of your outfit that's wild. For instance, if your top is a leopard/tiger/zebra print, let the tights/skirt/pants be non-animal. If it's your dress that has the print, then let your shoes be plain black or nude.
A touch of the same print on your footwear only works when the black, beige or white shade is dominant.
Take one large animal print at a time.
Tone your leopard print down
If your outfit is too wild make sure you tone it down. If you wear an animal print mini dress, you can tone it down by wearing a single-colored-cardigan over your dress in color that blends well with your wild print.
If you wear leopard print tights for example, you can tone down the print by wearing them with knee-length boots in color palette that blends but suppresses the strongest shade of your animal print.
You can also decide for the color of your boots by taking a non-dominant shade from your other accessories. Again, in shades that complement your animal print.
Tone down your print
Another way of toning down a large wild is by carrying/wearing accessories that steals attention such as fur purse or fancy scarf. But then, their color should always be complementary.
Only match animal print if it's accessory
If you feel the urge to go matchy, you can do so on your accessories provided they don't clash. For example, if you wear leopard printed boots, you can take a tiny purse in leopard print.
If your tiger bag is with considerable size, you can take a pair of tiger print stilettos. But hopefully, your long scarf is no longer a leopard/tiger and your head gear does not scream jungle. The key here is getting minimal.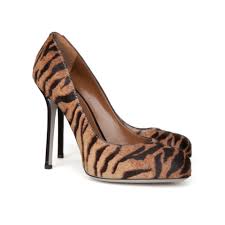 It's safe to match the accessories.
You would never go wrong if you take only a single item of animal print, either for your top, bag, shoes or scarf, while the rest of your outfit is entirely neutrals.
A fitting sleeveless top with low cleavage tucked in a black and white polka dot midi skirt teamed with black booties, is a fabulous look to steal.
A pair of fitting long sleeves top and below the knee pencil cut is otherwise an alternative.
It's take a lot to bring catwalk off the street
Notice that the top and skirt are matched but the prints are of big patterns with light brown as the main shade. Complete the look with a pair of plain black stilettos.
Animal print and color clash
A new way to wear animal print is to team it with bright colors. Now, not everybody has the heart to apply this idea but it´s something worth a try. The key here is to go for only one single vibrant color.
One color that is best to clash against the print, and is certain to stand out, is green. There are many shades. Emerald-green looks amazing  but deep green, getaway green or pebbled green are also good. Create a match. Let your shoes be green too.
But shades of pink, red, yellow, orange and pastels work well with leopard print too. Really, you just have to find your color. Think leopard skater mini dress and pink ballet flats.Classy!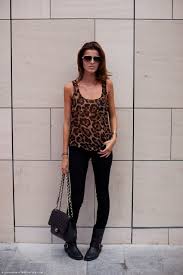 –
MISBAAH MANSURI