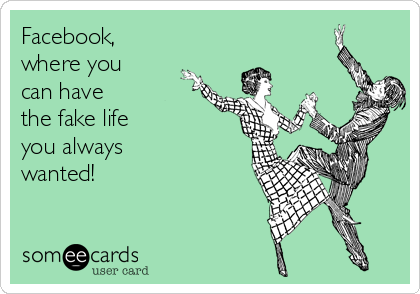 The social networking sites have become a reason to live today. It is something which is not failing to win pros in terms of making a person happy. The networking really connects all from one corner to another. I am not interested in telling how beneficial it has become and etc. informative things.
But yes the pros of making and vibrating happiness that this site emerges to be is gifted. But it is not safe. Yes, unsafe for our mind. Research says people who use more social networking sites tend to be more depressed and stressed. The continuous exposure to  viewing their friends last night party photos, changing relationship status, tags of various people, bumping to someone you hate, the rise of girls in your crush's list- fhew, this all surely melts you to the sea of sadness. The expectations of some more likes to your recent post plugs you to login. Crashing into good and bad- you don't know what mood you will return from. It's a surprise your profile kicks you with every time.
The other good side is it makes you happier and lighter too. The versatile news feed which have an access to all your favorite pages and products makes you feel good. Scrolling down seems fun and you are thirsty for some more good posts. The hilarious world of sharing is what you are exposed to. You love it, you are updated and you know what's going on. The trending chart says you all whether you are on Facebook or twitter. It supports all posts, videos, your wide range of friends whom you know, whom you don't, your photos from all events and everything related to you. Someone can merely sketch your rough character by browsing your profile properly. It gives the pinch of yourself. A lot many pinches.
But what is Fake Facebook Life (FFL)…?
Fake – not real
Life – OMG, a very big thing
Facebook life – your activities on Facebook
Fake Facebook Life – you got it right 😉
You do it, I do it, we all do it some or the other time. It's not completely fake. But it is somewhere true. But the truth which is somewhere true – isn't it fake? 😛 It also can be given an additional name of trumpeting, exaggeration can also be paired up with it. Your girlfriend is angry on you and you are having your favorite pasta that day on the same table -Status- "pasta with my girl :D" The feelings are fake. The status impact a happier situation which is not real in reality.
We create something (creation) of something (things happening) and present it to the world manipulatively. We think people will raise their brows and believe in your updates. You become popular for the time being. We all love fame and getting this kind of attention in one click is digestive. We don't want to lack behind when our friends are having a happening life. We start sharing all small silly things which gives us happiness- it HAS to be shared. People need to see what wonders are taking place in your life. All the things trap you. The era of photography and selfies has emerged only due to – profile pic and "dp" changing fashion. You click 10 and select the best for your post… likes, comments fills your cupboard of notifications which makes you feel extra beautiful. Appreciation is loved by all. Clicking only photos outside a royal restaurant and posting them as "must visit, very yummy food" (without really having a bite) etc., are some deep funny things people find no shame in doing. A pic with a sweaty attire and updating it as – Going for run #Sporty… and then taking your car the rest way, getting single, getting into a relationship and all this encases our Facebook life.
Why do we do all this? Viewing others makes you ponder what less is in your life, you start scaling your life with them. We also have those friends who totally fake out a completely different life on Facebook. You know the person in real, you know all the truths she has said to you when she was drunk – and the complete opposite seems flashing on her Facebook updates. She says you in personal that she is doubtful whether she has chosen a right partner, and the same person's Facebook posts show how damn lucky she is to have the love of her life.
What is about social media that makes people lie? Is it that they want to show how successful they are in life? Or they try to create a world which they really want… in a virtual form?
You got some fake friends on Facebook, with whom you are broken up. But you don't seem to show interest in unfriending them because you are eager to show them that they don't make any difference in your life. The Ego factor does that. Expressing your sarcasm through status updates are a fire when the person reads it. This things are fun to see but is quite serious for the ones going through it.
It's everywhere. Everyone on Facebook is having an awesome life. They really don't seem to be trapped in other circumstances. If you ever feel you are the only one having a normal life, you are not. Everyone out there is having a same life as yours or below that. They too get sad and curse their problems. All the cheering happy people on your Facebook aren't the same in real. It is easy to fake life on Facebook, it is very easy. So next time when you feel down by viewing others on Facebook, remember it's not everything on social media which you need to gulp down your throat so personally. 🙂
                            -SANGITA MAITY.