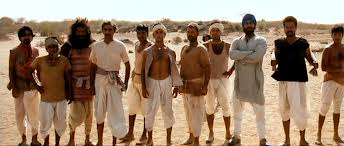 When it comes to bollywood there are rare chances of a movie to be really good especially if it's a Sports Genre. But bollywood have produced some really well and worth watching movies related to sports. Amazingly bollywood usually produces funny, romantic, idiotic movies or movies with some stupid action and fighting or movies which are tagged horror but no one gets scared even a bit, though there are really some good movies produced by the Indian cinema in the Sports category.
Bhaag Milkha Bhaag
Based on true story of Milkha Singh who was an Olympian for India, it became a really popular sports movie and Farhan Akhtar's work was well applauded.
Paan Singh Tomar
Another movie based on a true story, Paan Singh Tomar is played by Irrfan Khan it is a movie about Paan Sigh Tomar who had served in the Indian Army and his journey to winning a Gold Medal.
Chak De India
A movie made on Hockey, oh wait, women's hockey and still became a lot popular than may be all other sports movie relating to cricket in India. It is a story about a retired player who was a victim of criticism in the past defeat against Pakistan helps a women's hockey team to take to the finals of Hockey World cup and win it.
Iqbal
It is a really sad but inspiring story of a deaf and unable to speak boy who wants to become a cricketer. It is a story of how his dream of becoming a great bowler playing in the Ranji Trophy and gettisng a chance to play for the Indian team alongside a lot of speed breakers in his journey to success.
Lagaan
Arguably the best sports movie made in India, may be but it surely got a nomination in the Oscars for best foreign language film. This is a classic movie which takes us back to the time when british ruled India and they offer a cricket match to the villagers to get rid off tax if the villagers win it, but villagers need to pay three times if they lose a cricket match against the british.
– Jainam Jhaveri
The following two tabs change content below.
BMS Team aims to help the BMS students all over Mumbai colleges, empower BMSites and revolutionize management education. If you wish to be a part of our core team, write to
[email protected]