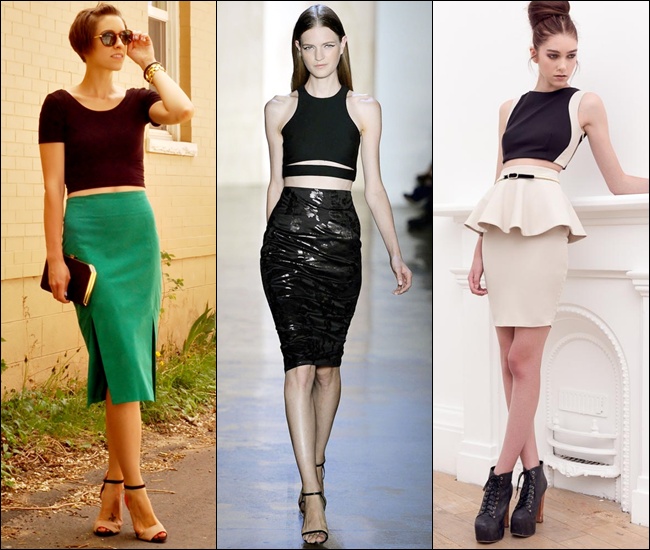 It is the sheer simplicity and versatility that makes the pencil skirt stand out!It can be worn by any body type and still look so stunning. Here are ways to wear them:-
For a formal event:-
Wearing a pencil skirt as a suit is glamorous for business events. A white, cream or ivory suit, can be paired with black accessories like bag and shoes, and accentuated with a printed blouse. For a black or dark suit, white accessories will go well. If the suit is printed, style with neutral accessories. If you are wearing separates, you may match your shoes and jacket, and then your skirt and blouse.
Street look :-
Styling a pencil skirt for street fashion can be done with slits or low waist and a crop top. Lace and embroidered skirts are also stylish.
A casual day-out:-
For casual wear, the trick is dress down your skirt. Wear a simple top and shoes. You may opt for cute feminine sandals and a colorful T-shirt, vest or tank top.
Types of Tops to Wear With a Pencil Skirt
In selecting what type of top you should wear with pencil skirts, always try to find a loose fit. Cute tops that go well with a pencil skirt include crop tops, conduce tops and blush shirts. Loose fitting tops are more appropriate especially for work or business meetings. But too buggy shirts look ridiculous. Tops with pencil skirts can be worn with short or long sleeves. Sleeveless tops may also look good in casual outings or warm weather.
Although tucking in is cute, you can leave your top untucked for casual wear. If you must tuck in, opt for a high waisted skirt with a wide waist band. You may wear a jacket and leave it unzipped. A denim jacket or shirt in dark colors goes fine with a tucked in T-shirt or camisole.
Sheer or lace blouses pair better with plain or solid color skirts. Printed tops will also be perfect with a neutral pencil skirt. If you would like to wear a black or dark T-shirt or tee, opt for a bright or printed pencil skirt. During the summer, you may choose a floral print top and a skirt in mid tones. A floral print skirt or dress and a bright T-shirt would be great. Avoid wearing prints for the top and skirt unless it's a suit cut.
If you are short or plus size, select a blouse or jacket that closely matches your pencil skirt. A pencil skirt suit is wonderful. The top looks better if it falls to just above your hip area. If you want to wear one separate a shade brighter than the other, let the top be the brighter one. Slim ladies can do with a belted jacket to emphasize the hour-glass figure. A tank top and a long will be just right.
In winter, the kinds of tops you can wear with a pencil skirt should be warm. Although you may layer several clothing, buying warm clothes will do better. During this season, avoid sleeveless short sleeves. Opt for jackets with fur or cotton lining and layer with collar shirts and a T-shirt or camisole underneath.
Accessories for a Pencil Skirt
A pencil skirt pairs perfectly with a leather handbag. This is also true if the skirt is a leather pencil skirt. Closely match the color of your handbag with the skirt or top. If you are wearing a suit, choose a handbag that matches the colour of your shoes. This may not be the same exact color.
A belt worn over a high waisted pencil skirt looks great, especially if the top is tucked in. You may also wear the belt over the shirt. You may match or accentuate your belt. If it is a buttoned shirt, the buttons, at least at the waist area must be done. A jacket with a built-in belt is also fine as long as the belt is at the correct height.
-MISBAAH MANSURI
The following two tabs change content below.
Latest posts by Riya Lokhande (see all)