History: Asian Paints was established on February 1, 1942 by Champaklal H. Choksey, Chimanlal N. Choksi, Suryakant C. Dani and Arvind R. Vakil. They name their company 'The Asian Oil & Paint Company', a name that was randomly picked from a telephone directory.
1945 – Asian Paints touches a turnover of Rs.3,50,000.
1957 to 1966 – The family-owned company makes the change to a professionally managed organisation.
 Asian paints made a foray in automotive paints in the year 1997 with a joint venture with PPG Industries. The joint venture is called PPG Asian paints.
 Asian Paints Limited is an Indian chemicals company headquartered in Mumbai, India. It manufactures paints for decorative and industrial use.
Asian Paints is India's largest paint company and Asia's third largest paint company, with a turnover of Rs 96.32 billion.
Besides Asian Paints, the group operates around the world through its subsidiaries Berger International Limited, Apco Coatings, SCIB Paints and Taubmans.
Introduction: Asian Paints Ltd. operates in 22 countries around the world. It maintains 27 paint manufacturing facilities and serves consumers in 65 countries. As a truly global enterprise, Asian Paints is aware of the impact its operations have on the environment and is strongly committed to following the latest best practices for green productivity. Specifically, the company is working to assure environmental compliance and sustainability by focusing on waste minimization and water conservation at all of its plants across India.
To achieve this goal, Asian Paints team of environmental experts recognized that they needed to find a better way to track water parameters and hazardous waste from the point of generation to disposal and monitor reuse and recycling processes across their plants.
Goals: In the past, data regarding water consumption and quality, gas emissions and the production waste (corrugated cardboard, waste oil , empty drums, used solvent , etc) was tracked using separate processes based on paper, electronic documents, and spreadsheets.
We are always striving for zero-emission zero discharge and zero generation goals, says Dr. Rajan Sharma Senior Manager of EHS at Asian Paints. All of the parameters were being monitored, but somebody had to spend a lot of time getting those individual data points correlated and then generate a final report.
Principals:
Asian Paints Decorative Business Units (DBU) has focused on all aspects of their environment: air, water and land.
Waste minimization efforts include elimination, reduction at source, recycle, reuse and finally disposal. Waste solvent recovery plants have been installed to recover and reuse solvents.
Ultimately, water consumption per liter of paint manufactured has been reduced by 54%.
Waste Minimization Options R e-cover Waste Minimization Option Volatile Organic Compounds (VOCs) Install VOC recovery units on ventilation units Raw Material Packaging Repair broken pallets or offer to employees and public as firewood Dust Install a dust collection system in ventilation systems.
Dyes:
Dyes may be defined as substances that, when applied to a substrate provide colour by a process that alters, at least temporarily, any crystal structure of the coloured substances.
Such substances with considerable colouring capacity are widely employed in the textile, pharmaceutical, food, cosmetics, plastics, photographic and paper industries.
The dyes can adhere to compatible surfaces by solution, by forming covalent bond or complexes with salts or metals, by physical adsorption or by mechanical retention.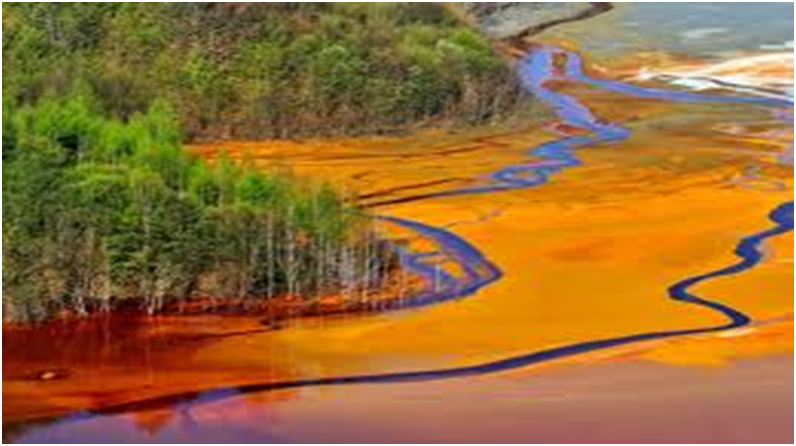 Achievements: Asian Paints commitment to green productivity earned all six of its India facilities ISO 14001 certification for environment management standards.
Success story:  Success of Asian Paints Limited takes up the environment issue from the perspective of waste minimization and conservation of resources. It makes a continued attempt to reuse, recycle and eliminate waste, which results in a diminished amount of waste being generated.. It has succeeded at driving eco-friendly initiatives using environment management systems and thereby diminishing the impact on the environment. The bulk storage facilities have been upgraded thereby reducing material losses as well as eliminating effluent generation.
Conclusion: Success of Asian Paints Limited has been among the forerunners in adapting principles of 'Green Productivity'. Plants have achieved ' zero industrial discharge ' Company's emulsion manufacturing facility has also achieved ' zero waste ' status. Innovations in filtration process technology have resulted in higher filtration rates and lower losses and, consequently lesser pollution. Company has also reduced waste by over 72 % after upgrading incinerating systems. The rest of the waste is re-used.
BY Hemant Sappati
The following two tabs change content below.
BMS Team aims to help the BMS students all over Mumbai colleges, empower BMSites and revolutionize management education. If you wish to be a part of our core team, write to
[email protected]