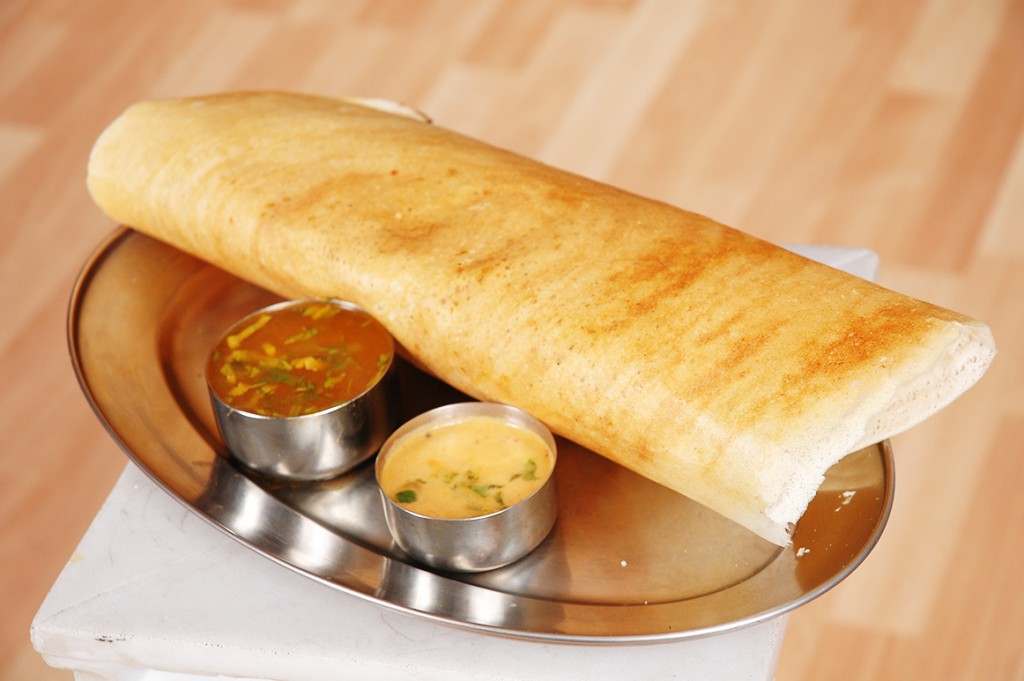 Cheese masala dosa, onion dosa, paneer onion dosa, schewan sada, paneer chilly, paneer schezwan, chicken choupsey dosa, mushroom choupsey, aahhh –
 Mouth watering??
Any Indian can't stop himself to this mouth smackering DOSAS. Indian culture's diversity has given the world this extremey delicious South Indian dish.  Did you know dosa is counted among the top 50 foods in the world? Its varieties and deliciousness attracts people of all caste and country. It's the typical south Indian staple food which consists of fermented rice and lentils and supported with the nutritious and yummy sambhar (soup of all vegetables) , and the various kind of chutneys complete the Thali. You can change the contents of the stuffing and even the base flour. It's one of the best fast food our country Is having.  It's rich in carbohydrates with no sugar and saturated fats. The fermentation process increase vitamin B and vitamin C.
                A Typical dosa was always enjoyed with the coconut chutney. But as time passed varieties in the dosa recipies also entered. The Stuffing used for all recipies is unique; the texture the fine dosa gives is marvelous. You need quite practice to make the perfect one.
       So here I present the best 5 dosa dishes, for all types of taste – may it a spicy one or the simple – one must surely give it a try. Beginners be alert – if you know any of this dosas, perfectly, you will surely win laurels of praise.
Before starting let me say you about the batter to be prepared. It's simple. Soak long grain rice, urad daal, chana daal (Bengal gram), fenugreek seeds (optional) over night, make the batter a smooth and thick one with proper consistency, don't add too much of water. You can add poha also to it for the selected recipies. Ferment it for minimum 4 hours.
 Let's start now.
SPRING DOSA.
A beautiful Chinese touch is given to this dosa. You can add as many vegetables as you can to make it more healthy and delicious. Make sure you cut all the vegetables long sliced since it includes the Chinese touch. Its very yummy to eat and a classy dish, with the Indian base of dosa.
INGREDIENTS:
Oil 2 tbs  , 1onion (sliced) , Cabbage 1 cup (slice long) , Capsicum ( 1 medium green ), Carrot ( 2 medium), Spring onion, 3-4 stalk of spring onion, Salt , soya sauce ½ tbs, schezwan sauce 5 tbs, beans sprouts ( moons)
METHOD:
Take a taucing pan, add 2Tbs oil. Add the onion, cabbage, capsicum and carrot. Tause the vegetables, add spring onion and the green stalks to it after 2 minutes.Tause this all well. Quickly add ½ tbs soya sauce, schezwan sauce as required. And beans sprout. Tause them well. Don't cook more. Don't forget to add salt as per taste. Start making your dosa on the other hand. Spread the remaining schezwan sauce as the first layer of the dosa.  Add the mixture of spring as ur dosa sides start getting crisp. Roll it properly and serve Hot.
NOTE: You can add noodles also the spring mixture.
             Spread oil at the edges of the dosa.
             Add salt to the batter and mix it well before starting.
              Use schezwan sauce as required. Add more if you want it spicy.
2. MYSORE MASALA DOSA.
The most popular dosa and found in every menu is the Mysore Masala Dosa. People love it and mostly stick to it, those who don't want to try a new one. The name itself says it's gonna be spicy. Its perfect wid the coconut chutney and sambhar dipped in.
INGREDIENTS:
STUFFING – mustard seeds, cumin seeds (jeera), turmeric powder, onion (finely chopped), curry leaves, coriander leaves, ginger-garlic-chilly – paste, Green peas, broken cashew, 2-3 smashed boiled potatoes, water, lemon 1tbs , salt.
RED CHUTNEY – chana dal roasted, dry whole red chillies, ginger, garlic, tomato ketchup, and lemon, salt – Grind all and make a smooth paste. (This is the most important thing of a Mysore masala dosa. this paste is spread on the dosa as the 1st layer.)
METHOD:
Take a pan and heat 2tbs oil. Add mustard seeds, cumin seeds.it will splutter, and then add turmeric powder, onion, curry leaves. Add the ginger-garlic-chilly paste, green peas and broken cashews. Stir well for sum seconds. Then add the smashed potatoes and cumin powder and salt. Mix it well. Add little water and lime.  Add fresh coriander leaves at last. Cook this between 5 mins.
Spread the RED CHUTNEY on the dosa, and then add the STUFFING made. You can sprinkle red chilly powder and little chaat masala to make it spicy and to give color. Roll it properly and Serve hot with chutney and sambhar.
3. CORN AND CHEESE DOSA.
This dosa is different as it has corn and cheese as the main ingredient. It taste spicy and have a different flavor then the remaining dosas. It's nutritious. It's a quick and superb recipe and very easy for beginners.
 INGREDIENTS:
Boiled corn ½ cup,1 Green capsicum (finely chopped), Red chilly flakes, Fresh coriander leaves, 2 tbs chaat masala, cheese (grated), Salt.
METHOD: Take your dosa making pan (tawa)… spread the dosa batter. Spread butter and as it melts add the boiled corn, green capsicum, salt to taste. Sprinkle the chilly flakes and add 2tbs coriander leaves. Sprinkle chaat masala, and add the grated cheese. Add the cheese only on 1 side. As the edges of the dosa starts getting crisp, carefully fold it half and cut it from centre. Then Twist it again so that the other part gets crisp and it gets a color. Serve Hot.
NOTE: No need to serve this with a sambhar or chutney. It's complete this way either.
             You can spread tomato ketchup as the layer on the dosa.
             Put cheese on only one side of the dosa.
4. NEER DOSA.
 This is the EASIEST dosa as per ingredients but the toughest while making it. It will grill you when you are cooking it. The shape, consistency, and many things are to be chequed while preparing a neer dosa. Well it's the simplest in taste and different from all the dosas. It's a dish from Udippi also known as the Udippi Neer Dosa. Those who do not prefer spicy food much and like to have a simple taste. This is best for you.
INGREDIENTS: rice (soak it in water overnight) , coconut (scraped), 1 cup, Water, Oil ( to grease).
 METHOD: Make sure you grind the ingredients well and prepare a thin batter for neer dosa.
Select a proper small round shaped pan for this. Spread oil, and rub it off with a clean wet cloth. Take a ladle full of the batter and pour in the pan. It will spread automatically. (Imagine the consistency). Cover it wid the lid. Slightly cheque the edges and fold when prepared. It won't take much time. Fold it in 4 parts i.e. A triangle shape. Serve immediately.
NOTE: Prepare the batter perfectly with thin consistency.
              It is also prepared with the banana leaf.
     Suitable with any gravy and chutney.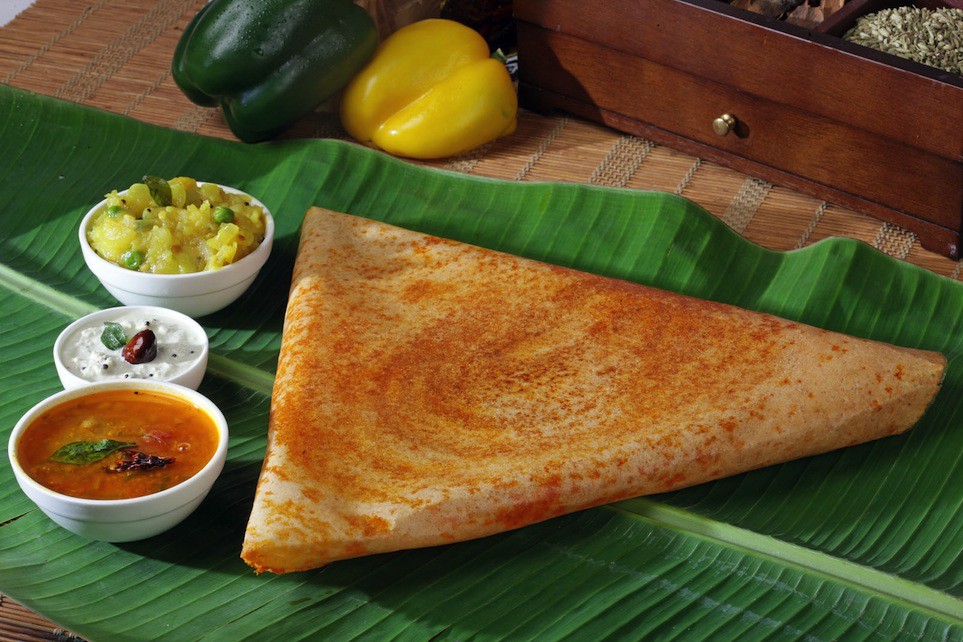 5. BREAD DOSA.
Quick and yummy breakfasts can be made out with this bread dosa. It's easy, simple, soft and yummy.
A must try at home.
INGREDIENTS : Bread slices, Semolina (suji/rava), Rice wheat, salt, water, oil, Mustard seeds, urad dal (black split gram), curry leaves, ginger finely chopped, green chillys, onion finely chopped.
METHOD: Take the bread slices and cut the edges.  Pour water on them so that it properly gets wet and soft. Take suji, rice wheat, salt, water – mix well. Add this into the mixer and grind well. Add water for the thick consistency of the dosa. Batter would be smooth. Keep it aside.
Take a pan and heat oil. Add muster seeds, urad dal, curry leaves, ginger, chilly and onion. Tause them well. Cool till the onions turn soft. Now mix this hot mixture in the batter kept aside. Stir well.
Then heat your pan (tawa) for the dosa. Spread oil, and then wipe it with a clean wet cloth. Spread the bread dosa batter on the pan; turn it after some time when the edges become crisp. You can add some chilly powder or masala to make it spicy. Turn off the gas when the 2nd side is red and serve hot.
Eat it with the green chilly and coriander chutney.
So I hope you try this top dosa recipes and come up with a new one too. There are several other stuffings which you can experiment with – for example – Gobi masala dosa, chicken kheema dosa, egg dosa, paneer masala dosa, etc. You know the basics now; you can experiment, cook, and taste your own dosa recipe. But make sure you keep the base of the typical Indian dosa, and the ever fresh South Indian flavor.
HAPPY COOKING!
                                                                                                                            – SANGITA MAITY
The following two tabs change content below.
BMS Team aims to help the BMS students all over Mumbai colleges, empower BMSites and revolutionize management education. If you wish to be a part of our core team, write to
[email protected]