An Interview with Varun Rajiv Kulkarni, TYBMS Sem 5 Topper, K.V. Pendharkar College (72.33%)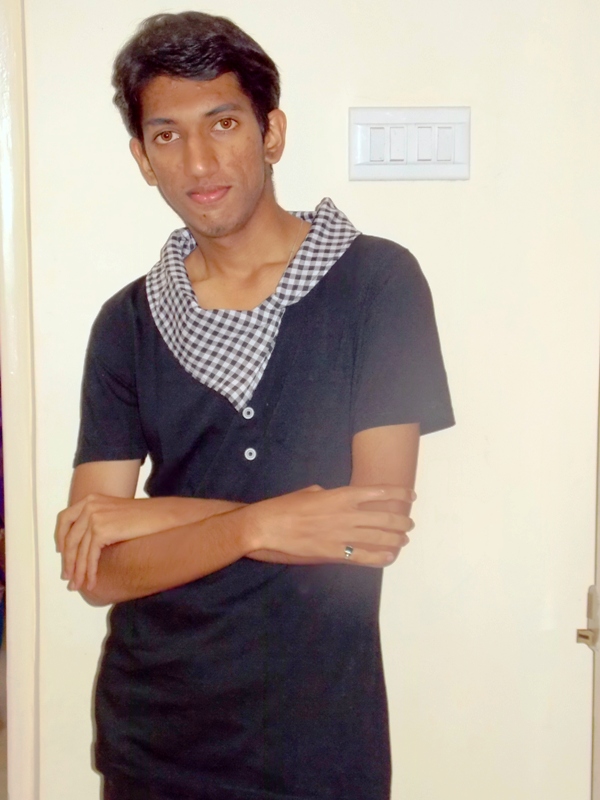 Tell us more about yourself.
Hi Friends I am Varun Kulkarni & currently in TYBMS 6th sem. I am a very friendly person & like to make many friends. My hobbies are to read newspapers, watch cricket, chat with friends, freaking out with friends etc. My interests are in cricket umpiring & politics.  I would rather like a secure but challenging life. For example, life of a manager who has his job well secured based on the performances but has to tackle with many challenges relating to HR, Marketing, etc in order to accomplish the objectives of the company. According to me, "Work Hard sincerely for the first 25 years of life & you will enjoy the rest 50 years & more of life thoroughly & truly."
Were you expecting to top in the exams? To whom would you credit this success to?
Well, frankly not at all!!! I was expecting marks in the 60's, actually when I came to know about my percentage I was amused for myself & checked it at least a half a dozen times whether I was checking for my name & number only. Topping the college was another sweet surprise for me. I would like to credit all my success to my parents who never pressurized me for any sought of specific marks, I would also like to credit my success to coordinator of our BMS department in College respected Prof. C.A Jayshree Karve who helped me throughout in any difficulties during the whole semester, all my respected professors of college & last but definitely not the least my classes Navigator tutorials who provided me with the confidence & self belief & helped me crack good marks in the practical subjects of the semester.
Did you prepare religiously from day One or A few weeks before the exams?
I started some serious studies only a few weeks before our exams. Due to classes & continuous practice in our college taken by our Professor for practical subjects I was quite confident that I would secure good marks in practical subjects. But was worried regarding the theory subjects as the contents in it were easy but the portion in it is really very vast & it becomes difficult to cover the whole syllabus in 3 months time. I would just read some head points from the chapters & find some practical examples for it so that it becomes easy to memorize & understand in the end. Our college professors always stressed that giving practical examples to your answer will always increase the weightage of your answer.
How did you allot time to different subjects?
Due to continuous practice of practical subjects like Financial Management & Special Studies in Finance both in college as well as in classes I could concentrate more on theory subjects only when I was at home. I didn't prepare any specific timetable but once a subject taken in hand would read minimum of its 5 chapters which were not touched at all before, no matter what duration it takes. By doing this I would get a fair idea what were the topics & what exactly is written & important in these chapters with the point of view of the examinations.    
 Can you share some insights on how to crack the subjects before exams? Which are the easy subjects?
For practical subjects practice is the only way out to crack subjects & score very well in them. Practical subjects are the one who either make or break a result of a candidate. So practice for those subjects is really important. For example in my case in both the practical subjects of FM & SSF I have solved nearly 500 sums both included in college & classes, which was of a great help to me as I got the confidence to solve any sum which came my way as my basics were clear. I gave as many tests as I could before the exams for various subjects in my college & even in classes. Due to this I was aware of what type or sought of questions can be raised in the question paper & my college professors guided me all the way regarding what sought of answers to write if a particular question arises. According to me, giving as many tests as possible for theory & practical subjects is the best way of cracking the 5th sem BMS exams. Well mentioning about easy subjects, I think Human Resource Management is the easiest subject to understand in all the remaining subjects, next I would like to mention Business Ethics as both these subjects have practical references & we can provide true corporate examples for these subjects.
Any special way of writing the answers? How to crack case studies in theory and practical subjects?
For theory subjects, Its very important to read the given case study as the answers for the  two questions of the case study are hidden within the case study itself & the answer for the third question is more of own thinking ability & practical knowledge about the subject. In case of practical subjects again reading is very important but alongwith it the basics should be clear so that we can think on the right track & crack the case study easily. All the formulae & the tricks should be well known to crack the practical subjects' case studies.
For writing answers for theory subjects like Business Ethics, Service sector, HRM it is important to write the bullet points correctly & then support the answer with explanation & examples of these bullet points in short & upto the point. It's important to support our answers with correct examples wherever possible. Highlighting the bullet points & the important lines & words in the answers are important so that the examiner comes to know that the student has proper & correct knowledge about the subject.
For practical subjects like FM & SSF, it is important that there is not a lot of cutting & scribbling while solving. Proper sequence of steps should be maintained while solving any sum & the steps should be highlighted. Answers derived from each step should have an underline for highlighting it & the final answer should be put into box so that it can be easily visible.
Do you think BMS student require coaching classes or is self-study enough? Had you joined any coaching class for a particular subject?
According to me, BMS students require coaching classes especially for the last year practical subjects. Due to classes it is possible to practice & solve as many sums as possible from the textbooks, class notes etc. Due to classes it is possible to devote time for study of theory subjects at home which at a later stage when the exams are nearing is of great help.
Yes, I had joined coaching classes named Navigator Tutorials for three subjects namely FM, SSF, & logistics. The teachers in these classes take a lot of efforts & ensure that each & every student understands every single sum. They sought of build confidence in you & assure you that you can crack any sum which is there in the question paper. These classes ensure that a lot of practice of practical sums is taken.
 Did you participate in college fests or extra-curricular activities? Do you think a BMS student can manage both studies and extra activities?
Yes, I have participated in many extracurricular activities & competitions in conducted at college level. I enjoy participating in various activities thus being able to come in contact with number of people & able to share thoughts with them.
BMS student has to learn to manage both the extracurricular activities & studies. BMS as a course itself is for future managers. So we should understand that the work of manager is not only limited to one task but multiple tasks in an organization & he has to give his best in all the tasks. Thus every BMS student should be able to strike the balance between extracurricular activities & studies.
Today, we often come across students committing suicide out of failure, depression or tension of exams. What do you have to say about this? Did you use any special techniques for stress management?
It's very unfortunate that the students are going into depression & committing suicides. According to me to avoid all this, there should be free flow of information between parents & their children regarding all the activities let it be related to studies or not. Parents should not put any sort of parental pressure regarding gaining more than a specific percentage etc, this puts students under stress & under this negative stress the student can't give his 100% in the exams. Students on the other hand should be free with their parents regarding   the problems they are facing during studies & most important students should not misuse the freedom given by parents to them & must have a positive attitude towards studies & life.
Do you think the number of Industrial visits should be increased for BMS Students? Which industries have you visited?
Yes, the number of industrial visits should be increased & the industrial visits should be diversified according to me. The diversification should be done on the basis of various activities of a company. For example, if one industry visited is a production plant then the next should be a logistical company or a packaging plant so that students can gain complete knowledge regarding the whole process. I have visited industries at Silvasa namely Sudarshan spinning mills, Parle – G & coco-Cola industry at Wada.
Do you think BMS students are flooded with assignments, projects and internal exams round the clock? What changes would you like to bring in the BMS Curriculum?
Yes, I have an opinion that BMS students are busy with one or the other activities but all these internal exams, tests, projects & assignments are of great help during the final exams & to gain practical knowledge. Thus I would like to recommend no change in the BMS curriculum currently.
What are the future plans post BMS?
Post BMS I would like to go in for MMS degree. Later would like to work in a MNC as manager & higher levels. I would definitely like to continue & pursue my interests of umpiring in cricket in future.
The following two tabs change content below.
We, at BMS.co.in, believe in sharing knowledge and giving quality information to our BMS students. We are here to provide and update you with every details required by you BMSites! If you want to join us, please mail to
[email protected]