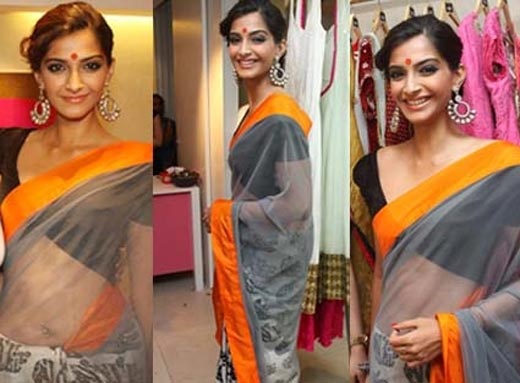 Is there anyone who does not want to flaunt a curvy figure? Who is not fond of that faultless shape which adds a different dimension to your personality? But unfortunately we do tend to look a bit chubby. Some of us are also scarred of looking aged when we wear Indian. Here are ways you can look slimmer in the Indian attire:
The fact is, Indian wear in general imparts a slimmer look to women. With drapes and layers so integral to Indian outfits, you can very well use these dresses to reveal your beautiful parts and camouflage the ones which are bulky!
Here are the top 15 tips on how to choose and wear Indian outfits to look slimmer:
1. It is important that you understand the kind of outfit which fits your body in the perfect way.
2. If you are a top-heavy woman, do not wear fabrics that cling to your top portions.
3. Do away with any kind of frill or gathering of dress materials in your kameezes or lehengas to look slimmer.
4. If you have a heavy top, avoid frills near the neck lines.
5. If your have a heavy bottom, avoid the same near your hips. In fact, churidaars would be a nice alternative for you instead of those huge patialas.
6. If your have bulky hips, choose the outfit which will conceal them.
7. Your kurtis should cover up your hips properly and make sure that instead of flaring towards the bottom, your kurti should give a narrower look.
8. Monochromatic Indian outfits make you look tall and less bulky.
9. Get hold of Indian kurtis that are a little loose on your body.
10. Go for smaller prints if you are in love with printed dress materials.
11. If you nurture a secret love for stripes, go for vertical ones.
12. Fine silk sarees and crepes make you look slimmer than heavy silk sarees. Delicately embroidered and sequined sarees also give a slender look to you.
13. Tie your hair in a high bun or a high pony tail. Any kind of frizzy hair style adds volume to your bust as well!
14. Go for heels! High heel shoes look very nice with Indian outfits and at the same time, make you look taller and therefore, less fat!
15. Choose longish earrings and long sleek chains with cute pendants. This will not only accentuate your looks but will also make you look slim.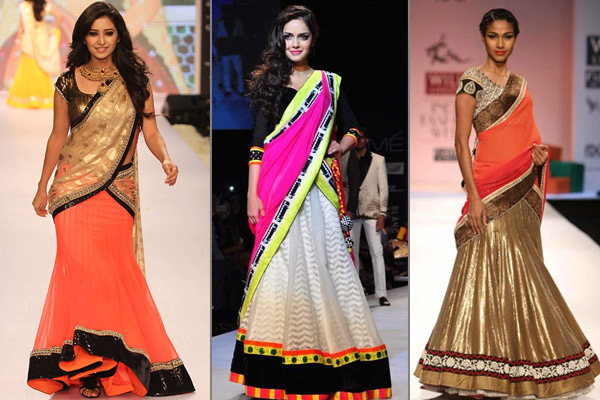 Apart from these simple do's and don'ts, there are a few other things which you should keep in mind while you wear Indian dresses. For instance, keep your posture right. Stick your belly in so that it doesn't bulge out a bit too much. Wear a blouse with the right kind of fitting and cut.
You wouldn't want a mound of flesh to protrude out at your back by wearing a backless choli! If you want a particular body part to be camouflaged, never wear glitters and shimmers there. Avoid any sparking beads on that area of your lehenga or kurti. With these simple tips, you can really stand out in the crowd, tall and slim, gorgeous and beautifully traditional!
-MISBAAH MANSURI
The following two tabs change content below.
Latest posts by Riya Lokhande (see all)