Admit it we all have a weakness for love and romance, heart of stone or super-practical might be your middle names but there are love stories that make even you want your 'Simran' or 'Kabeer'. Here is a list of the TOP 7 ultimate Romantic movies that you absolutely shouldn't miss: 
1. Dil wale Dulhania le Jayenge:
 Because this movie made sure that every time you saw Sarso de khet or the Euro-rail, you evidently wanted your Raj or Simran. DDLJ was and will always be SRK's most romantic performance, the concept of waiting for your love and taking her only after her Dad approves is a bit slow for today's 3G internet generation, but this one still doesn't fail to make you want true love every time you see it!
2. Kaho Naa Pyaar Hai: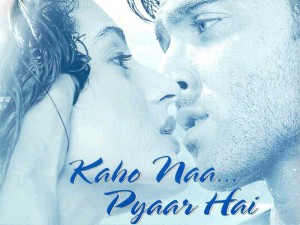 India's very own Greek God 'Hritik Roshan's' launch pad, Kaho na pyaar hai is the story of love across social strata's and  doing whatever you can for your love. Makes you believe in love all over again.
 3. Veer Zaara:
 Cross-border romance by romance king SRK, mesmerizes you. Going to jail for your loved one and waiting all those years to be together; very impractical typically hindi filmy romance that makes you want that kind of true love!
 4. Ye Jawaani hai Deewani:
 Ranbeer Kapoor and Dipika Padukone's post-breakup romantic hit is a great movie to catch. Along with their sizzling chemistry and willingness to sacrifice love for each other's career this one is a modern rom-com, with all the beautiful Manali locations and crazy friendship angle this one is a very relatable youth romance.
 5. Jab We Met:
Depressed millionaire meets fun-loving bubbly ordinary girl and winds up a crazy love story with a lot of famlily drama pitched in, Jab We Met is a great story, told even better and portrayed best by both Shahid Kapur and Kareena Kapoor Khan, a total must watch movie!
 6. Namaste London:
Macho yet Rustic Akshay Kumar and Beautiful firangi Katreena's chemistry is the point that makes you want to see this movie again and again. Winning your love by doing nothing but bieng the better person is what Akshay Kumar showcases in this movie. A great supporting cast and background stories makes this movie a great romantic watch.
7. Jaane Tu Ya Jaane Na: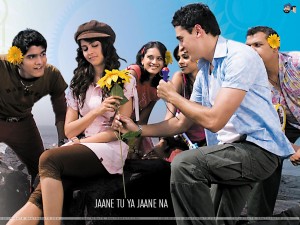 College romance, friends, break-up and the clichéd airport scene throw in Smart Imran Khan and bubbly Genelia D'souza giving you great 3 hours of pure fun-filled romantic entertainment. The very college life inspired setting and twisted yet interconnected stories make you love this movie all the more.
The following two tabs change content below.
'Ever Learning, Ever Evolving, Never Giving up' sums up www.bms.co.in's Content Manager and passionate writer, Ami. She is a BMS graduate who has freelanced in the past with the top Indian newspapers and magazines. Apart from writing she also likes to indulge into travelling, photography and social work.
Latest posts by Ami Pandya (see all)