Arts, aristocracy and graciousness. A legacy of valour combined with a culture steeped in spiritualism, education and modernism. Kolhapur with its myriad images emerges as a city with a multi-faceted persona and a rich cultural, historical and mythical past. Ancient texts such as the Padmapurana and the Skandapurana speak in glowing terms of Karveer or Dakshin Kashi which is, in fact modern-day Kolhapur on the banks of river Panchaganga nestling among the Sahyadri ranges.
A journey through the past reveals that Kolhapur has lived through the regimes of various rulers from the mythical past to the modern age. The Hindu era lasted till 1347, followed by the Muslim rule which was from 1347-1700. The magnificent temples of Kolhapur were built during the glorious periods of the Satavahana kings and the Shilaharas. The Marathas controlled this area from 1700 to 1849. In 1849, the British took over and Chhatrapati Sahu Maharaj was installed as the ruler of Kolhapur.
Chhatrapati Sahu Maharaj's reign lent a progressive spirit to the city and he extended his patronage to theatre, films, music, painting, sculpture, wrestling and crafts. As result, the city has a rich cultural ethos. In 1945, archaeological excavations close to a hill named Brahmagiri on the banks of the river Panchaganga revealed the existence of an ancient town dating back to the Roman times. Today, Kolhapur combines its artistic past with a dynamic present and is a modern, industrial city.
 Tourist attractions in Kolhapur.
This beautifully architect temple attracts huge devotees from in and around Kolhapur. Goddess Mahalaxmi also known, as Amba Bai is the presiding deity of this temple. Images of Kashi Vishweshwar, Kartikaswami, Sheshashayi, Siddhivinayak, Mahaswaraswati, Mahakali, Shree Dutta and Shree Ram are also there inside the temple complex. Chalukya ruler, Karandev started the construction of this temple in the 7th century AD and later beautified by Shilahara Yadavas in the ninth century. The sanctum sanctorum has revered idol of the goddess weighing 40 kg. The idol has not been fashioned by any human being but exists in its natural form – a primeval monolith of uncut diamonds and precious stones.
New Palace and Chhatrapati Sahu Museum

Built in 1884, it is also known as the Maharaja's New Place. Major Mant designed the palace. The architecture of the palace is a combination of Jain and Hindu influences from Gujarat and Rajasthan, and local Rajwada style. The first floor is for the present Maharaja, while the ground floor is dedicated to a fine collection of costumes, weapons, games, jewellery, embroidery and paraphernalia such as silver elephant saddles. A letter from the British Viceroy and Governor General of India is the other memorabilia. Shahaji Chhatrapati Museum is in the New Palace. Curious and interesting collections from the possessions of Maharaja Shahaji Chhatrapati like guns, trophies and clothes are preserved here.
Old sculptures, filigree work in sandalwood and ivory, old coins and paintings of master artists of the region are displayed in the museum, which were found during the excavations at Brahmagiri.
Old Palace has a temple of the goddess Bhawani as well. This magnificent structure has an impressive marqee with filigree work in stone. This palace is located behind the temple of Mahalaxmi Temple.
This wide and spacious lake is so called because at its centre lies the temple of Rankabhairav. Legend has it that a golden temple is submerged under the temple of Rankabhairav. The Shalini Palace stands on the west bank of the lake. It is built of intricately carved black stone and Italian marble. Recently, the palace was converted into a hotel.
Shopping
Kolhapur is well known for its textiles and cottons, in particular Kolhapuri saris. But it is of course most famous for its jewellery and leather sandals or Kolhapuri chappals. The jewellery from Kolhapur is known to dazzle the beholder and is beautifully crafted with delicate embossing and workmanshipMahadwar and Shivaji Roads are good places to shop. You can find a good variety of Kolhapuri chappals and other leather goods on Bhausinji Road. There are a few good buys around the bus station in the Rajarampuri area. Shetkaari Bazaar is the cheapest place to shop and is popular amongst the villagers from surrounding areas.
 Hospitality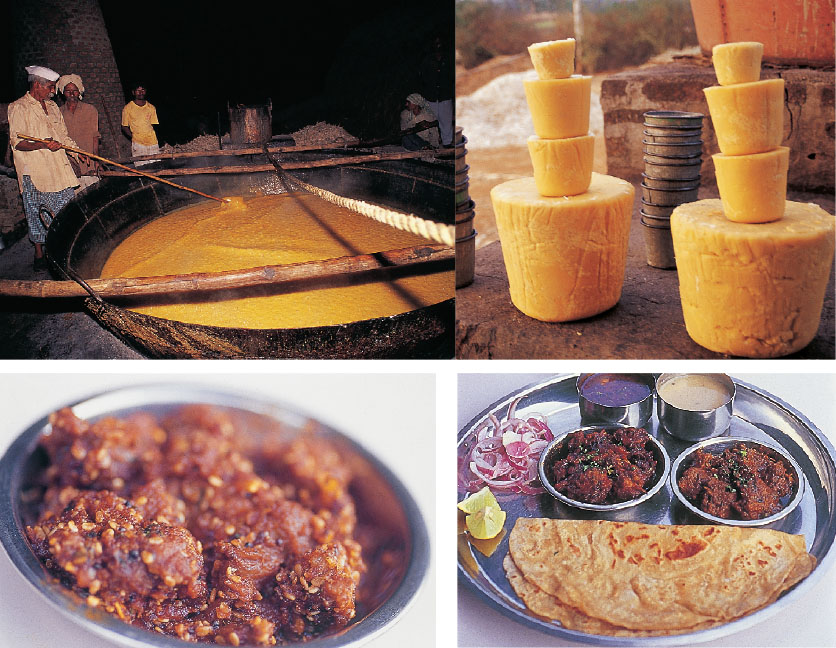 There are a number of hotels ranging from budget to the upper end. The main area where the hotels are located is 10 to 15 minutes walking distance from the centre of town.
Kolhapur is a haven for connoisseurs of good food. The Maharashtrianthali is always a food lover's delight. In addition, Kolhapur is famous for its spicy hot food and almost all preparations are cooked with Sankeshwari or Lavangi chillies. For first-timers, it is advisable to go easy on the chillies!
Local delicacies include misal (a mixture of cooked pulses) and mutton rassa (gravy). Also taste the rich, creamy milk from Kolhapur and the delicious jaggery and semi-solid hot kakavi which is processed sugarcane juice. The restaurants are situated around the bus stand area, and in the evening dozens of stalls set up there too with mouth-watering snacks.
How to Get There ?
Kolhapur is well connected to the rest of the state and country. By air, you can reach Kolhapur from Mumbai by a one-hour plane journey. Ujalaiwadi Airport is 10 kms from the main city of Kolhapur.
By train, it is a 10 to 11 hour journey from Mumbai or Bangalore. There are several day and night trains that leave Dadar or Chhtrapati Shivaji Terminus, Mumbai for Kolhapur.
By road, Kolhapur can be reached easily from Mumbai, Pune and other places. There are regular State and private buses that ply between Kolhapur and Mumbai/Pune. Kolhapur is 395 kms from Mumbai and 225 kms from Pune.
Kolhapur, known as 'Dakshin Kashi' is one of the most prosperous and joyous city of India in Southern Maharashtra in western Ghats. Kolhapur, the town of goddess Mahalakshmi is gifted with an incredible archeological & cultural heritage, magnificent temples, monuments, forts, lakes and gardens. Kolhapur is world famous for Kolhapuri Chappals & Jaggery. Flushed with tourists all around the year, city is equally famous for special Kolhapuri Misal and Kolhapur Rassa and many more mouth watering delicacies.
The following two tabs change content below.
Latest posts by Ayesha Patel (see all)