'In this technologically advanced and digitally globalised science era, the 21st century, we are hardly without any access to communication with our dear ones. The technology today has overpowered the need for emotions'. Early morning with the whole house messed up and me rushing to get ready for work, these lines repeat themselves in my brain. My mobile rings. The microwave timer beeps reminding me that my food is ready to eat. As I turn on my TV for some songs, my favourite movie 'The Karate Kid' appears on the wide screen leaving me confused whether to resume my work or leave everything aside and enjoy the film. The Facebook notification tab pops up continuously grabbing my attention. And the E-mails! They never take rest and are meant to trouble you.
Realizing that it's now the time to get ready; I hurried up to the verandah to collect my clothes drying there. Suddenly, the caged love birds of my flat neighbor caught my sight. They were chirping, nibbling the grains from a bowl kept for them. They seemed contented in the space they had; loving each other, swing on the swing inside the cage. It was in fact a graceful sight for a person surrounded by the day's hustle and bustle. Questions crept in my mind.
From when have I stopped spending time with myself?

Why do I always need someone to make me feel complete

Why always during free time I escape from the present?- either I go to watch a movie with friends or read a novel.

Why do I always dress up in the way people like and not according to me?

Why am I not being just ME and only ME?
With these questions in mind, I decided to take a break from the productive yet monotonous day. I chose to treat my soul with a therapy- The Peace Therapy. And that can happen by being just me!
I lost the need to tie my hair neatly, colour my cheeks and put on lipstick. I decided to give my eyes- the pearls of my face some rest from the eyeliners. I somehow feel as the most beautiful person on the globe without any makeup. I feel beautiful just as ME. I no longer want to sit across a table with strangers called friends, pour hot brewing coffee into our mugs and make unnecessary conversations. Switching off my mobiles and all the gadgets around, I entered the bath tub full of water to have a hot bubble bath. I WAS JUST ME!
Drying myself, I danced with joy while the craving to go out entered me. Dressed in simple jeans and men's t-shirt( Men's t-shirts are my favourite; but I seldom wear them thinking that people would tease me), I moved out of my flat. I had a scrumptious lunch in my favourite (but a small) restaurant. There were families, group of friends, dating couples, band of teenagers in my nearby tables. But their loud talks and laughter did not make me lonely. I did not miss any one. I ate enjoying the meal and jitters filled me as I planned simultaneously, what to do next, all by myself! Now, having pampered my 'Bread Basket', I strode my way along the street to catch a cab and reach the waterfalls near to my place.  Inside the cab, there were newspapers for me to read and the MP3 was on. I turned them off. I wanted to be away from the world. I now no longer wanted to fill my life with things to do, opportunities to grab and problems to solve.
With this thought process in my mind, I heard the gushing sound of water. As the driver drove me closer, my imagination took a leap. The water falling on the rocks from a great height appeared to me like milk flowing from the pots in the heaven to quench the never-ending thirst of desires of mankind. Giving the driver his deserved wages for him to slide the coins into his pockets to cling, I proceeded towards the natural wonder, awestruck. The green carpet rolled out to me to view the majestic crystal curtains. Nature was luring! It seemed as if the water and the greenery had blended together to bring out a mesmerizing performance for me.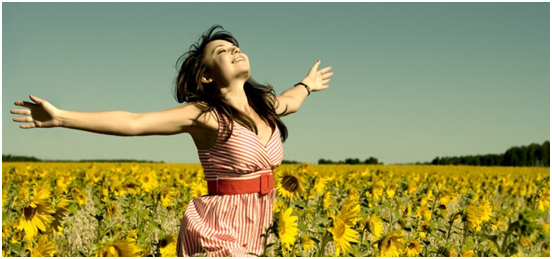 Blissful and replete with ecstasy, I drove home when the sun bid adieu to me and the world. Reaching home, I found everything different. The house was cozier than before. Everything seemed perfect. Falling into my couch, I had tears in my eyes. I somehow felt complete even when I am alone. I somehow felt complete even with me. I somehow felt worth it just as I am. I somehow felt good just being me.
I did not know why I cried. Was it because I met 'ME' after long years or mostly because I won't be meeting 'ME' everyday as today!
BY AISHWARYA IYER
The following two tabs change content below.
BMS Team aims to help the BMS students all over Mumbai colleges, empower BMSites and revolutionize management education. If you wish to be a part of our core team, write to contact@bms.co.in