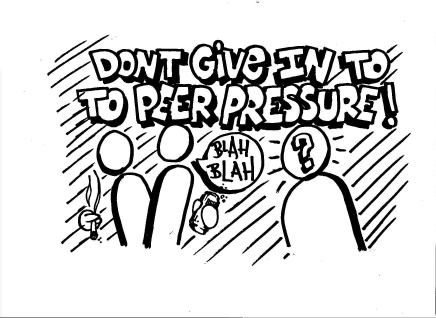 I am sure every body will be aware of peer pressure.You all must have experienced it at one or the other stage. Think about that time and how did you handle it. Peer pressure is not restricted to school or college but it is omnipresent. You can find it every where. Even in your neighborhood. Under the pressure to fit in (Please refer the article on fit in http://www.bms.co.in/how-far-should-i-go-to-fit-in/) people tend to pressurize them self and others as well. For example, fathers opposing their children to get married out of their community mainly due to pressure of the people within the community, girls are hesitant to wear salwar-kameez as it is outdated and will present her as aunt among her friends and so on. These are some examples of peer pressure.
People tend to take wrong decisions in this situation. The first and foremost action to be taken against peer pressure is ignore and take a stand. You are the best judge about your likes and dislikes. To explain my point I will use a small example. You have completed your 10th standard and will now have to choose a stream. You are fond of arts and want to take up that stream but all your other friends have decided to take science. In this situation, you know what is your strength and weakness and should make a decision according to it. If your friends stick to you only if you take up science and make fun of you or look down upon you because of your choice, then my advice would be quit those friends and their friendship. Friendship is all about accepting others the way they are and not by changing them.
If you are not able to deal with it alone, then share it to your friends or family. Someone should definitely have the right solution for this problem. Just seek help and help yourself to overcome this problem. Peer pressure is not a small problem. People have taken drastic steps under peer pressure. But by the time they could realize their mistake, it would be too late. If you watch MTV shows, there is program called Gumrah. That program highlights the wrong decisions taken by youth and its  repercussions that cannot be rectified. I would advise you people to watch it. Sometimes prevention is better than cure. Learn from others' mistakes so that you do not repeat the others' mistakes and can make new mistakes.
If you talk about me, I am not a special one. I also experienced peer pressure. But with a good communication bridge between me and my parents, I managed to share my problem and seek guidance. Self confidence alone will help you. Remember, it is good to be different. Do not be one among 1000 sheep. Also do take efforts to create awareness. Your initiation can bring a ray hope in others' lives. Do implement your ideas to avoid peer pressure. I would also advice you to be a role model. Start being yourself and neglect all other influences. A lot of other people will get inspired by you. Be the change….
The following two tabs change content below.
Latest posts by nidhi vora (see all)