Director:-Walter Salles
Cast:-Sam Rilley,Kristen Stewart,Kirsten Dunst,Viggo Mortensen,Garrett Hedlund.
Rating:-3/5
With spacious skies stretching endlessly over open, uncogested roads bordering by amber waves of grain , and purple mountains beckoning in the distance,Walter Salle's 'On The Road' resurrects a perennial, frontier dream and invites to barrel into the unknown.Fast, almost too fast, this film of Jack Kerouc's seminal  novel is a dizzying but incredible cinematic representation  of the writer's rhythmic, free-flowing prose.It might have it's problems, but at times it's hard not to feel like  you're witnessing a glorious magic trick:a movie that atleast does some basic level of justice to one of the most unfilmable of literary masterworks.
It shows how the hero Sal Paradise becomes transfixed by the rambling outlaw vision of a charismatic car thief,Dean Moriarity, and joins him in a series of journeys from his mother's apartment  in Ozone Park, N.Y., as they crisscross the continent to Chicago, Denver, San Francisco and then back again.They turn to Mexico, finding in its long, straight cactus-lined roads, some secret to themselves.They also find marijuana.These journeys also yield forth booze, women and jazz-which contain their own secrets.They encounter a mix of people who impact their journey indelibly. A breathlessly exhilarating account of hipsters carousing across America in a sea of stimulants,jazz and free and easy sex.The film provides a vividly evocative picture of America before the coming of the great freeways that were unfurled across the country in the 1950's.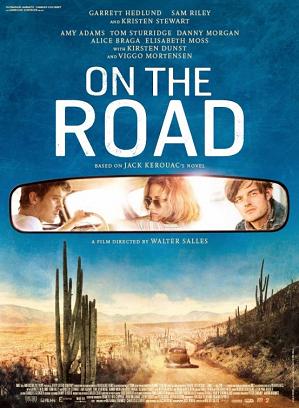 WHY SHOULD YOU NOT GIVE IT A MISS?
The container for energy is Jose Rivera's scrupulously faithful screen adaptation, which conveys the bravado, passion and verve of Kerouac's besotted streams of consciousness. Call it also the beauty and precision of Eric Gautier's cinematography which has the eye for detail, giving you everything, from the great outdoors to the crampy dingy bars of late 1940s New York to a Mexican brothel. The movie has a red-hot vintage jazz soundtrack in which the music of Charlie Parker and Slim Gaillard brilliantly distills the hyperkinetic frenzy of hot-wired characters on a literary bender jumping out of their skin from coffee,booze and marijuana.Most of what I loved about it is that it does a terrific job of evoking the memories of restless searching which chronicled after the World War.It shows incredibly how the nation, in the flush of victory, flexed its collective muscle and set about reinventing itself.
WHAT COULD HAVE BEEN BETTER?
The characters were somehow disappointing. I.I wouldn't say too bad but what else could be expected as it was the adaptations of one of the finest literary works with few characters of the book niched in our hearts!I thought it was gravely miscast. Though physically suited for the role of Dean,Garret Hedlund runs out of dialogue,so that like the silly scenes of him jumping up and down in front of a hand-held camera, he seems confined to repeating himself over and over again.Sam Riley is far too callow and passive for Sal Paradise, who was supposed to be older the Dean and a man of experience.Instead he looks like an adolescent worshiping the high-school football star. And,then the insipid princess of the "Twilight" saga who you wish would have tried much more harder to get some expressions on her face!She smolders with sullen,defiant sensuality as she tries to keep up with the boys. I believe that such actors were casted because they are famous amongst the youth and they could get the youth to come and watch the movie which they otherwise would'nt!
WHAT TO DO?
In the voice over narration, some of the lyrical coda that compensates.The female impediments to Dean's selfish pleasure-seeking are for more real on the screen than in the book and for the best part America has rarely looked more ripe for exploration in any other movie then it does in "On the Road." The bouts of odysseys are truly thrilling and most of all Salle's has done a good job in trying to translate the prose that snaps and sizzles into quite an electrifying movie!
-MISBAAH MANSURI
The following two tabs change content below.
Latest posts by Riya Lokhande (see all)