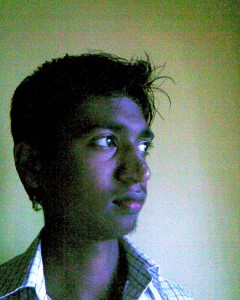 Name – Nikhil G Lade
College – Birla Institute of Technology and Management Studies
Tell us about yourself
I am passionate about my work and do only those things in which I am interested. I love to travel, listen to music on my mobile phone, internet surfing, photography and much more. I have helpful nature, and I want to do something for the street kids. Two qualities my parents wants a change in me is my laziness and my "face book" addiction. 😉
Tell us about your college
Birla College, was established in 1972, an affiliate of the University of Mumbai is a multi-faculty institution of higher education with an enrolment of more than 8,500 students. The college campus is spread over 20 acres in the prime locality of Kalyan City (54 kms from Mumbai).
The college offers several UG Programmes in Arts, Science and Commerce and PG Programmes in Botany, Biotechnology, Bio-analytical Sciences, Environmental Sciences, Chemistry, Herbal Science, Computer Science, Information Technology, Physics, Microbiology, Zoology, Hindi, Marathi, Commerce and E-Commerce and Ph.D.in Botany, Biotechnology, Physics, Microbiology, Chemistry – Nanotechnology and Hindi.
The College conducts three year Bachelor of Management Studies (B.M.S.) and Bachelor of Mass Media (B.M.M.) programmes. The college has taken initiative to introduce relevant interdisciplinary need-based Career Oriented 'Add on' courses.
The College also conducts a PGDMLT programme. The college works under the guidance provided by our principle DR. NARESH CHANDRA.
The College has a vibrant work culture and a holistic approach to education is encouraged. The simultaneous development of the intellectual, physical, cultural and emotional faculties of the students is achieved through various academic, co-curricular and extracurricular activities.
The College is accredited by NAAC with a 5 Star status in 2002 and has now been Re-accredited and awarded 'A' Grade with CGPA – 3.37.
When did you join BMS? Which year you are in?
I joined B.M.S. in the year 2009 and now I am in Second year.
What inspired you to choose BMS and not any other course?
There was nothing like any inspiration which made me to move towards this course. I took admission just because I had less marks in mht-cet (science). 😉
According to you, what is BMS all about?
After an experience of one & a half year, I can say that BMS is all about exploring your creativity and managing your ideas in a particular way to present them in front of people.
What's special about your college? What do you love about it?
The infrastructure of my college is its 'USP'. This infrastructure helps the students who are always ready to bunk the lectures. 😉 The campus is big and includes library, basket ball court, big sized ground and yes chaka-chak canteen too. 🙂
Who is your favorite teacher/faculty? Why?
Mr. Anil Tiwari is my favorite teacher. He teaches us marketing. His skill of giving right examples at right point makes him my favorite.
What has BMS life taught you?
BMS life has taught me to place my ideas infront of people. No one will consider your ideas unless the drums are beaten.
What was the happiest moment in BMS? The saddest? The most memorable?
I don't have any happy or any saddest moment. Every day I step in the college I learn some or other new thing. I enjoy every moment in my college.
Who in your life has influenced the most?
My mother.
As a BMS student, what changes would you like to bring in management education?
I would like to include "Students Exchange Programme" in BMS. This will help the students of different colleges to interact with each other.
What would you advice someone planning to do BMS?
DO BMS ONLY IF YOU WANT TO MAKE A CHANGE.
3 Questions you would like to ask an MBA?
What's your salary? Do you get time to spend it?
What are your future plans?
Setting up my own business.
What are you expecting out of BMS?
A good place in corporate world.
How is BMS.co.in? What help should it provide in future?
It is really good. It can help the students by organizing various management events.
The following two tabs change content below.
We, at BMS.co.in, believe in sharing knowledge and giving quality information to our BMS students. We are here to provide and update you with every details required by you BMSites! If you want to join us, please mail to
[email protected]