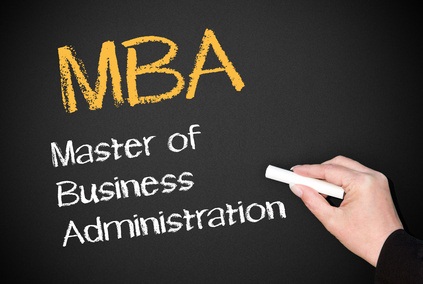 MBA is one of the most popular degrees that one urges to get. MBA is MASTERS of BUSINESS ADMINISTRATION (management). One can pursue this degree in the field of their choice the three prominent fields are- MARKETING, FINANCE, HR (HUMAN ESOURCES). The MBA program covers various areas of business such as accounting, finance, human resources and operation management. It normally takes over 2 academic year. There are many options available in the type of mba program you choose, such as-
Accelerated MBA- No summer break between two semesters i.e. instead of giving a long break of 3-5 weeks between 2 semesters it has only 10 days off. Accelerated typically have a lower cost than full time two year mba program.

Executive MBA- programs developed to meet the educational needs of managers and executives, allowing students to earn an mba degree in 2years or less while working full time.

Full time MBA- this is regular mba program which most of the students prefer doing after completing their bachelor's degree. It takes 2 complete years to earn a full time mba degree.

Part- time MBA

Modular MBA

Full time executive MBA

Distance learning, etc
The admission criteria different colleges is different but IIM (Indian institute of management) started the cat (common admission test) in 2007 for selecting students for their business administration programs. The test is conducted every year. This test scores a person on the basis of quantitative ability, data interpretation, verbal ability and logical reasoning. Before this test was introduced institutes selected candidates on the basis of their graduate degree GPA (grade point average). But now most of instates take into consideration the student's CAT score.
There are many jobs that an mba can take-up as a career option. Some of the most popular ones are-
Strategist or business analyst,

Business development analyst, associate or manager,

Director( of any department),

Financial analyst,

Management consultant,

Marketing associate,

Portfolio manager,

Project or product manager,

Operations analyst, etc
Once an MBA, people think there are jobs waiting for them however this is a misconception. As we all know there are 3 types of scores the higher, average and the low scorers. It is not necessary that if you are an mba you will get the desired job as there is a lot of competition. For example: if you are an MBA applying for the same job as that of a Mcom degree holder it is possible that he/she may get the job and you may not because of the difference in excellence.
Therefore instead of following the popularity of courses one should take into consideration their weakness, strengths, etc so that whichever field they choose they excel in it!
The following two tabs change content below.
Latest posts by Afifa Qureshi (see all)