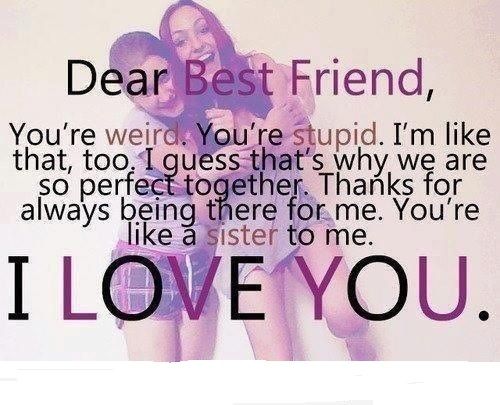 And excitement fun-ells through the phone throughout our constant bitchery and peppy talks! Snapchats  get uglier and you never tend to act sane throughout…because that's what happens when you've been bestfriends since so long. A friendship which never lets powerlessness daunt in you and the person becomes a reason you believe in friendship. The pure and irreplaceable friendship. Yes, that's me and my bestfriend!
 It was with my first impression that came across to you as somebody with oh-so-much-attitude, the strutting bravado  and my self-absorbed persona with which tiffs began. A time I never thought we could ever be bestfriends! And now as I look through all those mad conversations from the very JC time and the crazy things we do that I'm glad that I have atleast one best-friend for life! Somebody who will never let go off friendship no matter what! Bdw, I know being my bestfriend is a task. With this oh-so-much-drama, unreasonable demands, being an insufferable brat and another reason which you are aware of that my guy friend's don't stick as best-friends with me for long!(Shhh!) From the no makeup phase at all, to the phase where I unnecessarily started believing I need it till now where I am back on track, you have been with me through everything! From Jai-Hind to Lalas and to Jai-Hind again.  From the phase where I walked out of home only when I felt pretty, and then the blazing trails phase till the walking tall and shining through phase, you have been by me through it all. Thank you for tolerating all my drama, juvenile jokes and the childish prattle. Ah, wait I won't let you get me samosas *cant watch* You remember all the mad pranks, the mystery phone calls, how you made that card (straight face), those pictures which you click, add some insane line on it and send people, the sub-way times, the jumbo times and the pranks ofcourse? Not forgetting my sleepy voice.(lips are sealed) You know my pulse, my madness and the person I am to the brim. And yea, will you ever stop teasing me? (You know what I am talking about)
 Thank you for being one of those people in my life who says, "Because she is worth it, my bestfriend!" For being there for the semi-weepy me broken-out-in-hives and those teary phone convos.We laugh, We cry. We make times fly! Bestfriends are we, You and me! And  yea I am too sure that I am going to dance in your wedding  (grins).Happy Birthday Bestfriend. I know this year I won't be there to smash a cake on your face but when I am back we will celebrate. And I truly want to have one hell of a time and sing for you, 'Tere jaisa yaar kahaa.' More then 5 years of friendship and counting.
-Misbaah Mansuri