A writer is the engineer of the human soul. With his/her works he enlightens the reader's minds. India has had great writers who have left a lasting imprint on their reader's minds and with their work continue to inspire generations. It is not possible to mention them all but here are a few whose work has been remarkable in the field of literature.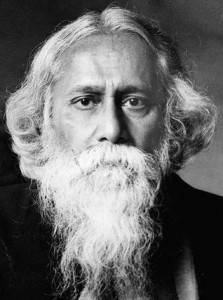 Rabindranath Tagore
Rabindranath Tagore was an icon of Indian culture. He was a poet, philosopher, musician, writer, and educationist. Rabindranath Tagore became the first Asian to become Nobel laureate when he won Nobel Prize for his collection of poems, Gitanjali, in 1913. He was popularly called as Gurudev and his songs were popularly known as Rabindrasangeet. Some of his works are "Gora", Chaturanga, Shesher Kobita, Char Odhay, Noukadubi and Ghare Baire(The Home and the World). "Kaabooliwala" is a tagore's children's literature. Undoubtedly, he is the greatest Indian writer ever.
Shashi Deshpande
Shashi Deshpande is a well known name in the field of Indian literature. She was born in Dharwad in Karnataka as the daughter of the renowned Kannada dramatist as well as a great Sanskrit scholar Sriranga. She pursued her education in Dharwad, Bombay and Bangalore.
Bankim Chandra Chatterjee
Bankim Chandra Chatterjee also known as Bankim Chandra Chattopadhyay was one of the greatest novelists and poets of India. He is famous as author of Vande Mataram, the national song of India.
Premchand – Premchand popularly known as Munshi Premchand was one of the greatest literary figures of modern Hindi literature. His stories vividly portrayed the social scenario of those times. Premchand, originally named Dhanpat Rai Srivastav, from Uttar Pradesh, was one of the foremost writers of Hindustani Literature. He is known as Munshi Premchand, Munshi being a word of honour. Also, some writers have referred to him as Upanyas Samrat. His works include more than a dozen novels, around 250 short stories, several essays and translations of a number of foreign literary works into Hindi. Some of his most famous works are; Panch Parameshvar ,Idgah ,Nashaa , Shatranj ke khiladi , Poos ki raat, Kafan, Dikri Ke Rupai , Udhar Ki Ghadi, Gaban ,Sevasadan and Godaan.
Arundhati Roy
Arundhati Roy is a famous Indian novelist and social activist.
Arundhati Roy came into limelight in 1997 when she won the Booker Prize for her first novel "The God of Small Things". She was awarded Sydney Peace Prize in 2004. 
Salman Rushdie
Salman Rushdie is one of the most famous Indian origin authors. He is best known for the violent backlash his book The Satanic Verses (1988) provoked in the Muslim community.
Mahadevi Varma
She is a well known Hindi poet of the Chhayavaad generation, the times when every poet used to incorporate romanticism in their poetry. She is more often called the modern Meera. Mahadevi Varma achieved the Jnanpith award in the year 1982.
Harivansh Rai Bachchan
"A body of clay, a mind full of play, a moment's life – that is me". That is how one of the doyens of Hindi literature, Harivansh Rai Bachchan described himself. And indeed, reading his poems, one feels a sense of life and playfulness, the two aspects which would become the hallmark of his poetry. His most famous work is his poem Madhushala. He was honoured with the Padma Bhushan in 1975 for his immense contribution to Hindi Literature. He wrote around sixty works, including poems, stories and his autobiographies.
Kushwant Singh
Another popular Indian writer from the 20th century is Khushwant Singh, an Indian novelist and journalist. Some of his famous books are, Train to Pakistan, The Sikhs Today, Black Jasmine and Delhi: a novel. He had also been a member of the Rajya Sabha. He received the Padma Bhsuhan in 1974, but he returned it in the protest against the siege of the Golden Temple. But again in 2007 the Indian government awarded him with Padma Vibhushan, the second highest civilian award in the country. Even today, at the age of 98, he is an inspiration for hundreds of young Indian writers.
Salute to all these great writers.
–          Anjani M Nautiyal
The following two tabs change content below.
Latest posts by namrata desai (see all)